US Mocks ISIS With Propaganda Video To Fight Militants In 'Welcome To ISIS Land' [GRAPHIC VIDEO]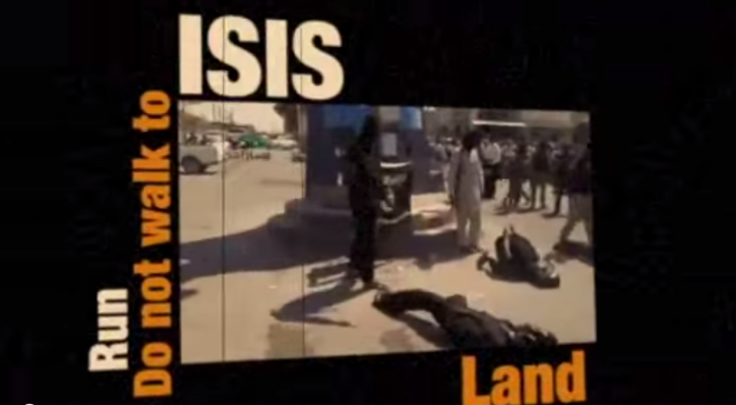 The U.S. has produced and distributed a graphic mock Islamic State propaganda video to fight the Sunni militant group via social media. The video, "Welcome to ISIS Land," was published by the State Department's Center for Strategic Counterterrorism Communications, the State Department said in an email statement to the press Thursday night.
The mock video shows graphic images of the militant group committing crimes that have been widely reported by the media over the past two months and that are now being investigated by the United Nations. The video looks similar to those distributed and promoted by ISIS militants on social media outlets such as Twitter and YouTube.
The video appeared in English on July 23 and in Arabic on July 25. Footage for the video was taken from the ISIS propaganda videos and Iraqi news footage, the statement said. But the video also containes images and scenes from Vice Media's ISIS documentary series.
Part of the video shows footage of ISIS fighters throwing bodies into a canyon. That footage was published by a Syrian opposition activist group, Masarat, which ISIS never meant to be released, the statement said.
According to an official at the State Department, the video was meant to be "educational."
"CSCC uses brief clips of terrorist propaganda in much of its messaging across various languages in order to contrast the gap that exists between ISIL rhetoric and reality," the statement said. "It serves to clearly demonstrate the hypocrisy of an organization claiming to defend Muslims, yet at the same time slaughtering Muslims, destroying their cultural patrimony, and depleting their economic wealth."
So far, the video has garnered roughly 43,000 views in Arabic and 3,000 in English.
The release of the video comes as the Obama administration begins the process of forming an international coalition to fight the Sunni militant group that is taking over large swaths of land in Iraq and Syria. President Obama said last week that the U.S. would rely heavily on its Sunni allies in the region to help mitigate the threat posed by ISIS.
The U.S. is already conducting targeted airstrikes in Iraq to stop ISIS from advancing on Erbil, the capital of Iraqi Kurdistan where American diplomats are stationed.
© Copyright IBTimes 2023. All rights reserved.