US Navy Releases Video Of Chinese Military Installations In Spratly Islands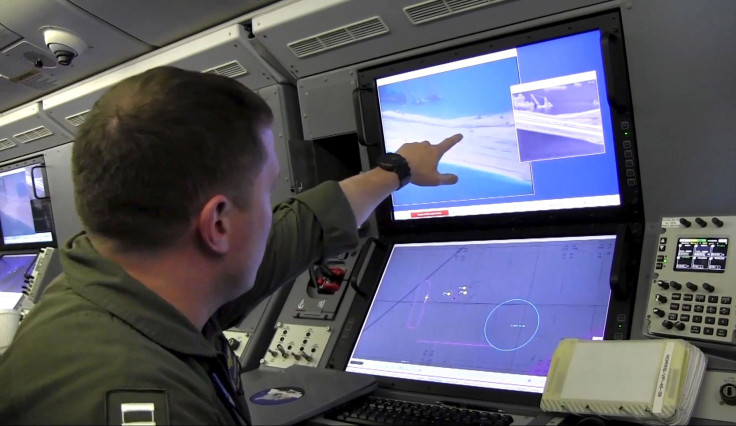 The U.S. Navy released video Thursday taken aboard the P-8A Poseidon surveillance plane scouting China's artificial island outposts in the Spratly Islands. The Chinese navy purportedly warned the surveillance plane at least eight times to leave the area, according to a CNN crew who were allowed to embed on the aircraft.
The video contained footage of the P-8A's crew, its cockpit, Navy personnel as they performed their various functions throughout the mission and a view of the Chinese military outposts the plane was instructed to scout. It included close-up looks at the log that recorded China's attempts to warn the plane to abandon its mission, as well as a U.S. Navy member's breakdown of military installations on Fiery Cross Reef, one of China's artificial islands.
"We're at Fiery Cross Reef, which is part of the Spratly Islands in the South China Sea. Currently, what we're looking at is some construction on a landing strip. … They've built hundreds of meters in the last couple of months," the unidentified U.S. Navy member said in footage obtained by the Washington Post.
The surveillance plane was tasked with reconnaissance of three of China's artificial islands in the South China Sea, CNN reported Wednesday. China has built a series of such structures since 2013 to press its claim on the Spratly Islands. Aside from China, Vietnam, the Philippines, Malaysia, Taiwan and Brunei have all made claims on the island chain as part of an ongoing territorial dispute. The United States identifies the area around the Spratly Islands as international waters, the Wall Street Journal noted.
"This is the Chinese navy ... This is the Chinese navy … Please go away … to avoid misunderstanding," the Chinese navy warned. Upon hearing the warning, the U.S. Navy crew aboard the surveillance plane said it was operating over international waters.
China has used sand dredged from the ocean floor to add thousands of acres of surface land to its artificial islands since 2013, CNN reported. Despite U.S. objections, Fiery Cross Reef now houses a military barracks and a runway that can accommodate any Chinese military aircraft.
© Copyright IBTimes 2023. All rights reserved.
FOLLOW MORE IBT NEWS ON THE BELOW CHANNELS