US Patients Turn To Online Pharmacies For Cheap Meds, But Drug Companies Say The Sites Endanger Consumers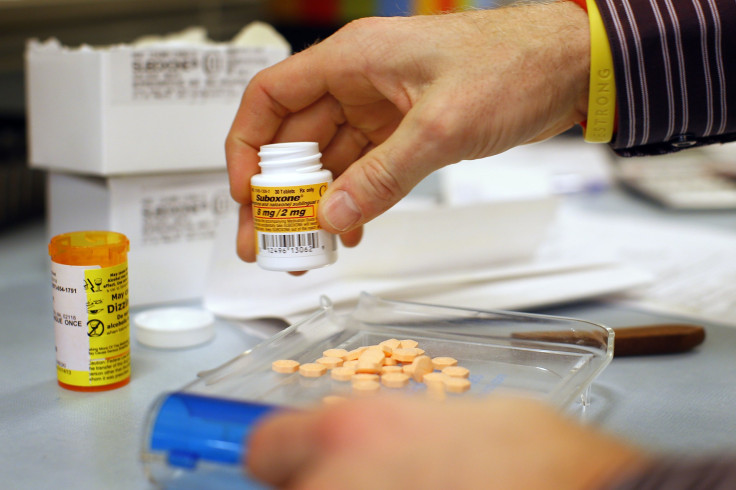 Consumers turn to the Internet to save money on almost everything. Whether it's a textbook, a vacuum cleaner or a month's supply of K-cups, Americans have learned that they can find household goods for less online. Each year, 5 million U.S. consumers apply that principle to prescription medicines, and many of the drugs they receive are shipped from overseas.
Suzan Roll, a retired interior designer who lives in Palm City, Florida, has been ordering medicines online since her husband needed a prescription medicine for a heart condition about seven years ago. She has ordered half a dozen medicines for herself, her husband and her son since then. She purchased an estrogen ring that would have cost her $240 through Medicare for only $79 on a website. When her son needed Lexapro, an antidepressant, she bought it for around $40 online instead of paying $125 at a brick-and-mortar pharmacy.
"It was very convenient and it saved us money," she says.
Drug companies, U.S.-based pharmacists and the federal government -- all of which oppose foreign-based online operations that sell medicines to U.S. patients -- point to patient anecdotes that illustrate obvious failures of this largely unregulated practice. But consumers such as Roll are far more outraged by the high cost of prescription medicines that Americans must endure. She says the products she has received from online pharmacies have been just as good as medicines sold in the U.S., and were far cheaper.
Economists, pharmaceutical companies, pharmacists, advocacy groups and patients disagree over whether online pharmacies based outside the U.S. should be banned from selling to Americans. The disagreement hinges largely on whether all such sales should be prohibited, or whether some online pharmacies might offer a competitive service for Americans who pay chronically higher prices than patients in other countries for the same medicines.
There are between 30,000 and 50,000 online pharmacies operating today and the Alliance for Safe Online Pharmacies (ASOP), a nonprofit organization that focuses on raising consumer awareness about online pharmacies, calls 97 percent of those selling to American consumers illegitimate. Most are based far from the jurisdiction of U.S. officials, in Russia, China, India or Turkey.
"We have no way of knowing where medications come from through an online pharmacy. It's a mysterious area that no one really knows anything about," Michael Jackson, executive vice president and CEO of the Florida Pharmacy Association, says.
A lack of oversight can pose a real risk to patients. The medicines sold through websites are sometimes duds or sugar pills. Libby Baney, executive director of ASOP, has heard reports of drugs contaminated with rat poison, tar, arsenic, lead and paint. In January, the Food and Drug Administration intercepted counterfeit Cialis tablets shipped by an online seller that contained multiple active ingredients that the agency said were harmful.
"We see this problem growing in so many parts of the world," Baney says. "It is a global threat and it endangers patients everywhere." Baney says a close relative ordered prescription medicines from an online pharmacy that caused the relative to become sick. Baney believes the drugs were contaminated.
But in many cases the drugs that patients purchase online are the real thing, only far cheaper. Virtually everyone agrees that consumers should avoid purchasing from online pharmacies that are "rogue" and wholly unlicensed. But others are fully licensed to sell medicines in other countries and have been certified or verified by groups that monitor online pharmacies.
Operators say they can supply American consumers with legitimate medicines at a far better price than what they can find in the U.S.
"We've seen that in some cases the drugs are genuine. They are the real thing," John Horton, founder of an online pharmacy verification service called LegitScript, says. "In some cases, they're knockoffs but chemically equivalent, and in some cases they're not the same. We've seen cases of expired, adulterated drugs."
The idea that consumers could begin to turn elsewhere to purchase medicines threatens the pharmaceutical industry and U.S.-based pharmacists. Both groups are fighting against the practice, partly by highlighting online pharmacies that are licensed to sell to American patients -- at prices that are just as high as those at a corner pharmacy. The National Association of Boards of Pharmacy, which represents the interests of practicing pharmacists in the U.S., has certified 40 online pharmacies including Drugstore.com and Walgreens.com through a program called Verified Internet Pharmacy Practice Sites (VIPPS). Horton launched LegitScript in 2007 to run a similar service.
While these certification programs, the FDA and ASOP categorize all other pharmacies as "rogue," the operators of some online pharmacies complain that this too-restrictive definition doesn't separate those that knowingly manufacture and sell counterfeit medicines from those that simply offer Americans a better deal.
Gabriel Levitt, the vice president of another verification group, PharmacyChecker, which has sparred with LegitScript over this issue, wrote an op-ed in the New York Times last year stating that a long history of lobbying by the pharmaceutical industry has prevented international pharmacies from selling drugs to Americans for less. "As part of that lobbying, they have made it seem as if all medications purchased from Canada and other international sources are the same as those that come from websites that sell counterfeit drugs," he wrote.
Many of the sites that sell mostly or only legitimate medicines are of a type that Horton calls "faux Canadian" sites because they use domain names that suggest they are based in Canada though employees frequently divert medicines from Turkey, China and India to fill orders. This category includes sites such as Canadapharmacy.com and Northwestpharmacy.com, which Roll used to place her most recent order.
A few of these operators do hold legitimate pharmacy licenses in Canada. Their sales to American customers are unregulated and illegal simply because the operators are not licensed in the U.S. Some are also certified by verification services such as PharmacyChecker.com or the Canadian International Pharmacy Association, though Horton says these programs have conflicts of interest and frequently sign off on sites that deal in counterfeits.
"Show us a pharmacy license where you're shipping to. That's the rules of the game," Horton says. "Not only are they not licensed in the place they're shipping to, they're not even shipping from where they say they're shipping from. It's illegal, it's fraudulent and it's a gamble for patients' health."
To settle the score, researchers from the National Bureau of Economic Research ordered 365 prescription drugs from online pharmacies in 2012 and tested the samples for legitimacy. They divided their orders equally between three groups of websites: U.S.-based pharmacies certified through VIPPS or by LegitScript.com; pharmacies that were not certified by LegitScript or VIPPS but which were certified by the Canadian International Pharmacy Association or PharmacyChecker; and pharmacies that were not certified by any of these agencies.
All the medicines obtained from any type of certified pharmacy proved legitimate, but that those that were certified by CIPA or PharmacyChecker were half as expensive as the drugs ordered from U.S.-based outlets certified by VIPPS or LegitScript.com. The team found that eight samples of Viagra ordered from rogue pharmacies that were wholly uncertified were not actually Viagra.
Several members of the Alliance for Safe Online Pharmacies are pharmaceutical companies that would like to prohibit cheap shipments of drugs from overseas, including Eli Lilly and Company, Takeda Pharmaceuticals, Merck, Amgen and Boehringer Ingelheim. The group also represents American brick-and-mortar pharmacists including members of the American Pharmacists Association and the National Association of Chain Drug Stores. The Partnership for Safe Medicines, which runs similar consumer awareness campaigns against online pharmacies, has board members from Merck and PhRMA, a drug industry group.
Last year, Interpol teamed up with 200 law enforcement agencies around the world to conduct the largest ever global action against online pharmacies. Teams arrested 237 people and shut down more than 10,600 illicit websites. The international police agency created a Pharmaceutical Crime Program backed by major pharmaceutical companies including Amgen, GlaxoSmithKline, Eli Lilly, Merck, Novartis and Pfizer in 2013, partly to crack down on illicit sites.
These industries have also convinced other companies to join the cause – today, Microsoft, Yahoo and Google permit only online pharmacies accredited through VIPPS to advertise in the U.S. Credit card companies including Visa have also started to decline payments to online pharmacies that are not VIPPS-certified – as Roll discovered when she tried to place her most recent order.
"It turns out that Visa decided they weren't going to cover medication shipped from Canada," she says. "What I read online is that they decided that it might not be safe, but it sounded phony to me. It sounded like big pharma got in there and said, 'Stop covering this.' "
This spring, the National Association of Boards of Pharmacy launched a domain called .pharmacy, or dot pharmacy, that will be available only to VIPPS-certified pharmacies.
"We don't want to say people should not purchase products over the Internet, but they should do so safely," Grant Lindman, director of the global anti-counterfeiting operation at Eli Lilly, says. "That allows people to look for legitimate online pharmacies because there are a lot of bad actors out there and so that people can be safe."
Roll, for one, is unsatisfied with that warning. She is considering writing to her representative to advocate for access to the online pharmacies that have saved her so much money over the years. "It's silly that there's such a big difference in price and that somebody somewhere along the line is making it more difficult for citizens to do it," she says. "Corporations are there to protect their profits. I can understand it to a degree, but then again, I don't trust corporations too much anyway."
© Copyright IBTimes 2022. All rights reserved.
FOLLOW MORE IBT NEWS ON THE BELOW CHANNELS