US Power Plants Struggling To Rebuild Coal Supplies As Booming Crude Oil Shipments Jam Nation's Railways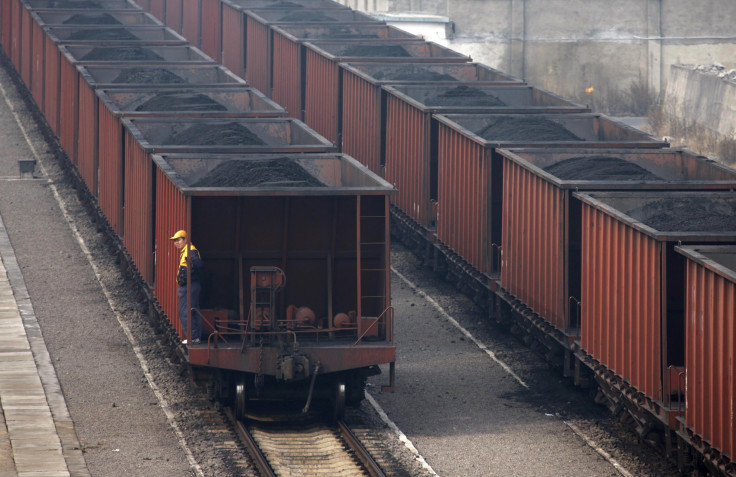 U.S. power plants are low on coal supplies this fall, in part because the nation's railways are jammed with rising shipments of crude oil. The shortage is forcing utilities in several states to shut down coal plants or curtail operations in an attempt to preserve their stockpiles ahead of the winter.
Coal stocks at electric power plants totaled 121 million tons at the end of August, a relatively low amount compared to levels in recent years, the U.S. Energy Information Administration (EIA) reported Thursday. "Issues with delivery-by-rail are making it more difficult to ship larger volumes of coal and rebuild stockpiles at coal-fired power plants," the federal statistics agency said.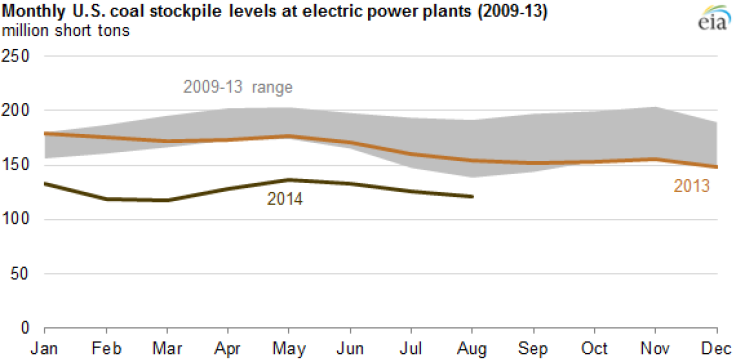 About two-thirds of the nation's coal supplies move from mine to power plant by railroad. But those coal deliveries are increasingly competing for space with oil tankers, particularly from North Dakota's booming Bakken shale formation. Petroleum and petroleum products shipments rose 13 percent this year, the EIA said. At the same time, grain shipments are rising as farmers enjoy record harvests.
Utilities burned through much of their coal stockpiles last winter, when the brutal cold snap caused by the polar vortex forced people to crank up the heat. Now plant operators in the Midwest and Northeast are trying to not only replenish supplies but also stockpile more coal than they had in 2013, according to the EIA.
In Minnesota, officials shut down four small plants to conserve their stocks, while utilities in several other states cut operating levels over similar concerns about availability. At Xcel Energy's big Sherco plant in central Minnesota, coal supplies are roughly 57 percent of the utility's target inventory, Tom Imbler, Xcel's vice president for commercial operations, recently told Minnesota Public Radio News.
Stockpiles are "critical to the reliability of our system," he said. "We are uncomfortably low on inventory, but we don't believe it's at a crisis stage at this point."
Despite the lower rail shipments, EIA said there are signs of optimism. Coal car loadings are up slightly from last year's levels and have been on an upward trend in recent weeks.
© Copyright IBTimes 2023. All rights reserved.
FOLLOW MORE IBT NEWS ON THE BELOW CHANNELS