US Oil Boom 2014: US Railroads Are Moving Greater Volumes Of Crude Oil This Year Amid Bakken Drilling Boom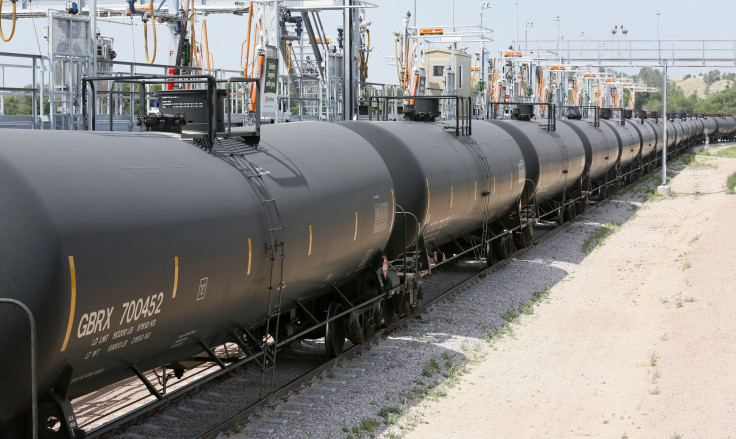 U.S. railroads are moving greater volumes of oil this year as the American shale drilling boom keeps churning out fossil fuels. Nine percent more crude oil and refined products traveled by rail from January to July than in the same period in 2013, according to industry statistics.
The increase reflects rising U.S. crude oil production, which hit about 8.5 million barrels a day in June for the first time since July 1986, the U.S. Energy Information Administration (EIA), a federal statistics agency, said in an update Thursday.
Among those rail shipments, crude oil in particular hogged a higher number of rail cars in the first seven months this year. More than half of the nearly 460,000 rail carloads moving petroleum liquids were carrying crude, up from around 3 percent in 2009, according to the Association of American Railroads.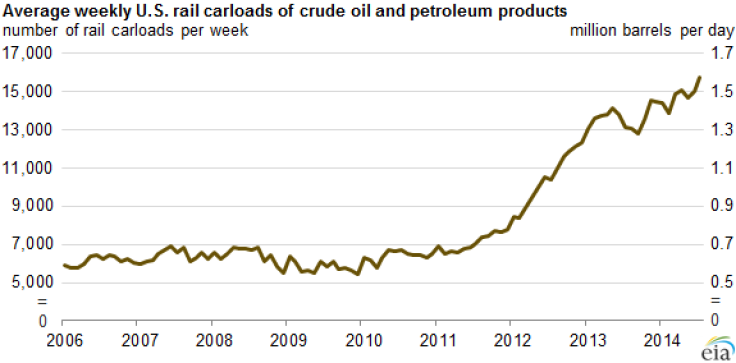 Oil companies are increasingly leaning on railroads to move their products as existing pipeline infrastructure fails to keep up with capacity demand. The proposed Canada-to-Texas Keystone XL could alleviate some of that glut, though the prospect of the controversial pipeline getting built is increasingly uncertain. And while some new pipeline capacity has come online near North Dakota's Bakken shale, much of it is along existing routes and to existing markets -- which in turn is creating a supply glut at Gulf Coast refineries, the Energy Policy Research Foundation, a Washington, D.C.-based nonprofit, said earlier this year.
As much as 70 percent of the more than 1 million barrels per day of oil produced in North Dakota was transported to refineries by rail each month in the first half of 2014, according to the North Dakota Pipeline Authority, the EIA said.
"Production is going up, so rail will have to fill the gaps until the bigger pipelines get approved," John Auers, executive vice president of Turner, Mason & Co., a Dallas-based consulting firm, told International Business Times. Auers estimated that railcar-unloading facilities under construction or being planned could handle more than a million barrels per day worth of crude when finished. About two-thirds of that potential expansion is on the West Coast.
The surge in crude-carrying railcars in recent years is taking its toll on other sectors of the economy, however. American farmers say their grain shipments have been held up by oil, leading to millions of dollars in agricultural losses and slower production for major food companies like General Mills, Inc. (NYSE:GIS), the New York Times reported earlier this week. Agricultural officials said they are worried that record crops of wheat and soybeans this month will be left to rot on the farms.
Oil by rail is also raising public safety concerns after a spate of derailments and several serious oil accidents have caused major environmental damage, or worse. In July 2013, an oil train in Lac-Megantic, Quebec, exploded and killed 47 people. Following an investigation, Canadian safety officials said last week that the deadly accident was caused by "systemic problems" in the freight rail industry and lax federal regulations.
The U.S. Department of Transportation has proposed new safety rules that include phasing out older and more vulnerable railcars and replacing them with stronger units, as well as reducing operating speeds and upgrading braking systems. "The volume of crude oil being produced and shipped by rail in North America simply did not exist that long ago," the agency wrote in a July 23 briefing. "As the facts have changed on the ground so rapidly in the past few years, we must also change how we move this energy."
© Copyright IBTimes 2023. All rights reserved.
FOLLOW MORE IBT NEWS ON THE BELOW CHANNELS