US Q4 2013 GDP Preview: Economy Seen Expanding 3.2% On Stronger Consumer Spending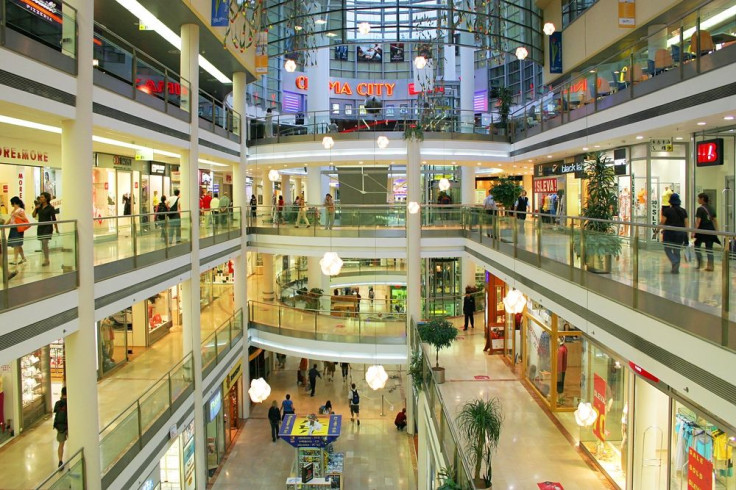 The U.S. economy likely grew at a slightly slower but still robust pace in the fourth quarter of 2013 compared with the prior quarter, as healthy consumer spending more than offset weaker government spending and slower inventory building.
Gross domestic product, the value of all goods and services the nation produced, rose at a 3.4 percent annual rate in the fourth quarter, according to a Reuters survey of economists, after expanding 4.1 percent in the third.
The Commerce Dept. will release its advance fourth-quarter GDP report at 8:30 a.m. ET on Thursday.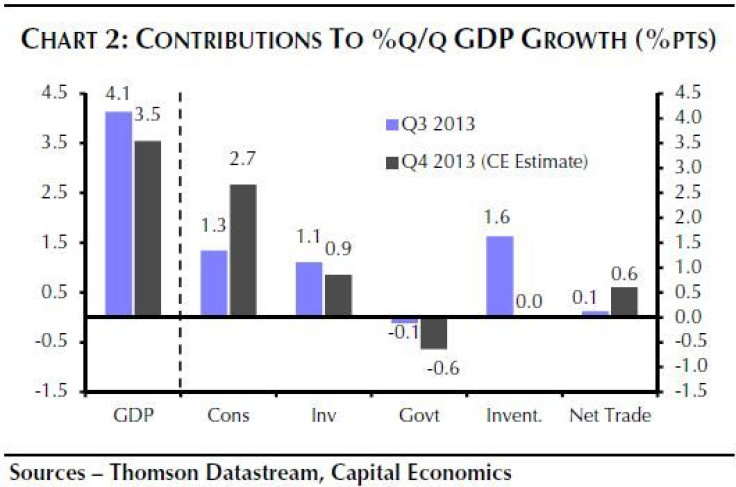 Consumer spending, which accounts for more than 70 percent of GDP, could have grown at a rate as strong as 4 percent in the October-December period, after increasing at a 2 percent pace in the third quarter.
Morgan Stanley economists forecast that spending by American consumers rose in the final three months of the year at its fastest pace in three years.
Michael Hanson, an economist at Bank of America Merrill Lynch, is looking for equipment and software investment to strengthen.
"Inventory should remain little changed at very high levels, which we believe is unintentional," Hanson said. "We think businesses will look to reduce inventories to more sustainable levels in the next few quarters."
"Overall, the report should show a healthy end to 2013 and momentum heading into 2014," Hanson added.
The trade deficit should narrow due to strong global growth but also a continued decline in U.S. imports of petroleum.
Like many other indicators, export growth slowed last summer. But the latest monthly trade figures indicate that real exports rose at an annualized rate of at least 10 percent in the fourth quarter, which would be the fastest gain since early 2010, according to Paul Dales, senior U.S. economist at Capital Economics.
Dales noted that the growth in exports is mostly due to rapid rises in the volume of shipments to both China and the euro zone. In fact, exports to these two regions explain over two-thirds of the 5.1 percent rise in overall U.S. exports in the year to November, which is the latest month for which data are available.
"That's striking when in any one year the U.S. tends to send just 20 percent of all its exports to China and the euro zone combined," Dales said.
"There is little doubt that the U.S. economy has recently benefited from the strengthening in overseas demand. We expect this will continue, with net trade adding between 0.2 and 0.3 percentage points to annual GDP growth both this year and next," Dales said.
But the combination of a reasonably lackluster recovery in the euro zone, an easing in economic growth in China, and the effects of a stronger dollar will mean that real exports probably won't continue to grow at double-digit rates, Dales warned. "So rather than being driven by an improvement in the global economy, the pick-up in U.S. GDP growth we expect over the next two years will be home-made," he added.
The only weak spot in Thursday's GDP report is likely to be government spending, which was dragged down by the Federal government shutdown that lasted nearly three weeks at the start of the quarter.
Economists expect continued soft inflation readings to accompany the first fourth-quarter GDP release, with the GDP deflator and the core PCE price index increasing 1.3 percent and 0.7 percent, respectively, over the prior quarter on an annualized basis.
These are both lower than the third-quarter rates and reflect the continued disinflationary pressures in the economy.
--
(Note: Panorama shopping mall photo by Shutterstock.com.)
© Copyright IBTimes 2023. All rights reserved.
FOLLOW MORE IBT NEWS ON THE BELOW CHANNELS