US Reclaims Top Rank From China In Clean Energy Investments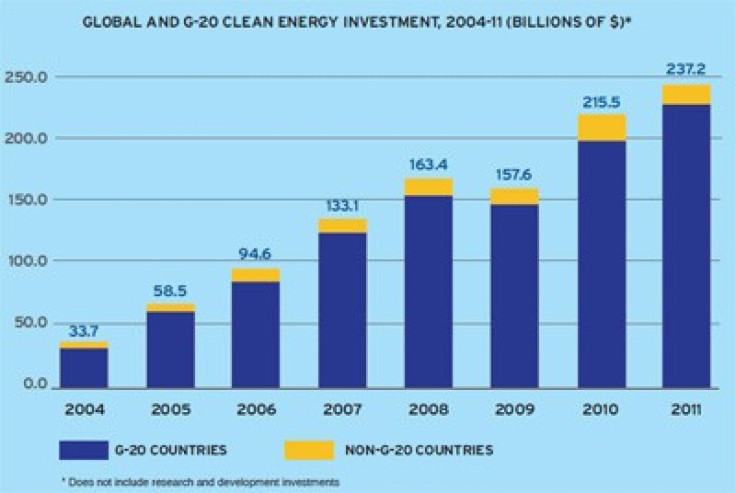 The US reclaimed the top position as the biggest investor in clean energy last year, with clean energy finance and investment witnessing a growth $48 billion, a 42 percent increase over 2010, according to a global rank list published in a report by the Pew Charitable Trusts.
China, which led the global clean energy race since 2009, was ranked second followed by Germany, Italy, the UK and India. Globally, investment grew to a record $263 billion in 2011, a 6.5 percent increase over the previous year.
The US, however, will be hard-pressed to sustain last year's success in the wake of now-expired Treasury grants and the Department of Energy's loan guarantee programs, the report suggested. Also, the production tax credit concludes at the end of this year.
Among the G-20 nations, the US continued to be the top destination for venture capital and private equity investments with $6 billion. Despite an overall decline in research and development (R&D), the US accounted for 30 percent of total corporate R&D and 31 percent of government R&D investments, the report said. However, the country trailed in asset finance, small-scale distributed capacity, and a variety of other indicators.
China, placed second, saw an investment of $45.5 billion, followed by Germany with an investment of $30.6 billion. Italy made an investment in the range of $28 billion followed by the rest of the EU placed 5th with $11.1 billion. Indian investment of $10.2 was followed by UK at $9.4 billion. Japan and Spain made it to the top 10 with an investment of $8.6 billion each, closely followed by Brazil at $8 billion.
The global clean energy ranking examines key financial, investment and technological trends related to clean energy among G-20 members.
In 2011, the global clean energy sector grew again, the U.S. reclaimed its lead as the top destination for private investment, and consumers reaped the rewards of significantly reduced prices for clean energy technologies, such as solar panels, which are now nearly 50 percent cheaper than a year ago, said Phyllis Cuttino, director of Pew's Clean Energy Program. And yet, the yo-yo effect of U.S. clean energy policy hurts the ability of the United States to consistently compete and turn U.S.-led innovation into manufacturing, deployment, and export opportunities. Creative, stable, and transparent policies remain a critical signal to private investors.
© Copyright IBTimes 2023. All rights reserved.