US Secretary Of Defense Ash Carter Calls On Beijing To Halt South China Sea Expansion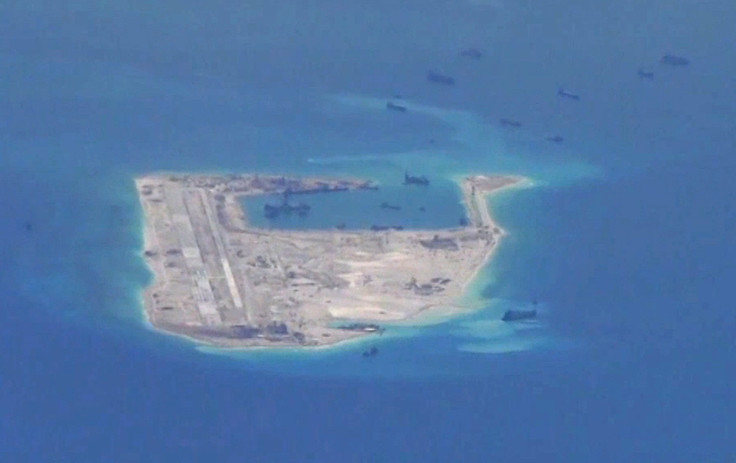 U.S. Secretary of Defense Ash Carter told China to halt its artificial expansion of islands in the South China Sea, while leaders in Washington have said that the U.S. will not recognize China's so-called new territory. The new islands, which are being created by piling seabed debris on top of reefs, are designed to give China military bases so it can better monitor the disputed Spratley and Paracel island chains.
"The United States is deeply concerned about the pace and scope of land reclamation in the South China Sea," Carter said to diplomats in Singapore on Friday. "The prospect of further militarization as well as the potential for these activities to increase the risk of miscalculation or conflict among claimant states."
Both island chains have caused deep regional divide between China and its South China Sea neighbors, which are also making claims to the islands in order to gain from their economic and strategic value. Gaining control over the islands would allow China to expand its sea exploration of oil and gas, and have better control of sea-lanes in the region.
According to Carter, China has reclaimed over 2,000 acres, more than all other claimants combined.
But given that the islands are hundreds of nautical miles from mainland China, Beijing has struggled to monitor them effectively and has resorted to building new islands where it hopes to install airstrips. U.S. surveillance reports have claimed that China is already building its military forces in the region.
The Spratley Island chain, which contains more than 30,000 islands, lies off the coast of the Philippines, Malaysia and southern Vietnam, and is contested by all those countries as well as Taiwan, Malaysia and Brunei. The Paracel islands are closer to China, but they are also being contested by Vietnam and Taiwan.
Carter, who was backed at the Shangri-La regional dialogue in Singapore by his Australian and Japanese counterparts, said he wasn't sure how much further China would go and that "this stretch of water has become the source of tension in the region and front-page news around the world."
But China dismissed the claims by saying that the claims were "incomplete and (lacking) jurisprudential evidence."
"Freedom of navigation should be for the benefits of economic development, rather than sending military aircraft and vessels everywhere," Rear Adm. Guan Youfei said of Carter's speech to state-run news agency Xinhua.
© Copyright IBTimes 2023. All rights reserved.