US To Send Extra 100 Humvees To Ukraine After Ash Carter, Stepan Poltorak Meeting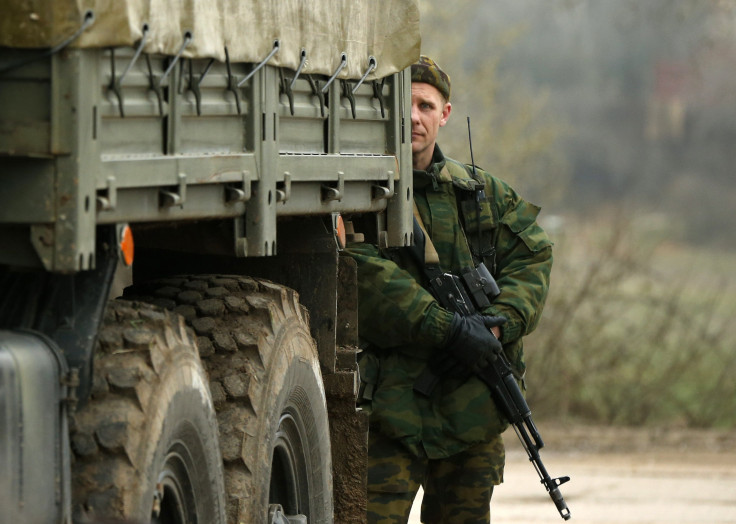 The United States will send an additional 100 Humvees to Ukraine next month to help the Eastern European country's fighters stave off pro-Russia rebels in the ongoing conflict there. The extra aid was announced Wednesday after the first-ever meeting between Defense Secretary Ash Carter and Ukraine Defense Minister Colonel-General Stepan Poltorak. The two, speaking at the NATO Defense Ministerial in Brussels, discussed how to stop Russia's ongoing advances in Eastern Ukraine, according to a news release.
"Secretary Carter emphasized that the United States, together with our allies, remains committed to supporting Ukraine in its effort to define its own course as a sovereign, democratic nation," the Department of Defense said in a statement.
That support came in the form of nonlethal aid. The U.S. expanded its Ukraine military package earlier this year, with the Obama administration revealing it would send $75 million in "defensive security assistance" to the fighters. The package included about 30 armored Humvees, 200 standard Humvees, drones and radios, the Washington Post reported. Ukrainian President Petro Poroshenko received the first 10 Humvees in March.
In Wednesday's meeting, Carter reportedly recognized Poltorak for Ukraine's efforts to implement the Minsk agreements, which in February called for a full ceasefire in the fighting in the Donetsk and Luhansk regions as well as the withdrawal of heavy weapons. Russian President Putin has been accused of ignoring the peace deal and helping pro-Russia separatists -- a move for which Russia faces sanctions.
Carter and Poltorak also discussed the continuing U.S.-led training of Ukrainian national guard troops, according to the release.
U.S. press secretary Josh Earnest said last month that though President Barack Obama supports Ukraine, he does not want to give the country any extra offensive military capabilities. It would "only further escalate a situation that must be resolved diplomatically," Earnest added.
© Copyright IBTimes 2022. All rights reserved.
FOLLOW MORE IBT NEWS ON THE BELOW CHANNELS