Obama Urges G7 Leaders To Extend Sanctions On Russia For Ukraine Involvement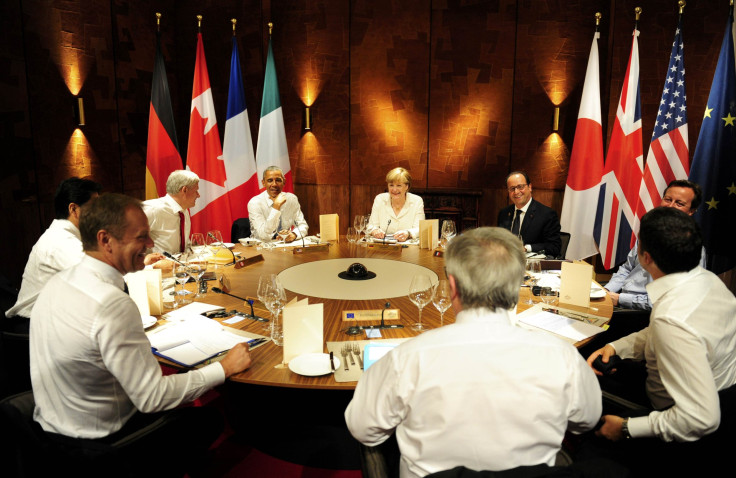 U.S. President Barack Obama will keep holding Russian President Vladimir Putin to his promises under the Minsk agreements, a White House spokesman said Sunday. Until Putin fully complies, the U.S. intends to prolong sanctions on Russia -- and encourage its European partners to do the same, press secretary Josh Ernest told reporters.
"It's our view that those sanctions should remain in place until we start to see Russia live up to their commitments," Earnest said.
Obama is meeting with with leaders from Britain, Canada, France, Germany, Italy and Japan Sunday at the Group of Seven summit in Germany. Among the group's top priorities was deciding how to proceed with sanctions on Russia for its involvement in Ukraine where separatists have been battling pro-government troops for more than a year. In years past the meeting has been the Group of Eight and included Russia, but Moscow was disinvited as a result of its actions.
Earnest referenced intelligence reports saying Russia has continued "sustaining and directing the fighting there," sending over personnel and weapons despite ceasefire agreements made in Minsk, Belarus. Earnest said Russia was thumbing its nose at the negotiations, and "Russia's failure to live up to those commitments is what leads to their increasing isolation and the increasing costs being imposed on their economy."
Earlier Sunday, Obama had a bilateral session with German Chancellor Angela Merkel where the two discussed how to preserve the unified relationship between the U.S. and its European partners. Obama hoped to persuade the Europeans to extend the sanctions on Russia even though they'll likely have to make greater sacrifices than the U.S., Earnest said.
In the meantime, Obama indicated he would not provide additional military assistance to Ukraine. In March, the White House announced it would provide $75 million in nonlethal equipment like drones and Humvees.
"Providing additional offensive military capabilities to Ukraine, in the mind of the president, would only further escalate a situation that must be resolved diplomatically," Earnest said Sunday.
© Copyright IBTimes 2023. All rights reserved.