US Stocks About To Fall Off A Cliff - Analysts
It all comes down to politics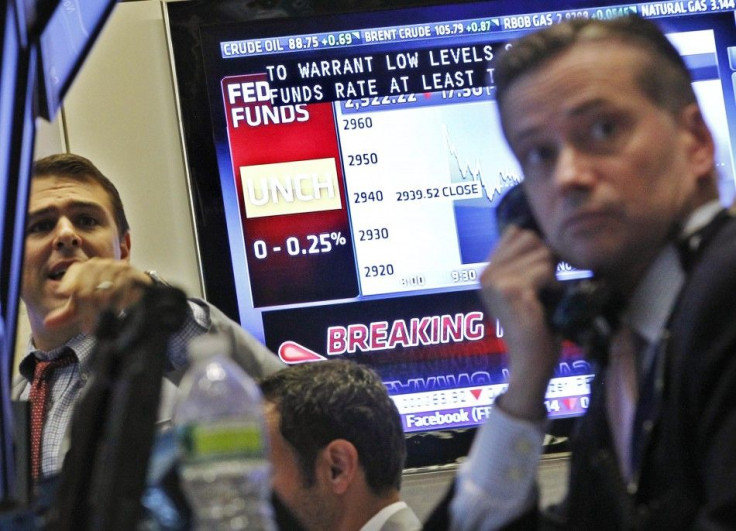 The U.S. equity markets, which appear to have traded in their see-sawing earlier this year for an uninterrupted climb this month, are about to fall off a cliff. At least that's the opinion of several Wall Street portfolio strategists, who have been warning clients over the past few days that an overvalued stock market is about to be hit by various rally killing disappointments and suggesting equities are in for a fire sale before the year is up.
The reasons for the dire predictions are varied, but nearly all come down to the same fundamentals: politics.
"Political realities and last year's precedent suggest the potential that Congress fails to reach agreement in addressing the "fiscal cliff" is greater than what most market participants seem to believe based on our client conversations," David Kostin, chief U.S. equity strategist at Goldman Sachs, wrote in a note to clients Friday, suggesting the looming Congressional battle over averting painful fiscal cuts and averting automatic tax hikes will torpedo the markets later this year.
Kostin sees stocks selling off more than 12 percent before the end of the year.
For Bob Janjuah, a well-respected London-based strategist for Japanese financial conglomerate Nomura, European politics are a key reason why stocks are about to tank.
"We are confident that markets will soon discover that neither the ECB nor eurozone politicians will actually be able to deliver on their "promises"," Janjuah wrote in a note out Tuesday.
Despite the warnings, there is an almost-daft energy hovering above Wall Street at the moment, as markets continue to rise ever higher, with the benchmark S&P 500 Index of U.S. equities reaching levels it has not seen since May 2008, before the collapse of investment bank Lehman Brothers set off the worse days of the global financial crisis. At the same time, perpetually low trading volume, a summer that has seen scandal after scandal embroil major financial institutions and a general feeling that the direction of the market is at the mercy of unelected central bankers is having many bracing for the worst.
That topic, of central bank intervention, was also noted by Kostin and Janjuah.
"The Global Macro Strategy team expects Mr Bernanke to disappoint markets at Jackson Hole next week," Janjuah wrote, in reference to a much-anticipated appearance by the Federal Reserve board chairman which some see as a platform from which further monetary easing is likely to be announced.
More generally, Kostin writes that "numerous uncertainties exist and any one of them could spark a reversal of the recent equity market rally."
That fear of the unknown is driving many others to make the same gloomy predictions as Kostin and Janjuah. Earlier this month, Bank of America noted its "Wall Street bullishness indicator" was at its lowest point in 27 years, meaning a substantial number of strategists were telling their clients to sell off on stock.
But, As Bank of America wrily noted "we are encouraged by Wall Street's lack of optimism." The bullishness measure is a contrarian indicator.
© Copyright IBTimes 2023. All rights reserved.
FOLLOW MORE IBT NEWS ON THE BELOW CHANNELS