U.S. Treasury Secretary Timothy Geithner to Urge European Leaders to Take Action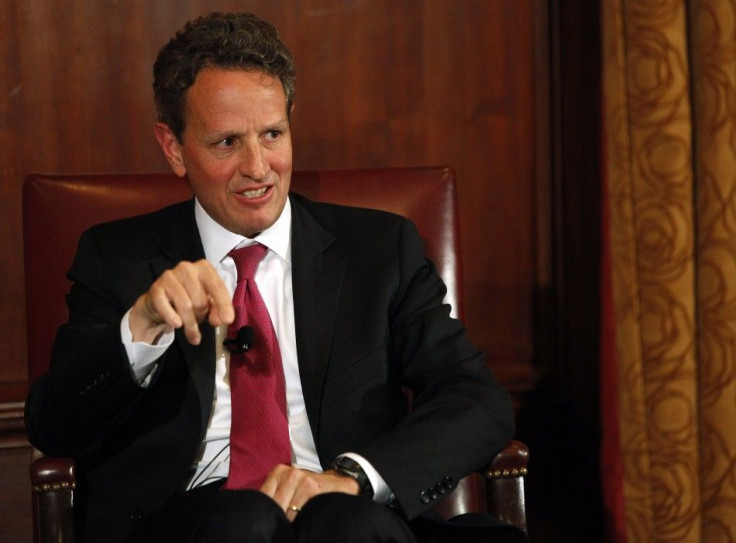 U.S. Treasury Secretary Timothy Geithner is set to urge key European officials to take decisive action next week at a make-or-break summit to prevent a debt crisis from turning into runaway contagion.
The Treasury Department announced Geithner will meet French President Nicolas Sarkozy, new Italian Prime Minister Mario Monti, and Spanish Prime Minister-elect Mariano Rajoy on the Dec. 6-8 trip, which will include stops in Frankfurt, Berlin, Paris, Marseille, and Milan.
At a briefing, a senior Treasury official said President Barack Obama had asked Geithner to make the trip and said he would be ready to offer insights and suggestions to the Europeans as they refine their own plans.
The official indicated that European countries had held discussions with the International Monetary Fund about providing bilateral loans that could be used to bolster its resources.
Congress Watching Warily
But the senior Treasury official said the United States was not planning to make such loans to the IMF and said the lender's resources were adequate.
There did not seem to be a case currently for the United States to try to augment the IMF's resources -- and Congress likely would be unwilling to do so, the official indicated.
Having Eurozone governments provide bilateral loans to the IMF from national central banks could be one way for Europe to meet international demands that the region use more of its own money to tame the crisis.
The IMF could then lend the money to governments that needed the extra support.
Within the Eurozone, lending through national central banks would circumvent any concern that the European Central Bank was funding profligate governments.
The U.S. Treasury official said it was important that countries such as and Spain, which are trying to get their debts under control, continue to have access to funds at reasonable borrowing rates.
The official said Europe has resources to cope with its crisis, but has to muster the political will to do so and to shore up its own firewall to keep the situation from infecting other larger economies.
Both Geithner and Obama have been vocal in warning that a wider crisis would hurt a still-fragile U.S. recovery. Geithner has urged Europe to eliminate the threat of cascading defaults.
Everyone at Risk
The Treasury's chief economist, Jan Eberly, said on Friday that a European recession brought about by the debt crisis would pose serious risks to the U.S. economy, with 15 percent of total U.S. exports going to the Eurozone's 17 member countries.
That's a substantial exposure [of the] U.S. economy to what happens in Europe, so that's absolutely a source of concern, Eberly, the assistant secretary for economic policy, told reporters.
She added that the United States should continue -- and expand -- its fiscal support in the face of such risks from Europe.
Geithner will start his trip in Frankfurt, where he will meet with ECB President Mario Draghi and Bundesbank President Jens Weidmann. The ECB under Draghi, who took the bank's helm at the start of November, has shown willingness to take bolder steps to ease the crisis.
Among steps likely to be discussed at the Dec. 9 European Union summit is increased ECB purchasing of Eurozone sovereign bonds, an action that Germany wants tied to tougher budget controls for bloc members.
Geithner will meet with German Finance Minister Wolfgang Schaeuble in Berlin before traveling to Paris on Dec. 7 to meet with Sarkozy and French Finance Minister Francois Baroin. Later that day, he will fly to Marseille for a meeting with Rajoy. He will meet with Monti on Dec. 8 in Milan before returning to Washington.
Geithner will not stay for the December 9 EU summit in Brussels, which follows a string of half-measures agreed to by European leaders over nearly two years. Those measures failed to stop bond market contagion spreading from Greece to Ireland, Portugal and now Italy and Spain.
In September, Geithner attended an EU finance ministers meeting in Poland to urge more fiscal stimulus and suggest ways the firepower of the EU-IMF bailout facilities could be boosted. While a number of ministers welcomed his input, some gave him a cool reception.
(Reporting by David Lawder, Editing by Andrew Hay)
© Copyright Thomson Reuters 2023. All rights reserved.
FOLLOW MORE IBT NEWS ON THE BELOW CHANNELS