US Warplanes Pound ISIS Targets, As Iraqi Kurds Reinforce Kobani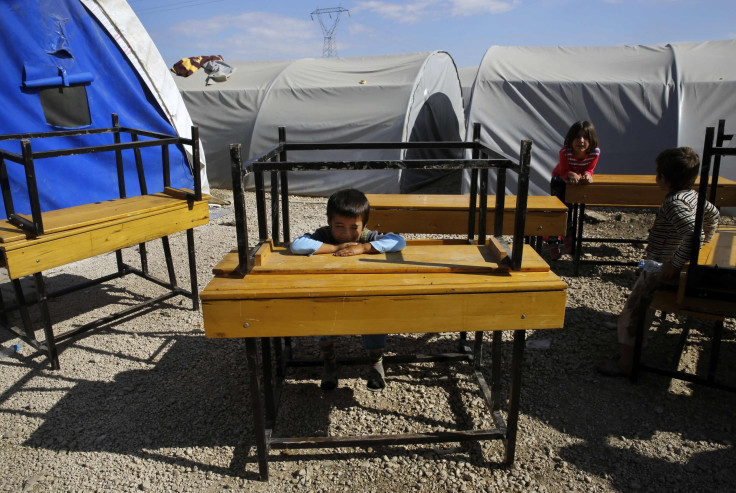 BEIRUT/ BAGHDAD (Reuters) -- Syrian Kurds welcomed the arrival in Kobani of Iraqi Kurdish fighters with their heavy weapons, hoping they might tip the balance in the battle to defend the town against the Islamic State group, as U.S.-led airstrikes continued to bomb it in Iraq and Syria.
Airstrikes have helped to foil several attempts by the al Qaeda offshoot, notorious for its beheading of hostages, to take over Kobani. But they have done little to stop its advances, especially in Sunni areas of western Iraq, where it has executed hundreds of tribesmen.
Members of the militant group formerly known as ISIS have mocked the U.S. airstrikes as a campaign against Islam that they say has angered Muslims and helped the group win followers across the globe.
The arrival of the 150 Iraqi Kurdish fighters, who have yet to participate in the battle, marks the first time Turkey has allowed ground troops from outside Syria to reinforce Syrian Kurds, who have been defending Kobani for more than 40 days.
The fighters -- known as peshmerga, or "those who defy death" -- were preparing themselves for the battle and are expected to take part in action in Kobani, Kurdish officials said.
"What was lacking is the weapons and ammunition, so the arrival of more of it plus the fighters will help tip the balance of the battle," Idris Nassan, deputy foreign minister of the Kobani district, told Reuters by phone. "The whole issue is the weapons and ammunition. Of course, more fighters will help."
The U.S. military said it had carried out 10 airstrikes against ISIS militants, five near Kobani and five in Iraq, since Friday.
The Kobani strikes "suppressed or destroyed" nine Islamic State fighting positions and a building. In Iraq, airstrikes destroyed an Islamic State vehicle southwest of the Mosul Dam and hit four vehicles and four buildings used by militants near Al Qaim, the U.S. military said in a statement.
Dauntless And Expanding
Undeterred by the airstrikes, Islamic State fighters continued a mass killing campaign in Iraq to wipe out resistance against the group. They executed 85 more members of the Albu Nimr tribe, according to a tribal leader and security official.
Tribal chief Sheikh Naeem al-Ga'oud told Reuters the Islamic State group had killed 50 members of Albu Nimr who were fleeing the group in Anbar province Friday. In a separate incident, a security official said 35 bodies had been found in a mass grave. The group has executed a total of more than 300 tribe members in the past few days, Ga'oud and the official said.
Albu Nimr had held out for weeks under siege by the Islamic State, but finally ran low on ammunition, fuel and food.
The militants have lost hundreds if not thousands of fighters since the Islamic State was declared in June, in battles against other Sunni rebels, Islamist groups, forces loyal to Syrian President Bashar Assad and in U.S.-led airstrikes.
But fighters inside the group say it has been receiving hundreds of volunteers every month, which has been helping it carry out more attacks. It also has been receiving pledges of allegiance from Islamist groups around the world.
In another sign of the group's relentless efforts to expand despite the U.S.-led attacks, dozens of residents of the Libyan town of Derna have pledged allegiance to Abu Bakr al-Baghdadi, the leader of the group and self-proclaimed caliph of all Muslims, according to residents and a video posted online.
Derna, a port halfway between the eastern Libyan city of Benghazi and the Egyptian border, has since 2011 turned into a gathering point for militant Islamists and al Qaeda sympathizers.
Fifteen members of the Islamic State, led by an Egyptian and a Saudi national, traveled to Derna from Syria in September to try to rally support and establish an Islamic State branch in Libya, Egyptian security officials have said.
FSA In Kobani
Intense gunfire could be heard Kobani Saturday, when Iraqi peshmerga could be seen on the western side of the town, talking with YPG fighters -- the main Syrian Kurdish armed group defending the town -- and standing next to a cannon, Reuters Television footage showed.
Also on the west side of the town, fighters affiliated with the Free Syrian Army, or FSA, who went to defend the town were seen driving flatbed trucks mounted with heavy machine guns and flying the three-star green, white and black Syrian flag, Reuters TV footage showed.
But the move by FSA -- a term used to refer to dozens of armed groups fighting against Assad and Islamic State -- drew criticism from opposition activists, who urged the fighters to deploy on fronts where the Western-backed rebels were losing to Assad's forces and to Islamists.
Syria's al Qaeda-linked Nusra Front seized Saturday the Jabal al-Zawiya region, the last remaining stronghold of Western-backed rebels in Syria's northwest province of Idlib, after days of fighting.
Backed by other hardline Islamist groups, the Nusra Front is waging a major military campaign against the Syria Revolutionaries' Front led by Jamal Maarouf, a key figure in the armed opposition to Assad, after accusing him of being corrupt and working for the West against them.
(Reporting by Mariam Karouny and Michael Georgy; Addional reporting by Humeyra Pamuk and Omer Berberoglu in Mursitpinar, Raheem Salman and Ahmed Rasheed in Baghdad, Doina Chiacu in Washington and Ulf Lessing in Cairo; Writing by Mariam Karouny; Editing by Larry King)
© Copyright Thomson Reuters 2023. All rights reserved.