The U.S.'s New Day of Infamy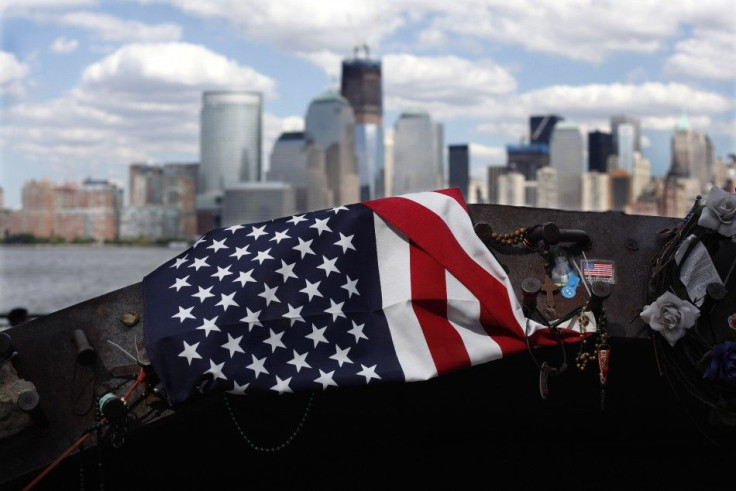 The clock radio alarm went off at the regular time, 5:05 a.m.
First Announcer: Good morning. I'm Pat Carroll.
Second Announcer: Good morning. I'm Jeff Kaplan. WCBS news-time, 5:05. We're expecting clear skies in Midtown this morning, and we're headed up to a high of 84 degrees.
Oh, great, I thought as I awoke. It sounds like it's going be one of those dry, late summer days. I had just returned from a vacation with my girlfriend a day before, and I wasn't quite ready for the end of summer yet. Another 80-degree day would be just the tonic, I thought, to keep the summer feel, in spite of the return to work.
5:55 a.m.: I showered, dressed and drove to the Larchmont [N.Y.] Train Station, where I bought a bagel with cream cheese, from Gino's Breakfast Stand, which is on the Manhattan-bound side of the station.
Gino: Hey Lazzara! [Gino Caprini always refers to me as 'Lazzara,' even though he knows full well that my name is Lazzaro.] You're here early. And you look mighty tanned, Lazzara.
You should see my girlfriend, Lisa. I said. I keep telling her if she tans any more, she will officially qualify as Mrs. Desi Arnez.
Gino: You guys have fun at the shore?
Delightful. I said The weather was great, but the time went by so fast. A week is never long enough, no matter where you spend a vacation.
6:27 a.m.: I boarded the 6:27 to Grand Central Terminal and sat in my usual car, three back, on the shady side of the train (that's the right side in-bound). The train was half-empty, as a good portion of Larchmont, a village about 18 miles northeast of Manhattan in Westchester County, N.Y., was probably still on vacation, and it was an early train. I took an early train because I was scheduled to interview a potential writer for our business news web sites, WallStreetItalia.com / WallStreetEurope.com, and I also wanted to review my meeting notes before a product development meeting with our C.E.O at 10 a.m.
7:10 a.m.: The train arrived at Grand Central on time, and I began my usual walk west along 42nd Street toward Fifth Avenue.
Our office was located in the Empire State Building and on clear mornings I loved to walk down Fifth Avenue from 42nd Street, as the Gray Lady (a local nickname for the ESB) is always a radiant light gray and silver in the eastern light. On this day she was especially majestic: the sky was clear, light blue, not a cloud anywhere, and the light reflecting off the ESB seemed to extend to the heavens.
I stopped for my usual coffee at Raheem's Stand on 38th Street and Fifth Ave.
7:25 a.m. Our company had two offices in the Empire State Building. The newsrooms and primary offices were on the 41st floor; the C.E.O.'s office and the Human Resources Dept. was on the 73rd floor. The office on the 41st is huge, and faces west, with a panoramic view of the mighty Hudson River, and north, with an equally panoramic view of Midtown Manhattan.
The 41st Floor's conference room was empty, so I, managing editor for the web site, interviewed the writer candidate by phone from there, for about 50 minutes. The interview went well, so I scheduled a second interview with him for a week later at our office. Half-way through the interview, our early markets reporter Jim Killelea arrived, at about 8:00 a.m.
8:30 a.m. After the interview, I left the conference room and went to my desk / corner office in the Wall Street Europe newsroom / section of the office. My office, in the southwest corner of the Europe newsroom, looked out on to the Hudson, as does the rest of the newsroom. Killelea was on the phone. My desk television was turned off. The morning web site edition had been edited and was published, and the page looked good. New York's stock markets, the NYSE and Nasdaq, were expected to open slightly higher later in the morning.
8:44 a.m.: As part of editing the morning edition of news and prepping day's analysis for the web site, I grabbed my coffee and went to chat with Killelea for a moment, before reviewing my notes for my 10 a.m. meeting with the C.E.O.
I joked to Killelea that he was the next guy in the office to get a tan -- even though I knew that he had planned to vacation in often-misty Ireland later in October.
Killelea, who's desk faces the Hudson River as well, smiled, then said, What the hell is that?
Coffee in hand, I turned from his cubicle toward the west window and the Hudson, where I saw something that defied belief:
Christopher Columbus, it's a commercial jet liner over, over 11th...10th Avenue! I said, in disbelief. What the hell is a commercial jet liner doing flying so close to Manhattan? And so low?
The plane was no more than 2,000 feet in the air and it was descending and traveling, seemingly, almost parallel to Manhattan, only angling-in just slightly, or so it seemed. It almost looked like it used the Empire State Building as a guide, then adjusted its course slightly inward, as it flew south. Our 41st floor office was about 600 feet in the air and the plane, no more then 1,500 feet from us, looked enormous. It was surreal -- as if the whole thing was happening in a dream sequence, or in slow motion.
That can't be a Newark approach, Jim said. Newark International Airport is about 35 miles southwest of Midtown Manhattan, and sometimes, when conditions require it, the jet liners land or takeoff using a north-south approach, but they are always at least 1-2 miles inland from the New Jersey shore to the west, on the other side of the Hudson. And they are never less than 3000 feet or so in the air when we observe them approaching Newark on that route.
No way that's a Newark approach, no way, I said. And it can't be blamed on bad weather. It's crystal clear outside. It has to be a problem with the plane.
A Plane Flying Where It Shouldn't
At first I thought the two-engine jet liner was damaged, or was incurring a rapid loss in power. But I soon lost confidence in that as a plausible reason, as I thought, why then would the pilot, if he knew the plane was malfunctioning, steer the plane along Manhattan island, the most densely-populated piece of real estate in the western world?
Was he trying to make an emergency landing near or on a highway because he couldn't get to Newark ? And if so, why, since the plane was traveling south, didn't he try to attempt an emergency landing at nearby Teterboro Airport, a corporate jet airport, 20 miles north of Newark and about five miles inland, in New Jersey? Teterboro has runways long enough to land a commercial jet and can be used for such in an emergency. Was the pilot having a problem with the rudder and couldn't steer?
All of these thoughts flashed through my mind in about a minute, and at the last question, I thought: Problem? A pilot with a problem with the plane? How about a pilot with a problem ON the plane? A hijack? Was a hijacker forcing the plane to go somewhere? Of course, hijacks have occurred, I thought, and this could be one, but why force the pilot to fly so close to Manhattan? My mind then returned to the mechanical malfunction thesis.
There has to be something wrong with that plane, I said to Jim.
As I finished speaking Jim then pointed toward the Wall Street Europe newsroom's television monitor, fastened near the ceiling in the newsroom's southwest corner, above my office, behind where I was standing. As a financial news and information company, we had the television tuned to CNBC, the cable financial network.
It was about 8:55 a.m.
Something hit the World Trade Center, Jim said. Joe, look, something hit the World Trade Center! Something hit the World Trade Center!
I turned and saw the hole and the rampaging, huge flames of fire shooting up for what seemed like four or five floors, and the enormous smoke cloud billowing atop the North Tower and drifting southeast with the wind. The CNBC anchor said initial police reports indicated that a helicopter, or perhaps a corporate jet, hit the North Tower, but I knew, that based on the scale of the picture -- the t.v. picture was small so it distorted the hole's true size -- the World Trade Center towers are huge -- that the screen-wide gash on t.v meant that the hole was at least a 100 hundred feet wide and 40 feet high.
A bigger jet than a corporate or Lear jet hit it, I said. Look at that hole. That's an enormous fire.
The towers are one square acre each and the hole was almost the entire width of the building! And there are thousands of people in that North Tower right now!
'What Do We Do? What Does This Mean?'
Reporters and market analysts in the other newsroom, the WallStreetItlaia.com newsroom, were all glued to their overhead television.
You don't think that jet liner we saw hit the North Tower, do you?, Jim asked me in a voice filled with skepticism and disbelief. It couldn't have. It couldn't have, he repeated.
I said I didn't know, but we had to find out, and soon. I thought about plausible causes of North Tower's gaping hole and fire: an explosion / electrical fire that started inside the building.
I then went into the Wall Street Italia newsroom to brief the staff, who were standing around the raised television in their newsroom. Francesa Franconi, a reporter, shouted in a tension-filled voice.
Joe, what do we do? What does this mean? she said.
I said Empire State Building Management should broadcast an announcement via the emergency building-wide communication system.
There was concern -- more concern about not knowing what caused the North Tower's gash and fire -- but there was no talk of evacuating the Empire State Building at that point. We had about 50 employees at that time.
A Second Commerical Airliner
However, just shortly after I spoke with another mid-level Research Editor, that reluctance ended very quickly, as moments after I walked back into the WallStreetEurope.com newsroom, while staring at the overhead CNBC television picture of the burning North Tower, a giant fireball exploded half-way up the South Tower, to the screams of nearly everyone in the WallStreetItalia.com newsroom, who were also watching. I and everyone else in the company now knew what had happened.
That's terrorism! I said. We're out of here! Let's move!
Staff members -- some already tear-filled with fright -- proceeded quickly down the ESB's west stairwell.
IT Manager Calvin Brown came up to me as he was leaving.
Joe, we gotta get out of here!, Brown said. If they hit WTC, the Empire State Building may be next!
Because of CNBC's camera angle, we saw only the explosion in the South Tower: the South Tower blocked the sight of the second plane striking the tower between the 78th and 84th floors. At that point we did not know that a second commercial jet liner had hit the World Trade Center.
Regardless, everyone now knew what we had to do: get away from this and any other high-profile structure in the city as quickly as possible.
I then wrote every employee's name quickly on a piece of paper and then started to check off people confirmed as having left or being out of the building, and also had two employees, one male, one female, make sure no one was in either rest room or retail / leisure area on the 41st floor.
**
9:40 a.m. We then gathered outside the Empire State Building amid what was now a sea of professionals and others streaming on to Midtown Manhattan's streets.
I called a public policy friend/colleague who worked on Madison Avenue, and he said his organization had evacuated its building, and we agreed to meet.
Further, it was after my colleague arrived that he made the pertinent observation -- most of us were in a coffee house about a block or so from the Empire State Building -- that we needed to get 10, 15, 20 blocks away from the ESB, he said, in case it was attacked by jets and fell the way the South Tower had collapsed.
The way the South Tower collapsed? I interjected, incredulously. What are you talking about?
Each tower has been hit by commercial jets and the South Tower has collapsed, my public policy friend said. They think the North Tower is going to collapse too and if they hit the Empire State, that could collapse too, so we have to get away from the building. And our group did, with some walking toward their homes/apartments south of Midtown, or north.
My public policy friend added that there was a concern that there may be 10, 20 or even more planes attacking other targets in the United States.
I can't believe this is happening, either, he said. It's like Pearl Harbor, only right here.
I know, I said. This is a new day of infamy for our country. We are at war.
--
International Business Times U.S. Editor Joseph Lazzaro served as Managing Editor of New York City-based finanical news service WallStreetEurope.com, unit of WallStreetItalia.com, 1999-2004.
FOLLOW MORE IBT NEWS ON THE BELOW CHANNELS