9/11 Threat: VP Biden Says Bin Laden Wanted Anniversary Attack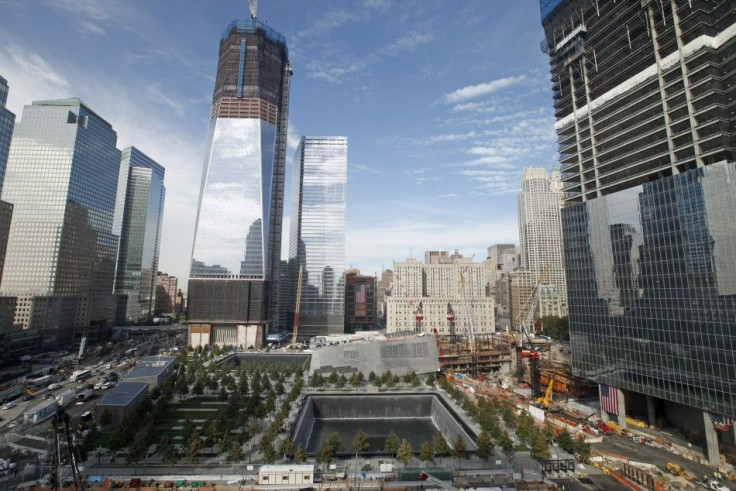 Evidence found in Osama bin Laden's compound in Pakistan indicated that he wanted to attack the United States on the 10th anniversary of the Sept. 11 terrorist strikes, Vice President Joe Biden said Friday.
On Thursday, U.S. intelligence officials reported they had received credible information that indicated that al-Qaida militants in Pakistan may be pursuing a plot to carry out car or truck bombings in Washington and New York.
U.S. officials said they received the intelligence within the last 48 hours, and that they are taking it seriously because of the proximity to the 9/11 anniversary, The Wall Street Journal reported.
We've been running every single thread to ground, Biden said on NBC's Today show. This is the first credible piece of information we've gotten. We cannot confirm it. We are doing everything within our power. All hands are on deck.
Since the May raid that killed bin Laden, the mastermind of the Sept. 11 attacks, Biden said investigators have been combing through evidence gathered at bin Laden's compound in Pakistan.
Biden said the government was less worried about a massive attack by a major terrorist group, than action possibly taken by a lone ranger, a lone actor -- not some extremely complicated plan like it took to take down the World Trade towers or the plane in Shanksville or the Pentagon.
Doesn't mean those things couldn't happen, but they are much less likely, the vice president told NBC's Ann Curry.
The alleged terror plot is believed to have been initiated by Ayman al-Zawahiri, the new al-Qaida chief, who pledged to avenge Osama bin Laden's death earlier this year. ABC News is reporting that at least one of the individuals is a U.S. citizen and one official said that two of the individuals may have had U.S. documentation -- whether green cards or passports was unclear.
Al-Qaida has shown an interest in important dates and anniversaries. In this instance it is accurate that there is credible, specific but unconfirmed information, said Janice Fedarcyk, FBI Assistant Special Agent in Charge of the New York office, at a Thursday evening press conference.
As another indication of the severity of the threat, President Obama was briefed on the threat multiple times Thursday and directed U.S. intelligence officials to take all necessary steps to ensure vigilance, according to the White House.
On Friday, Biden said the first active plot timed to coincide with the commemoration of the 10th anniversary of Sept. 11 is a real threat. Appearing on CBS' The Early Show, Biden said intelligence investigators are following every possible lead in the attempt to diffuse the threat.
People should be alert, they should not alter what they're doing, he told CBS, noting we have significant security, local police and federal agencies working on this.
In another interview, with Good Morning America, Biden said the revolved around New York City and Washington, and that a car bomb might be involved in the threat.
We do have talk about using a car bomb. We've been told that was an intention ... from a credible source, Biden said. But we do not have confirmation of that.
Anniversary Rachets up Authorities' Stance
The threat comes as Americans and officials across the country, including President Obama and former President George W. Bush, are set to commemorate the Sunday anniversary with high-profile events at each site of the attacks -- in New York City, Shanksville, Pa., and the Pentagon in Virginia.
Though badly weakened after the May death of former al-Qaida leader Osama bin Laden, U.S. officials acknowledge that al-Qaida in Pakistan is still capable of operating with a handful of members. Current leader al-Zawahiri and top lieutenant Abu Yayha al-Libi are of particular concern.
But three other current al-Qaida leaders are also believed to present a threat to the U.S., as they have lived here in the past, the WSJ reported. They are Adnan el Shukrijumah, who is alleged to have been involved in the 2009 New York subway bomb plot; Jude Kenan Mohammad, an American alleged to have helped recruit five Alexandria, Va., men; and Adam Gadhan, an American who serves as an al-Qaida spokesman.
More intelligence about potential attacks is expected in the coming days, Matthew Chandler, a spokesman for the Department of Homeland Security, said in a statement.
Sometimes this reporting is credible and warrants intense focus, other times it lacks credibility and is highly unlikely to be reflective of real plots under way, Chandler said. Regardless, we take all threat reporting seriously, and we have taken, and will continue to take all steps necessary to mitigate any threats that arise.
NYC Mayor Rides Subway, as Usual
New York Mayor Michael Bloomberg rode the subway as usual Friday morning, an effort to reassure the city's eight million residents that life should continue as normal.
We don't want al-Qaida or any other organization ... to take away the freedoms without firing a shot, Bloomberg told The Associated Press, getting off at the City Hall stop in lower Manhattan near the Brooklyn Bridge. Bloomberg urged New Yorkers to just go back to work. And leave it to the professionals.
In light of the threat, however, New York police have beefed up security at bridges and tunnels, and are setting up vehicle checkpoints. Police are also implementing bomb sweeps of parking garages and towing more illegally parked cars.
New York commuters have also been told they will see a show of force at major transportation terminals, including Grand Central, Penn Station, and near the Port Authority.
© Copyright IBTimes 2023. All rights reserved.