Venezuela Touts Signature Collection Campaign To Repeal US Sanctions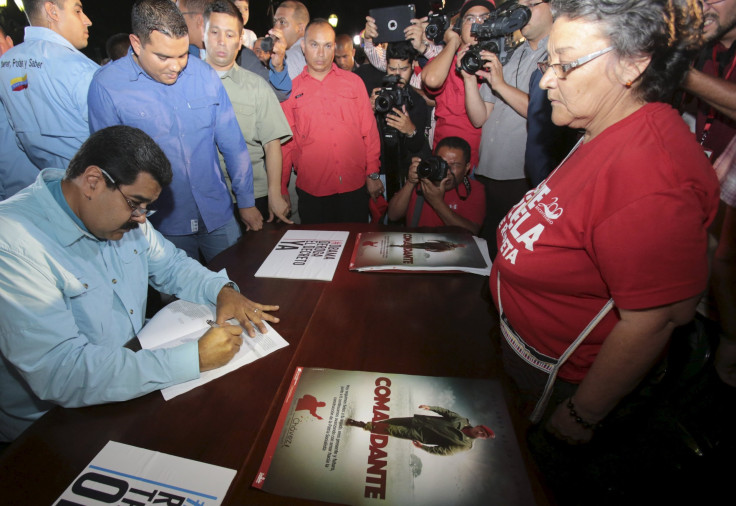 Venezuela's President Nicolas Maduro wants to send a loud message to U.S. President Obama to repeal the sanctions he issued on Venezuelan officials last week. If Maduro's latest campaign is successful, that message will come in the form of 10 million signatures in rejection of the executive order – and maybe a few drawings from schoolchildren, too.
On Wednesday Maduro announced a global signature-gathering campaign to pressure Obama to repeal the sanctions order. Under the tagline "Venezuela Is Not a Threat; We Are Hope," the campaign implores Venezuelans and international supporters to sign a letter to the U.S. president. "Sanctions, blockades and armed aggressions are no substitute for genuine dialogue," the letter reads.
"Venezuela, a peace-loving and anti-war nation, rejects these actions and calls on President Barack Obama to repeal the Executive Order against Venezuela and normalize diplomatic relations with the legitimately elected government of President Nicolas Maduro," it continues.
Maduro called for 10 million signatures as part of the campaign. Social media users in Venezuela noted that volunteers were out in Caracas' Plaza Bolivar Thursday to collect them:
Prior to the signature campaign, some news outlets reported that the Venezuelan government had requested schools assign students to write their own letters to Obama to reject U.S. "interference." According to Venezuela's El Nacional newspaper, the Ministry of Education directed regional and municipal education authorities to launch an "anti-imperialist" campaign in schools through letter writing assignments and Venezuelan flag decorations in building entrances.
News website Infobae obtained one of the government letters sent to a school in the city of Maturin, which asked for "students to write a message to the president of the United States to respect Venezuela."
"The students may also make drawings against Obama," the letter added. It concluded with a March 18 deadline for the assignment.
On Twitter, Soraya El Achkar, deputy minister of educational communities, posted a few pictures of the student projects, which emphasized Venezuela as a land of peace:
The executive order Obama passed on March 9 issues travel bans and asset freezes on seven Venezuelan officials accused of committing human rights abuses in the crackdown on Venezuelan protesters last spring. But the language of the order, which described Venezuela as an "unusual and extraordinary threat" to U.S. national security, has alarmed Caracas. "History has demonstrated that the application of decrees of this nature precedes military interventions," said Venezuelan Foreign Minister Delcy Rodriguez at a meeting of the Organization of American States Thursday.
U.S. authorities have maintained that the strong language is a standard requirement for issuing sanctions, and that Washington has no intention of destabilizing Maduro's administration. But tensions between the countries are still high and could overshadow the regional agenda as Obama and Maduro prepare to face each other at next month's Summit of the Americas.
© Copyright IBTimes 2023. All rights reserved.