Verizon Strike: Health Care At Core of Conflict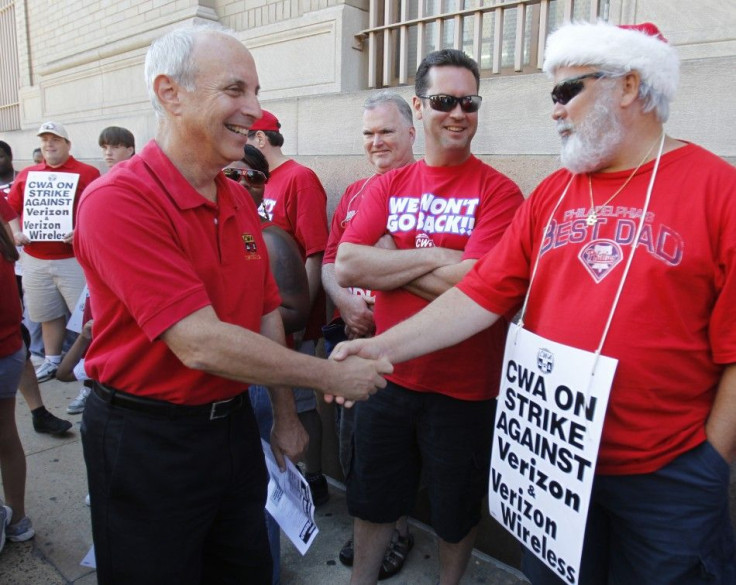 The ongoing strike by workers at Verizon Communications (NYSE: VZ) has entered its second week and taken some ugly twists and turns. The company and unions have accused each other of failing to negotiate in good faith; while some strikers have even been blamed for committing acts of sabotage.
However, amidst all the noise and recriminations, one expert believes this conflict is primarily about one subject: health care.
The corporation seeks to dramatically reduce health care benefits for its wire line employees – the workers are demanding they be retained.
James Cox, managing partner of Harris Financial Group in Colonial Heights, Va., said that there's been a lot of misrepresentation in the media over what is really behind this work stoppage.
The 45,000 employees who are on strike are almost all from Verizon's declining wire line business, Cox noted, and they (along with tens of thousands of retirees) have long enjoyed virtually free health care.
"It's not really about the union trying to squeeze higher salaries from the company, nor is it really about job security so much, although Verizon has been outsourcing some jobs overseas," Cox stated.
"At its core, the strike is about free health care, especially for retirees -- who actually outnumber the active workers."
Verizon's unionized employees presently make co-payments, but they don't pay a share of their health care premiums.
Cox pointed out that workers in Verizon's surging wireless business have far less generous health care benefits and they are not unionized.
According to the Communication Workers of America (CWA) union, 35,000 CWA members and 10,000 International Brotherhood of Electrical Workers (IBEW) members -- accounting for about half of the company's total wire line workforce -- are on strike. But only about 70 Verizon Wireless workers are striking.
"For ten years or so, the wire line workers had no reason to strike since the CWA had negotiated a good contract with the company," Cox noted.
"There were no disputes until now, when the company wants to completely overhaul their health care arrangements."
The strike also highlights the growing divergence in the industry -- from the high cost-structure, low-margin old wire line business, to the low cost-structure, high-margin wireless business."
Indeed, the lion's share of the company's profits come from the wireless segment of its business, while the wire line division is gradually shrinking as more and more customers are getting rid of landlines in favor of cell phones.
"We are lucky to have jobs," striking Verizon employee Kandace Carlin told the Daily Hampshire Gazette newspaper of Northampton, Mass. "We want a fair contract."
Bruce Laurie, a retired professor of labor history at the University of Massachusetts Amherst, told reporters that the strike comes at a perilous time.
"The unemployment rate coupled with the company's intention to bring on replacement workers make for a risky environment in which to conduct a strike," he said. "But the company seems to have tried to provoke the union with such demands as eliminating several holidays -- including Veterans Day."
Laurie added: "And what of decency for a company that had nearly $28 billion in revenue in the last quarter but still insists upon freezing pensions? I think the union is asking, how much is enough?"
Indeed, the CWA stated that Verizon is a "very profitable" company, with annual revenues of $108 billion. Plus, it has paid a total of $258-million over the past four years to its top five executives. The Verizon Wireless unit will also pay a $10=billion dividend to parent company Verizon as well as to Vodafone Group plc (NYSE: VOD).
Nonetheless, Verizon is requesting $1-billion in concessions from employees, which CWA estimates amounts to $20,000 per worker per year.
Perhaps the larger issue here is the ever-declining power and influence of unions in this country.
At their peak in the mid-1950s, more than one-third of U.S. workers belonged to the union -- now it's down to about 12 percent.
The only area where unions remain strong is in the public sector.
© Copyright IBTimes 2023. All rights reserved.