Verizon Strike 2011: Union and Company Sniping At Each Other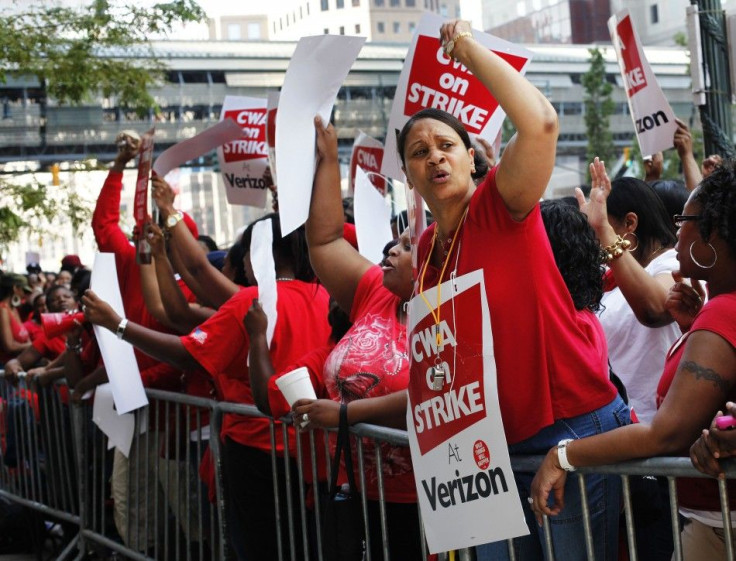 Labor unions representing striking Verizon Communications (NYSE: VZ) workers and the company have filed charges against each other, alleging unfair labor practices
The Communications Workers of America (CWA) and Verizon have both filed charges with the National Labor Relations Board (NLRB), a government organ that oversees union elections and probes such claims.
The strike was sparked after both parties failed to reach a new contract agreement – the drastic reduction of health care benefits for workers and retirees is believed to be at the core of the disagreement
CWA officials have said the company refuses "to bargain and negotiate in good faith,'' while a Verizon spokesman said the company filed similar charges against the union.
"We've been willing to talk and willing to move forward," said union spokeswoman Candice Johnson, according to reports.
"We just need to see that Verizon is willing to do the same,''
The CWA is asking the NLRB to force Verizon to negotiate on the terms that reportedly call for $1-billion in concessions –including the reduction of paid sick leave, an increase in healthcare deductibles, fewer holidays and a freeze on pensions -from the unions,
CWA estimates the cuts the company is seeking would cost each union family $20,000 per year.
However, company officials dispute these figures.
"It's more rhetoric,'' said Verizon spokesman Phil Santoro. "It's another move at posturing.''
The company has also accused union members of committing acts of sabotage and has filed injunctions in court seeking to limit the number of strikers that can picket at any one site.
The work stoppage, which comprise 45,000 Verizon employees (almost all of whom are employed in the wireline segment of the business), is now entering its second week.
The striking employees include 10,000 rank-and-file members of the International Brotherhood of Electrical Workers (IBEW) union.
Virtually no employees of Verizon's highly profitable wireless business are striking.
Meanwhile, CWA contends that there is now need for such cuts when Verizon is a highly profitable company ($6-billion in 2011 on revenues of $108-billion) and has paid out huge compensation to top executives over the past few years.
"Our members have just said 'no,' " said Johnson, the union spokeswoman.
"If wealthy companies like Verizon can continue to cut working families' pay and benefits, we will never have an economic recovery in this country. This is a fight for all middle-class working families. We're standing up for good jobs in our communities."
The unions, meanwhile, have charged that some of their members have been injured after being hit by vehicles driven by Verizon replacement workers.
The Federal Bureau of Investigation is now investigating the incidents of damage to Verizon's network facilities. The company is offering a reward of up to $50,000 for information leading to the arrest and prosecution of individuals who intentionally damage Verizon cables or facilities.
In one case, according to Young, on early Friday morning an act of vandalism knocked out communications to a Pennsylvania State Police Barracks in central Pennsylvania.
The CWA and IBEW have said they expect members to fully comply with the law.
In the contract bargaining with Verizon, CWA represents about 33,000 Verizon workers, while IBEW represents some 12,000.
© Copyright IBTimes 2023. All rights reserved.