Vettel Becomes F1's Youngest Triple Champion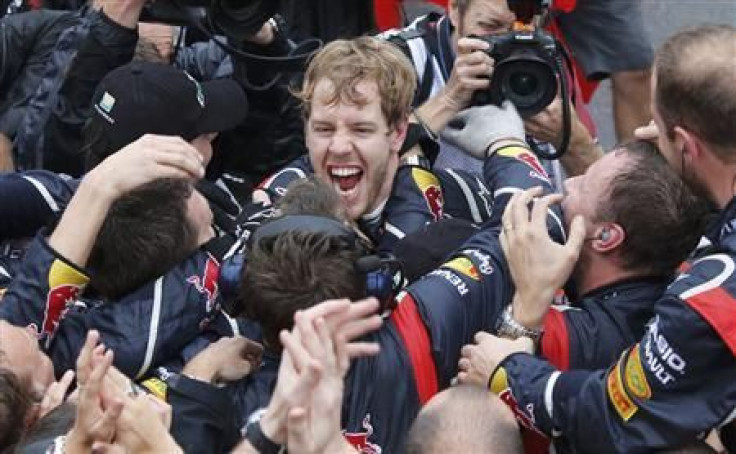 (Reuters) - Red Bull's Sebastian Vettel became Formula One's youngest triple world champion at the age of 25 after a wet and wild Brazilian Grand Prix rollercoaster won by McLaren's Jenson Button behind the safety car on Sunday.
The German, who needed only a fourth place to be sure of becoming the first driver to win his first three titles consecutively, finished sixth after battling back from last spot on the opening lap.
It was enough, however, when sole rival Fernando Alonso crossed the line in his Ferrari in second place with Brazilian team mate Felipe Massa third.
"You're a triple world champion. You're the man. You are a triple world champion," shouted team principal Christian Horner over the team radio as Vettel crossed the finish line after what must have been one of the most nerve-racking races of his career.
Vettel ended the season with 281 points to 278 for Alonso, who would have been the youngest triple champion at 31 had results gone his way on a day when the fickle Brazilian weather produced a thriller.
The chaos started right from the off, when Vettel fell back into the pack and was caught in a collision with Brazilian Bruno Senna's Williams that left him facing the wrong way with a damaged car.
"There is visible damage, it is not the front wing, we cannot fix it," he was told as he rejoined the chase with the whole race ahead of him.
Four laps later Vettel was assured the data looked good and Red Bull technical head Adrian Newey had a photograph of the damage taken at the driver's pitstop to get a closer look from the pit wall.
SAFETY CARS
Alonso, Vettel's only title rival who had 13 points to make up, looked like he could steal it as the championship pendulum swung both ways over the 71 laps at the Interlagos circuit.
The safety car was deployed twice, there were crashes, collisions, botched pitstops and constant uncertainty about the weather with black clouds overhead, occasional rain but not the torrential downpour many had feared.
McLaren's Lewis Hamilton had led from pole position but could not shake off team mate Button, who made a wise decision to do a long first stint along with Force India's Nico Hulkenberg.
Hamilton's last race for McLaren before he joins Mercedes ended when he and Hulkenberg collided on the 54th lap as they came up to lap back markers into turn one.
Hulkenberg, who had led for much of the race, was able to rejoin but was given a drive through penalty that ended his hopes of a podium finish.
Australian Mark Webber finished fourth, ahead of Hulkenberg in fifth in his last race for Force India before moving to Sauber.
Seven-times world champion Michael Schumacher took a surprising seventh place for Mercedes in his last race in Formula One.
Out of the points, Caterham celebrated 11th place for Russian Vitaly Petrov that lifted them back ahead of Marussia into 10th place overall in the championship - a finish worth millions to the team.
© Copyright IBTimes 2023. All rights reserved.