VIDEO Chris Algieri Interview: Pacquiao's Next Opponent Confident In Upcoming Fight [Exclusive]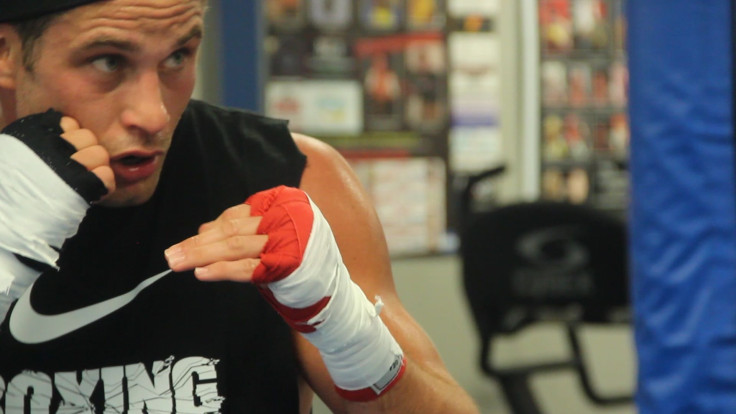 Chris Algieri doesn't have a catchy nickname or a well-known trainer in his corner. He doesn't live in a huge mansion or train in a glossy gym with autograph hounds. He doesn't have millions of dollars or millions of Twitter followers. He doesn't have a lengthy Wikipedia page or an overcrowded entourage. He hasn't fought a long list of high-profile opponents or been featured in many nationally televised fights.
But on Nov. 22, millions of viewers around the world will know the low-key Algieri when he steps into the ring with famed Filipino boxer Manny Pacquiao in Macau, China, for Pacquiao's WBO Welterweight Championship belt. When the fight was announced, there were many fight fans who were puzzled as to why such an international icon would have a pay-per-view bout with a relative unknown.
The decision by Pacquiao's team to choose Algieri was somewhat surprising even to many boxing experts and marketers. Mexican opponents like Juan Manuel Marquez, who Pacquiao has fought four times, are bigger pay-per-view draws and therefore considered more desirable opponents, and more famous opponents like Danny Garcia or Amir Khan are seen as better résumé builders for Pacquiao's legacy.
"Manny has done great things in the sport," Algieri told International Business Times in an exclusive interview. "He's a living legend. He's a first ballot Hall of Famer. What he's done in the sport is incredible, but it's time for a new era. It's time for new faces, the time is now and I'm ready to take it."
While Algieri has a 20-0 record with eight knockouts, he was not a huge name in the welterweight division, which has been the most talent-rich boxing division for more than a decade. Algieri is also a far cry from the opponent so many boxing enthusiasts have yearned to see Pacquiao fight: undefeated champion Floyd Mayweather. To the dismay of millions, a Mayweather-Pacquiao fight has failed to come to fruition after years of agonizing speculation, due to differences on drug testing and financial issues. Many boxing fans and experts think it will never happen.
Indeed, Algieri was not the opponent that Pacquiao's rabid supporters were hoping for or expecting. In some ways, Pacquiao could be viewed as being stuck in a difficult conundrum by facing Algieri. If Pacquiao wins, many might say "well, he was expected to win," so it would do little to convince his detractors that he faced the right opponent. If Pacquiao loses, it would strengthen detractors' claims that the 35-year-old is on the decline and not quite the great fighter that many thought.
In reality, facing Algieri might be the most courageous fight of Pacquiao's illustrious career. Pacquiao, who proved he has a lot left after impressive wins in his last two bouts, will be fighting a relatively inexperienced star, something Mayweather has yet to do since becoming champion. Almost any Pacquiao opponent would have a great deal to gain and very little to lose, and that's particularly the case with Algieri. The clever boxer is not a brawler, and he can be very elusive, which makes for a difficult opponent for Pacquiao. Algieri is also hungry to prove himself on a big stage and has never folded under pressure.
Algieri, 30, graduated from Stony Brook University with a degree in healthcare science and master's in clinical nutrition from New York Institute of Technology. He is the son of an Italian father and an Argentine mother and still lives with his family in Huntington, Long Island. His brother is probably his most adamant supporter, while his mother supports him but from a distance, not attending any of his fights. Unlike many other top boxers, Algieri isn't surrounded by an overwhelming number of friends and acquaintances, and continues to be trained by Tim Lane, who has a background in mixed martial arts and kickboxing.
"My circle is very small," Algieri said. "I don't have a huge entourage of people carrying all my bags and bringing my belt around. That's not for me. My circle is small, stays small and it's kept me grounded."
The unassuming Algieri has a full head of thick hair, speaks in a calm and articulate style, and is quick to flash a grin. Watching him train at Bellmore Kickboxing Academy in Long Island, you might never think that he is set to face arguably the most famous active boxer on the planet. Algieri speaks with a relaxed, cool demeanor that never shows a hint of intimidation. While many boxers follow the theatrical protocol of boasting about themselves and unrelentingly bashing their next opponent, Algieri projects a sense of humility that most boxers shy away from. When discussing Pacquiao, Algieri doesn't mince words about the Filipino icon's accomplishments.
"He's a great fighter," Algieri said of Pacquiao after the bout was agreed upon. "He's fought everybody. He's fought in so many different weight classes. He's one of the two top guys in the world in the sport."
Algieri's journey into boxing has been an interesting one. He decided to transition to the sport after accomplishing all of his goals in kickboxing, culminating with a 20-0 career record and winning the ISKA World Welterweight Championship in 2007. The next year, he had his first professional boxing match, which he says was his real love growing up. Algieri had the opportunity to remain a kickboxer, practicing martial arts as a kid and training with kickboxers in his gym, but his plan was always to conquer what he calls the "best sport in the world."
Since becoming a professional boxer, Algieri has been all business. He sticks to a smart diet, and is constantly exercising and training. Even with endorsement offers on the table and his notoriety increasing by the day, he has a one-track mind on winning his next fight.
"I do everything for that moment, for fight night," Algieri said. "I live it. It's not just a training camp. It's not a diet. People ask me about my diet all the time. I eat the same way all year round, whether I'm training or I'm not, because I live my life to be a champion, and that's what champion lifestyle really means and is all about."
For most of his professional career, Algieri was barely visible in the boxing scene, mainly due to a lack of marquee opponents and for starting his career slightly older than most boxers. But when he's had the chance to show his skills, he has risen to the occasion. Sporting a New York Yankees cap, Algieri stepped into the ring against young Jose Peralta on NBC Sports in February 2013. While Algieri moves a lot in the ring and can be difficult to hit, he elected to trade punches with the hard-hitting Peralta. The strategy worked out fine, as he won late rounds to earn a unanimous decision.
Almost a year later, in a fight against well-regarded Emmanuel Taylor on ESPN, Algieri earned a unanimous decision in convincing fashion. The fight was at the Paramount in Huntington, with many in the crowd chanting "All-Gee-Ree!" in support of the local boxer. What the Taylor fight and much of Algieri's other bouts had in common was location: He has kept his bouts in Long Island, and often at the Paramount.
His next fight would take place in June at Barclays Center in nearby Brooklyn, New York, when he fought Russian brawler Ruslan Provodnikov on HBO. Entering the bout, Provodnikov was known as a rising and underrated boxer in the welterweight division, though hindered by a perceived lack of marketability. His reputation had soared after strong performances against Timothy Bradley and Mike Alvarado, two highly respected boxers. A victory over Algieri would have likely meant another major fight against a high-profile boxer -- perhaps Pacquiao -- in late 2014 on HBO or on pay-per-view.
The fight could not have started worse for Algieri. In the first round, he was caught by a hard left cross, which floored him. Algieri immediately tapped at his right eye, and for good reason. His eye would quickly become swollen shut, and Algieri could barely see out of it. Later in the round, pressure from Provodnikov would force Algieri to take a knee. But the rest of the fight was decidedly competitive, and Algieri showed poise and determination, despite losing the opening round, 10-7.
While fighting with vision from just one eye, Algieri would use his jab to effectively prevent the shorter Provodnikov from retaliating with any sharp blows. The fight would go the distance, as Algieri earned a majority decision to win the WBO Light Welterweight title. Any boxing fan who missed Algieri's stunning victory over Provodnikov would be forgiven for not knowing much about him, but the win elevated Algieri's stature, and thus moved him into contention to fight Pacquiao.
"I'm a very goal oriented person," Algieri said. "I set my goals. I set timeframes. I'm probably going a little overtime in terms of what I had chronologically arranged, but not by too much at this point. It's definitely gone the way I planned.
"Before the Ruslan fight, I woke up every day and looked at a poster that said on June 15 you will wake up a world champion. I got the same thing for Manny."
A victory over Pacquiao would have an extraordinary effect on Algieri's future. His ranking would surge and he would immediately be in the mix to fight other well-known boxers like Canelo Alvarez or Miguel Cotto, not to mention a possible rematch with Pacquiao, or even a potential megabout with Mayweather, who, like Algieri, is undefeated.
Showtime broadcaster Al Bernstein, arguably the most knowledgeable expert in the sport, believes an Algieri upset over Pacquiao is not out of the question.
"I have huge respect for what Algieri did in the Provodnikov fight. I just think for a fighter to get through the adversity that he did early in that fight, and come back to fight so well is remarkable," Bernstein told International Business Times in a phone interview. "He made a believer out of me as a very good fighter. I think because of his height and length and because of the way he fights it's going to be a pretty interesting fight."
Pacquiao is a heavy favorite against Algieri. Still, Algieri is confident that he'll take Pac-Man's WBO Welterweight title, saying he's been preparing for this moment since his first bout.
"This is what I want. This is what I've wanted for a long time."
An IBTimes staff reporter contributed to this report.
© Copyright IBTimes 2023. All rights reserved.
FOLLOW MORE IBT NEWS ON THE BELOW CHANNELS