VIDEO: Groom Gets Revenge, 'Surprises' Bride On Wedding Day With Videos Of Her Having Sex With Brother-In-Law
KEY POINTS
Videos were shown during the wedding banquet after the ceremony
Wife was caught on security cameras installed during renovations at the couple's future home
Affair came about due to alleged domestic violence
A groom surprised his wife during their wedding in China with a video of her caught in bed with her brother-in-law.
The wedding reportedly took place Thursday in the Fujian province in southeastern China. The wedding ceremony had already taken place, with the reveal occurring during the banquet. Witnesses said the newlyweds had entered through the crowd towards a stage set up as part of their banquet. The emcee then took to the mic, reportedly telling the crowd he was "going to show you the videos of how the newlyweds grew up."
However, the clips of the bride with her brother-in-law began playing as the groom reportedly grabbed the mic and yelled: "'you thought I didn't know?" The bride then reportedly threw her bouquet at her new husband before members of the wedding party took to the stage to separate them.
There were reportedly three clips of the bride and brother-in-law together, running around five minutes, total.
Hong Kong outlet Apple Daily said the newlyweds had reportedly been together for two years and had gotten engaged six months ago. The groom then reportedly learned of the affair after having security cameras installed in their future home while having renovations done.
However, Chinese blogger Jiang Zhe Hu Ba Jie said the reported affair started after the groom allegedly abused his soon-to-be wife. She allegedly told her brother-in-law about the domestic violence and started developing feelings while he helped settle any alleged problems at the time.
The video originally circulated through Chinese social media platform Weibo but was removed after the bride demanded the videos be pulled. However, some have continued to circulate online through Twitter.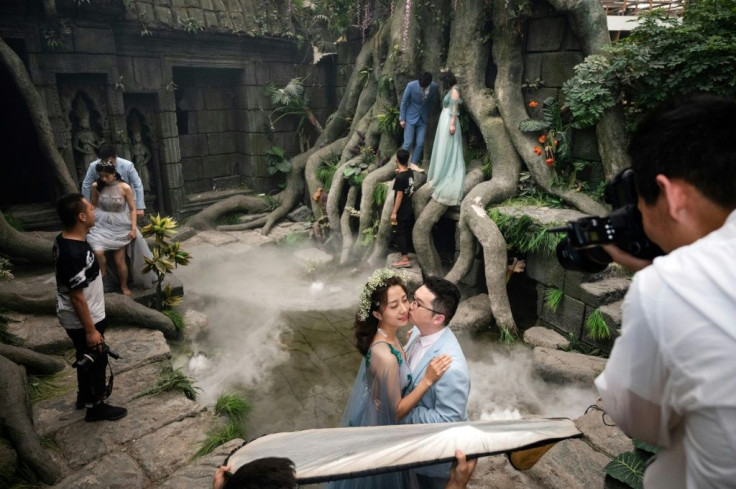 © Copyright IBTimes 2023. All rights reserved.