Video Shows Drone Attacks On Russia's Residential Area; Putin Blames Ukraine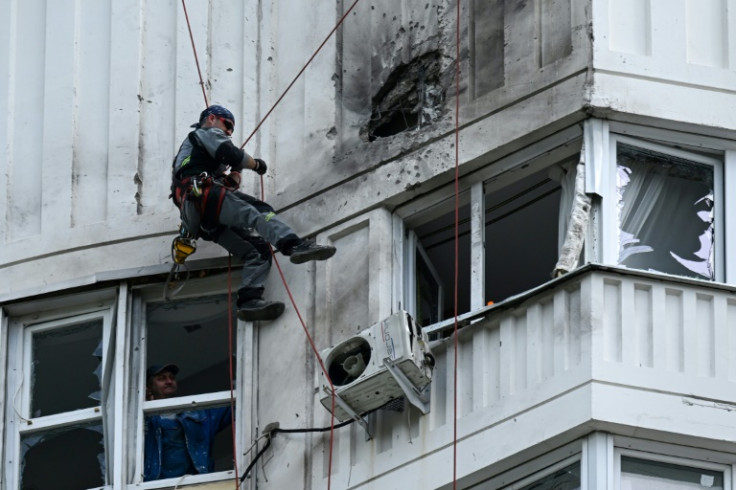 KEY POINTS
The drone attack caused minor damage to residential buildings in Moscow
At least two Russian civilians were injured in the drone attacks
Putin said the attacks was Ukraine's revenge following a Russian strike on a Ukrainian intel center
Russian authorities on Tuesday reported several drone attacks on residential areas in Moscow, leading to minor damages to buildings.
At least eight drones targeted civilian areas in Moscow early Tuesday morning. The attacks caused minor damage to at least three residential buildings and slightly injured two Russian civilians. There were no serious damages or injuries reported.
A video shared by Latvia-based independent news website Meduza showed one drone targeting a building located on the city's Profsoyuznaya Street while another targeted a building on Atlasoc Street.
Russian President Vladimir Putin has since accused Ukraine of carrying out the attack that he said was "in response" to Moscow striking critical infrastructure in the country, including a Ukrainian military intelligence center. Kyiv has yet to claim nor deny responsibility for the attacks.
"In response, the Kyiv regime chose another path, a path of intimidating Russia... intimidating Russians and striking civilian buildings. This is obviously a clear sign of terrorist activity," he said in a statement at a public event, a video of which was shared on Twitter.
"Perhaps this is what they count on, provoking us to mirror actions," he continued. "We'll see what to do with this."
Putin later praised Moscow's air defense systems for operating "satisfyingly and in order" to stop the drone attacks. It is unclear whether the drones were launched from inside Moscow or by forces in Ukraine.
The drone hits on Russia's capital come just weeks after two drones allegedly attempted to strike the Kremlin in what Moscow said was also an attempt to kill Putin. The Russian leader was outside the city at the time of the attack.
"We regard these actions as a planned terrorist act and an attempt on the president's life, carried out on the eve of Victory Day, the May 9 Parade, at which the presence of foreign guests is also planned," Moscow said in a statement following the attack, adding that the strike targeted Putin's residence inside the Kremlin.
The Moscow strikes happened on the same day at least 20 Russian drones struck Kyiv early Tuesday morning. At least one Ukrainian civilian died in the attack, per The New York Times.
© Copyright IBTimes 2023. All rights reserved.