Vintage 'USB Typewriters' Are Usable Keyboards For Mac, PC, IPads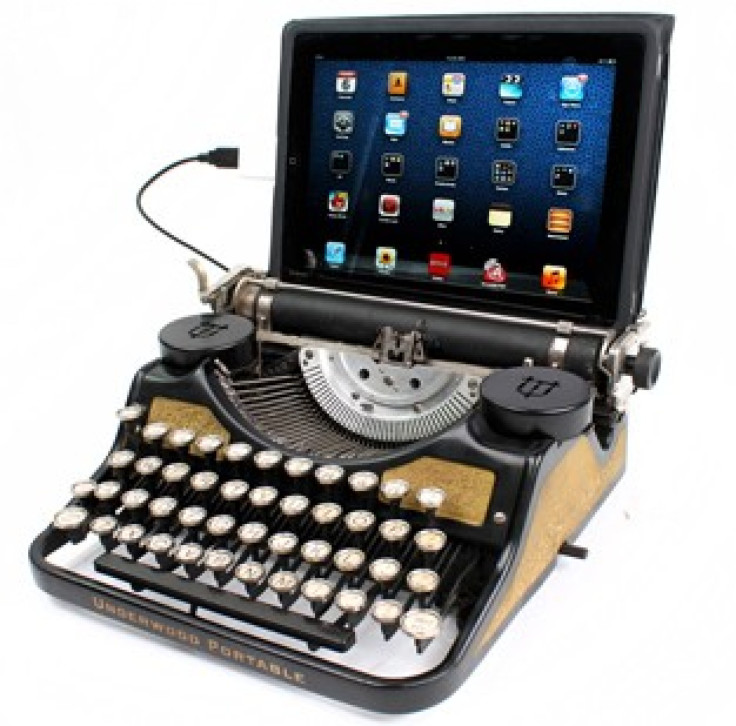 Old, cranky, out-of-touch reporters from the yesteryears of publishing and literary memorabilia collectors alike will be happy to hear that one man -- a Philadelphia hacker -- isn't ready to give up on the greatest part of the pre-PC Era so easily: Jack Zylkin, founding member of Philadelphia's Hive 76, is turning out-of-date typewriters into perfectly usable keyboards for Mac, PC and tablet computers.
USB Typewriter, the moniker under which Zylkin is selling his USB Typewriter devices, rigs vintage typewriters to a small circuit board so that they can be used as keyboards on modern computers. The USB Typewriters can be connected through a simple USB cable and work with any operating system and most popular machines.
The company sells all of its products through an Etsy store and currently has nine for sale. Prices range from $699-$799 on those that are currently available, and for $74, you can purchase a DIY kit to rig your own typewriter with the necessary parts to to turn it into a keyboard.
Any fan of the typewriter's look and feel won't need to sacrifice much, if any, of the functions that are currently availble from their keyboard. . All of the USB Typewriters have more keys than just the letter keys including a Backspace, Escape, arrow keys, Ctrl, Alt and a Fn key that allows users to access keys F1-F12.
The enter key is linked up to the Carriage Return, too. Every time you choose to start a new paragraph, your carriage will return to its place on the right hand side of the typewriter. You can also start a new paragraph by using the manual carriage return.
USB Typewriters work with a plethora of tablet devices -- including the Apple iPad -- that supports USB OTG or USB Host mode. The company has created a long list of compatible tablets on its website.
When linked up to a tablet such as the Apple iPad, the typewriter will hold the tablet in position as thought it were a piece of paper. The tablet moves along with the carriage on the machine and is held just above the carriage, right about where a monitor would be on a traditional laptop.
The maker of USB Typewriters appears to be especially proud of the fact that typewriters can be used analog, with paper, while also typing digitially on a computer screen. While we're not sure how helpful this actually is, it's a nice addition to an already fantastic design idea.
© Copyright IBTimes 2023. All rights reserved.
FOLLOW MORE IBT NEWS ON THE BELOW CHANNELS