Violence Against Women Act: Protections For Immigrants Fuel Political Fight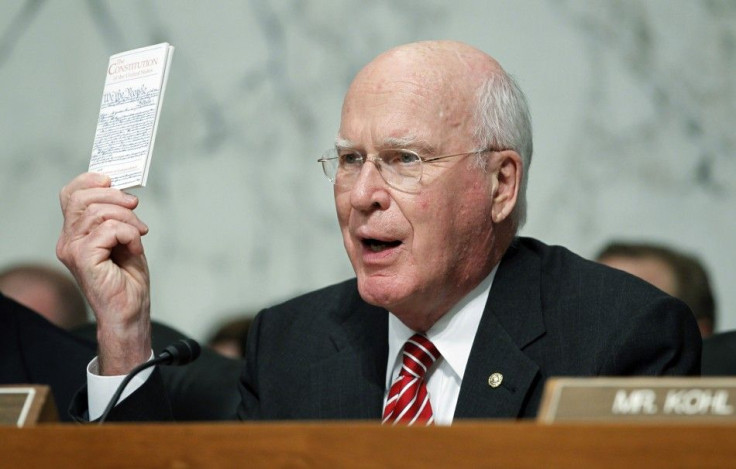 As Senate Democrats and Republicans spar over a proposal to reauthorize the Violence Against Women Act, measures to shield immigrants from domestic violence have become a sticking point.
The proposed legislation would expand existing protections for battered immigrant women, making more visas available to victims of abuse and expanding the situations in which immigrants could seek relief to include stalking and dating violence.
That has contributed to a legislative impasse, with opponents of the bill saying it would present more opportunities for immigrants to exploit the system. Sen. Chuck Grassley, R-Iowa, presented an alternate bill that would tighten restrictions on abuse victims seeking visas.
Would Revised VAWA Increase Immigration?
VAWA is meant to protect victims of violence, Grassley said in a statement. It shouldn't be an avenue to expand immigration law or to give additional benefits to people here unlawfully.
The Violence Against Women Act allows immigrants who are married to abusive American citizens to petition for legal status on their own behalf, without relying on a violent spouse. But the current dispute largely concerns a special type of visa, created when the bill was reauthorized in 2000, that allows undocumented immigrants to gain legal status if they cooperate with law enforcement officers on an investigation.
While it does not apply exclusively to domestic violence cases, the U visa allows undocumented immigrants to escape abusive relationships if they can help the police prosecute their tormentors. The bill being considered in the Senate would increase the number of U visas available from its current cap of 10,000 a year by recycling U visas that were not claimed in past years.
Unfortunately, there's always room for more of these visas, said David Leopold, immediate past president of the American Immigration Lawyers Association. I think abuse of women is rampant and any time you can make sure there's enough protective visas for as many people as need them, it's a good move.
Backers: U Visa Would Help Victims Of Domestic Abuse
Supporters of the legislation say it makes sense to broaden access to the visas. Undocumented immigrants are often reluctant to go to the authorities for help, fearing legal repercussions. The U visa offers a mutually beneficial situation in which law enforcement officers can bolster a case while shielding women who would otherwise stay in the shadows.
Obviously the abuser's not going to come forward with an affidavit, so a woman is often going to suffer in silence, Leopold said. It becomes amplified when the abuser uses deportation as a bludgeon.
But Senate Republicans warn of the potential for fraud. A spokesperson for Grassley cited a need to make sure the visas go to people who actually deserve them.
I think everybody recognizes the need for careful consideration for the needs of people who are victims of domestic abuse, said Jessica Vaughan, director of policy studies for the restrictionist Center for Immigration Studies. But the way that the provisions are written they definitely leave the program vulnerable to fraud and abuse from people who are going to use these opportunities as another way to obtain permanent status here when they wouldn't otherwise qualify.
Immigration advocates counter that there are powerful safeguards against fraud built in. Police officers must certify that an immigrant's claims are legitimate and that the immigrant is cooperating throughout the investigation.
It's very rare if impossible for someone to trump up a domestic violence case that isn't real, said Michael Wildes, an immigration attorney and a former federal prosecutor. The fraud that goes on isn't so much pervasive in this arena as the potential for out turning our backs on the most vulnerable in this country.
The U visas are not the only point of contention. Critics also say that immigrants who are married to U.S. citizens or legal permanent residents can use claims of domestic violence as a swifter avenue to gaining legal status. At a Violence Against Women Act hearing in July, a woman described a lengthy legal battle after her Czech husband lodged false allegations of domestic abuse.
To combat such cases, Grassley's proposal would have required in-person interviews for immigrants claiming domestic abuse. It would also require immigrants seeking U visas to present documentation, signed by a licensed doctor, verifying they had suffered abuse.
Like other Republicans wary of fresh accusations that they are not sensitive to the needs of women, Grassley has emphasized that he supports the overarching goals of the Violence Against Women Act. But women's advocates say strenthening protections for immigrants reflects the bill's original intent.
It was understood from the beginning that if there was a subset of victims like immigrants who were exempted from the protections and assistance available, you would have a subset of criminals that would essentially get off and continue to perpetrate crimes in the community, said Leslye Orloff, president of the National Immigrant Women's Advocacy Project. These extensions are really closing gaps and catching up with the rest of the law.
© Copyright IBTimes 2023. All rights reserved.
FOLLOW MORE IBT NEWS ON THE BELOW CHANNELS