Wage Theft: Filipino Guest Workers Say They Made $3 An Hour Under US Visa Program Made For Executives And Supervisors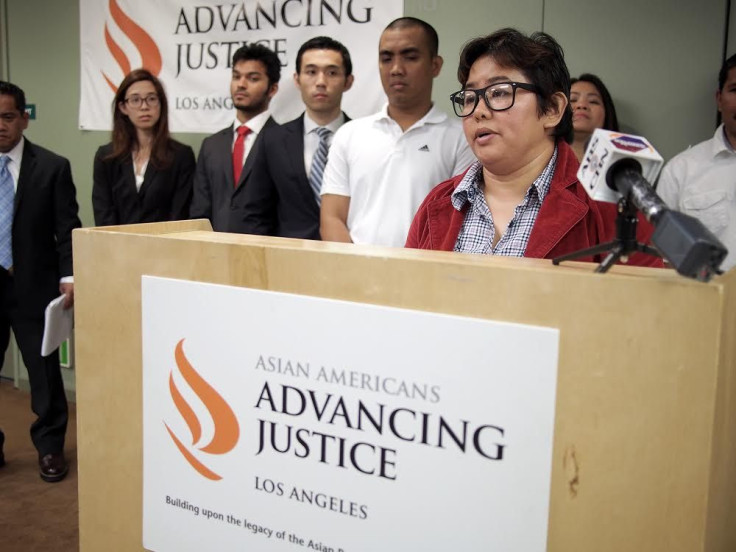 Note: Scroll down to the bottom of the story to read the full complaint.
Online reviews of L'Amande give the Southern California French-style bakery
four out of five stars
for its friendly service, authentic pastries and modern design. But the eatery's Filipino immigrant employees are giving the business zero stars, alleging labor abuses and wage violations at the hands of a fellow citizen.
"I dreamed of working to help my family in the Philippines, and saving money and go back and start my own life. I didn't expect this abuse," says Louise Louis, one of 11 current and former Filipino guest workers who are part of a civil case filed Thursday in Los Angeles against L'Amande and its owners.
The workers say they were fraudulently lured from their home country to the U.S. by L'Amande's co-founder, Analiza Moitinho De Almeida, a citizen of the Philippines who has lived in the Los Angeles area with her husband since 2009.
The suit alleges that Almeida made lofty promises to the workers, including a living wage and a path to permanent U.S. residency. Instead, the workers say, they ended up sweating out 14-hour workdays at L'Amande's two shops, in Beverly Hills and Torrance, California. At times they made as little as $3 an hour. The workers also say Almeida placed them in debt bondage and treated them differently than locally hired employees. If they failed to meet Almeida's expectations, they say, she retaliated by firing them. Some of the dismissed guest workers are now in legal-immigration limbo.
The case against Almeida highlights a little-known clause in the U.S. E-2 visa program that allows noncitizen entrepreneurs to recruit employees from their home nations to work for them in a U.S.-based business. The entrepreneurs must establish that these workers have specialized skills or perform the type of work associated with company executives or supervisors.
Immigrant laborers who work legally in the U.S. on temporary or indefinite stints are particularly vulnerable to abusive treatment because their stay in the country is tenuous and contingent on working for the employer that recruits them. If they lose their jobs, they must leave the country within days.
Laboni Hoq, a lawyer with Asian Americans Advancing Justice, which assisted in filing the suit, said in a statement Thursday that the visa program needs to be reformed because it's "ripe for abuse and employer misuse."
"The E-2 visa allows unscrupulous foreign investors to bring in immigrant workers who can be forced to accept abusive working conditions or risk deportation and retaliation in their home country," Hoq added.
Two messages left for L'Amande's owners Thursday afternoon were not returned. A person who answered the phone at L'Amande's Beverly Hills location on Thursday asked reporters to stop calling.
'Oppressive and Discriminatory Conditions'
The lawsuit filed against Almeida and her husband, Goncalo, alleged the couple used Almeida's immigration status under the U.S. E-2 visa program to import a cadre of Filipino employees who hoped to work in the U.S. and send money back home. The Almeidas allegedly paid the workers' visa and travel fees. Once the guest workers arrived, they were told they had to reimburse their bosses roughly $11,000 apiece unless they committed to working for three years.
"The workers were told they would work as skilled bakery chefs and managers, but when they arrived, what they faced was starkly different," the suit claims. The employees were put into "oppressive and discriminatory conditions as domestic servants, physical laborers engaged in landscaping and building maintenance."
The workers claim they were sent to clean and performance maintenance at residential properties owned by the couple before and after their shifts at the restaurants. Some said they slept in the laundry room of the couple's home for three months after they arrived.
A current Filipino employee of the bakery who did not want to be identified in the press tells International Business Times the owners would yell at workers for speaking to each other in Tagalog, the primary language of the Philippines, while local Mexican-American hires were allowed to speak Spanish. The worker also claims that locally hired workers had more freedoms.
"They can get time off whenever they like, but we couldn't apply for time off," says the employee. "If you wanted to have a Sunday off, they would say because you are Filipino you cannot take the time off." Local hires were able to earn extra income from tips after a two-week training period, while the guest workers had to wait six months, the employee adds.
The plaintiffs are seeking to recover unpaid back wages, including overtime, and immediate immigration relief to prevent them from immediate deportation for losing their jobs.
"This thing that happened to us, I want justice," said Louis. "I was treated unfairly and I want my back wages paid."
'An Executive or Supervisory Character'
The E-2 visa is one of three so-called nonimmigrant visas designed to lure investment to the United States from people in living in countries that have signed immigration-related treaties. The visa allows anyone from those countries who invest "a substantial amount of capital in a U.S. business" to live in the U.S.
The E-2 visa can also be granted to workers recruited by the investor from his or her home country as long as the skills are essential or the job is of "an executive or supervisory character." The visas for the employees are valid for up to five years.
The L'Amande workers named in the suit had worked for Analiza in the Philippines as far back as 1997 in a previous bakery venture, and met the requirements as defined by the visa program. But after they arrived, their pay barely changed from what they were earning back home, they claim, and they were given menial tasks, including putting up Christmas lights at the owners' home and doing other domestic housework.
Analiza, a Swiss-trained pâtissier, was identified in the suit as having connections to a wealthy family in the Philippines. A December profile in Asian Journal, an English-language newspaper serving California's Filipino community, claims Analiza's father is Juan B. Santos, head of the Social Security Administration in the Philippines, with connections to numerous large Manila ventures.
Read the full court document here:
© Copyright IBTimes 2023. All rights reserved.