Wal-Mart Stores Inc (WMT) Q1 Earnings 2015: Retail Giant To Roll Out Alipay In China, Takes On Amazon Prime With Free Shipping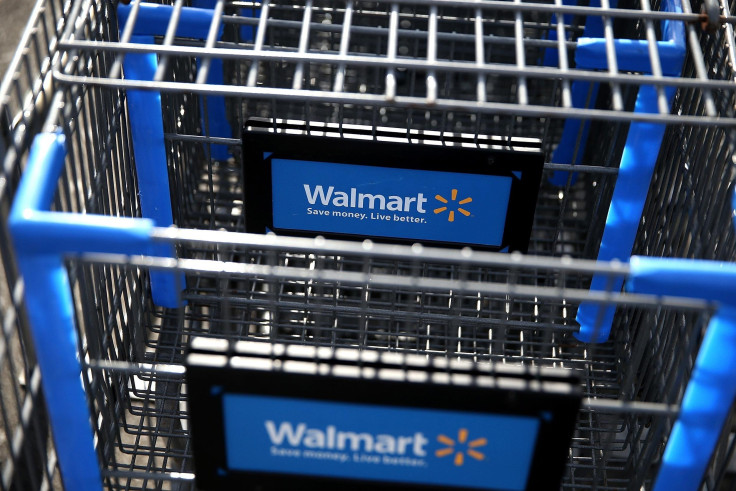 Wal-Mart Stores, Inc. (NYSE:WMT), the world's largest retailer, will report first-quarter earnings Tuesday, offering investors a sense of the overall health of the U.S. retail sector. The Bentonville, Arkansas, company, which is expected to post a 5.9 percent profit decline for the three months, plans to roll out two services this year, including a mobile payment system in China, along with a free shipping service in the U.S. to take on rival Amazon Prime.
Wal-Mart, which has struggled to gain a foothold in China, is teaming up with AliPay, a third-party mobile payment platform backed by e-commerce giant Alibaba Group Holding Ltd., the Xinhua News Agency reported Wednesday. The partnership will bring mobile payments to 25 Walmart-owned stores in Shenzhen. AliPay, which is similar to Apple Pay and Google Wallet, accounts for roughly half of China's online-payments market, according to iResesarch, a Chinese market research firm.
In the U.S., critics point to Wal-Mart's declining foot traffic as a sign of weakness, but analysts say the company has compensated with sales increases in its booming e-commerce business, which the company forecasts will climb 22 percent this year. Although Wal-Mart has improved its e-commerce platform, that improvement comes with lower margins, price competition and higher shipping costs, making it more difficult for the retailer to take on its biggest rival, Amazon.com Inc.
"Wal-Mart just hasn't been able to execute as well as Amazon," said Christine Short, senior vice president at research firm Estimize. Amazon focuses on localization and placing warehouses in different regions so it can take advantage of lower shipping costs, whereas Wal-Mart is not achieving the same cost savings, Short explained.
Wal-Mart announced this week that it's testing a free shipping service this summer in a move to take on Amazon Prime. The service will cost $50 per year and deliver products within three days or less. Amazon Prime, by comparison, costs an annual $99 and promises deliveries in two days or less.
Although Wal-Mart's service will be cheaper, it's missing a key feature that draws consumers to Amazon Prime: video streaming. "Amazon really got there first and now Wal-Mart is certainly trying to play catch-up," Short said.
Wal-Mart also has growing expenses—in the form of wage increases and health care costs—that will likely weigh on earnings. The company, which also runs the Sam's Club retail warehouse chain, announced in February that it will give a half-million full-time and part-time employees pay raises. The expected cost of the pay increase in 2016 will be about $1 billion.
The company is the biggest employer in the world with around 2.2 million employees. As U.S. healthcare enrollment increases, it will dramatically increase costs for the company.
Wal-mart and other retailers had been hoping for a very different 2015.
Shoppers in the U.S. aren't taking advantage of lower gasoline prices in ways that analysts expected. Consumers may have a bit more cash in their pockets from gas savings, but they are still cautious on spending.
"Health care costs are through the roof for a lot of consumers, so when they're paying more for insurance and healthcare, that's taking a chunk out of that extra cash," said Jessica Bornn, senior merchant at Merchant Forecast.
Another overriding theme this earnings season that is likely to remain unchanged, even for Wal-Mart: U.S. multinationals are facing currency issues due to a strong dollar.
For the quarter ended April 30, economists expect Wal-Mart to report first-quarter net income of $3.38 billion, or $1.05 per share, on revenue of $116.3 billion, according to estimates from analysts polled by Thomson Reuters. That compares with a profit of $3.59 billion, or $1.11 per share, on sales of $114.96 billion during the same period a year ago.
Shares of Wal-Mart, which are currently trading around $79, have lost 8 percent so far this year.
© Copyright IBTimes 2023. All rights reserved.