Wal-Mart Stores Inc Raises Workers Wages: Is The Pay Hike Really A Big Deal?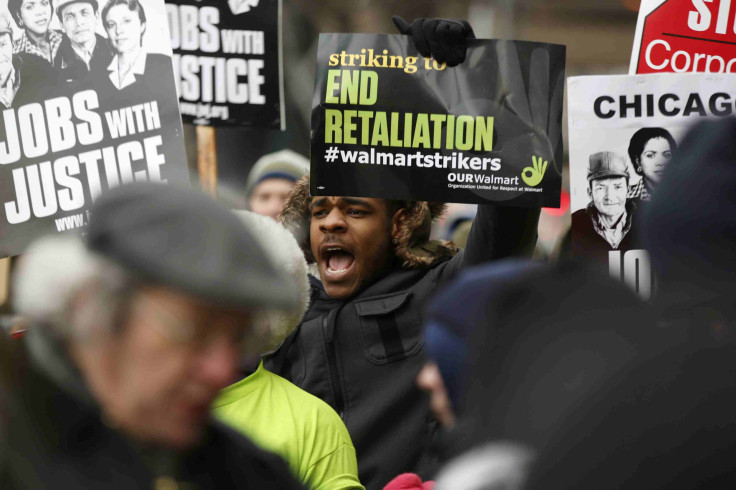 Wal-Mart Stores Inc. raised eyebrows Thursday by announcing it will raise the baseline wage of store employees to $10 per hour. But the gesture may not be as benevolent as it seems.
The $1 billion move from the country's largest private-sector employer will affect 500,000 of the company's full-time and part-time workers, or about 40 percent of its U.S. workforce. CEO Doug McMillon is framing the wage boost as a boon to both employees and consumers.
"Overall, these are strategic investments in our people to reignite the sense of ownership they have in our stores," McMillon said on a quarterly earnings call. "As a result, we firmly believe that our customers will benefit from a better store experience, which can drive higher sales and returns for our shareholders over time."
As it stands, the average Wal-Mart worker makes about $9 an hour (The company insists its average hourly wage is $11.81, but that figure doesn't include part-timers). States and municipalities are moving quickly to hike wages well beyond that mark. By 2017, three states, including California, in addition to the District of Columbia, will have minimum wages at $10 hour or more. Washington and Oregon, whose wage increases are pegged to inflation, will likely be in that group too. Major cities like Chicago, Seattle and San Francisco have also voted to boost wages well in excess of $10 an hour.
Critics say the company can afford a more generous increase.
"When compared to the $16 billion in profit that the company rakes in annually, Wal-Mart's promise of $10 an hour -- which even for a full-time worker is not enough to keep a family of four out of poverty -- is meager," said Christine Owens, executive director of the National Employment Law Project.
Wal-Mart did promise on Thursday to address scheduling issues -- a frequent source of frustration among part-time employees who want to work longer hours. But the company provided no firm guarantees as to how that might look in practice. In other words, a part-time worker will soon get to earn $10 an hour, but she could still be barred from working more than 25 hours a week.
"Without a guarantee of getting regular hours, this announcement still falls short of what American workers need to support our families," said Emily Wells, a Wal-Mart worker and leader of OUR Walmart, the union-backed group that has organized high-profile walkouts on Black Friday in recent years.
Wells makes $9.50 an hour and works 26 hours a week. About half of the company's workforce is made up of similar part-time workers.
© Copyright IBTimes 2023. All rights reserved.