Wall Street's Week Ahead: Dow Jones Industrial Average Tumbles 200 Points As Apple Inc (AAPL), Microsoft Corporation (MSFT) Drop 1%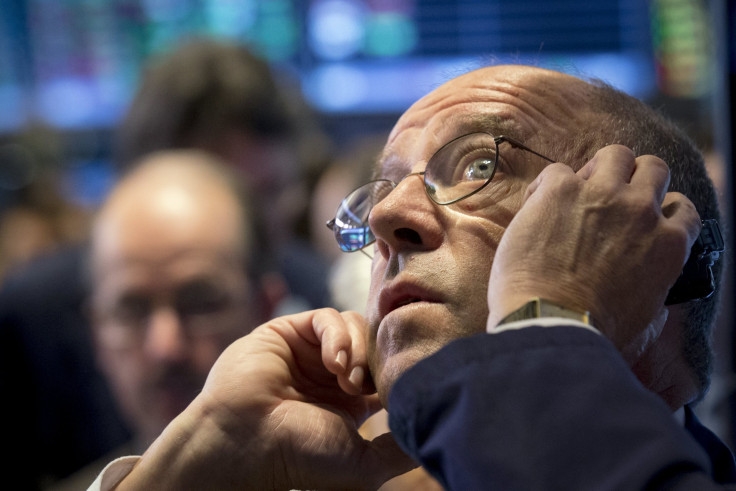 U.S. stocks dropped Tuesday, with the Dow Jones Industrial Average tumbling 200 points, as investors weighed a series of mixed economic data following the long Memorial Day weekend. Tuesday's losses were led by sharp declines in the technology sector.
The Dow (INDEXDJX:.DJI) dropped 200 points, or 1.08 percent, to 18,029. The Standard & Poor's 500 (INDEXNASDAQ:.IXIC) lost 22.05 points, or 1.05 percent, to 2,104. The Nasdaq composite (INDEXSP:.INX) lost 65 points, or 1.28 percent, to 5,025.
All 30 stocks in the Dow traded lower Tuesday, with iPhone maker Apple Inc. (NASDAQ:AAPL) and International Business Machines Corp. (NYSE:IBM) among the largest decliners, both down 1.7 percent. Meanwhile, software giant Microsoft Corporation (NASDAQ:MSFT) and chipmaker Intel Corporation (NASDAQ:INTC) lost 1 percent.
The S&P 500 information technology sector was the biggest decliner in the index, as U.S. solar panel maker First Solar Inc. dropped nearly 8 percent. Hewlett-Packard Company (NYSE:HPQ) lost 3 percent and design software company Autodesk, Inc. (NASDAQ:ADSK) fell 2.5 percent.
Shares of Time Warner Cable Inc. (NYSE:TWC) gained 5 percent in morning trading after Charter Communications Inc. (NASDAQ:CHTR), the fourth-largest U.S. cable operator, announced it will buy the company for $78.7 billion, including debt.
The U.S. dollar soared to its highest level since July 2007 against the Japanese yen, while hitting a one-month high against the euro as concerns grow that Greece will default on loan payments. The U.S. dollar index, which measures the greenback against major world currencies, gained 1 percent Tuesday to as high as $97.34.
Data released Tuesday showed U.S. consumer optimism rose modestly this month after declining sharply the previous month. The Consumer Confidence Index rose to 95.4 in May, while April's reading was revised lower to 94.3 from 95.2, the Conference Board said Tuesday.
However, expectations were relatively flat following a steep decline in April. "While current conditions in the second quarter appear to be improving, consumers still remain cautious about the short-term outlook," Lynn Franco, director of economic indicators at the Conference Board, said in a statement Tuesday.
Separately, sales of new U.S. single-family homes rose more than expected in April, up 6.8 percent to a seasonally adjusted annual rate of 517,000 units, the Commerce Department said Tuesday. Economists had forecast new home sales to rise to a 510,000-unit pace last month, according to analysts polled by Thomson Reuters.
Meanwhile, U.S. housing prices gained 5 percent in March from a year ago, the S&P/Case-Shiller's 20-City Composite showed.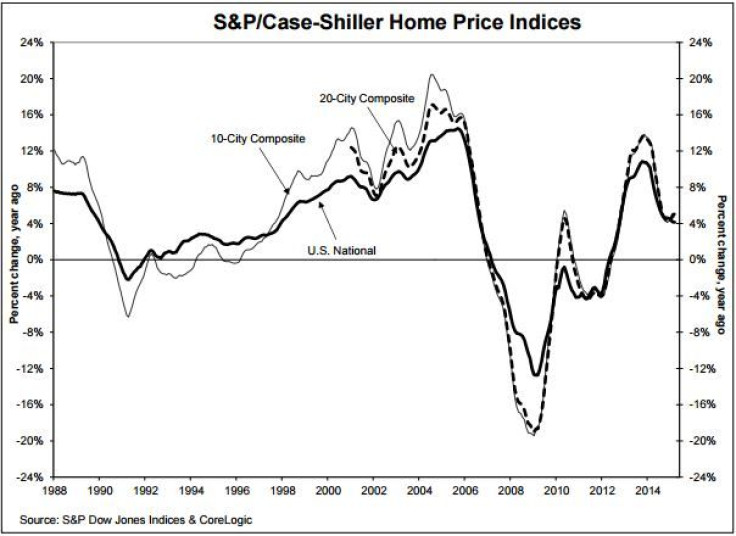 Data released ahead of the opening bell showed U.S. business investment rebounded in April. Although durable-goods orders fell 0.5 percent in April, non-defense capital goods orders excluding aircraft, a closely watched measure for future business spending plans, rose 1.0 percent last month after an upwardly revised 1.5 percent increase in March, the Commerce Department said Tuesday.
Wall Street is looking ahead to Friday's revision to U.S. gross domestic product for the first quarter after the economy slowed more than expected in the first three months of the year. Economists forecast the U.S. economy contracted at a seasonally adjusted annual rate of 0.8 percent in the first quarter, down from the Commerce Department's preliminary estimate of 0.2 percent.
Here's the latest economic calendar for the week of May 26. All listed times are EDT.
Monday
Memorial Day. No major U.S. economic data scheduled.
Tuesday
8:30 a.m. -- Durable goods orders (April)
9 a.m. -- Case-Shiller home price index (March)
9 a.m. -- FHFA home price index (March)
10 a.m. -- Consumer confidence index (May)
10 a.m. -- New home sales (April)
Wednesday
No major U.S. economic data scheduled.
Thursday
8:30 a.m. – Weekly jobless claims
10 a.m. -- Pending home sales index (April)
Friday
8:30 a.m. -- U.S. GDP revision (Q1)
9:45 a.m. -- Chicago PMI (May)
10 a.m. -- Consumer sentiment index (May)
Jessica Menton is a writer who covers business and the financial markets. News tips? Email me here. Follow me on Twitter @JessicaMenton.
© Copyright IBTimes 2023. All rights reserved.