Walmart Workers Still Unsatisfied, 7 Months After Widely Celebrated Pay Raise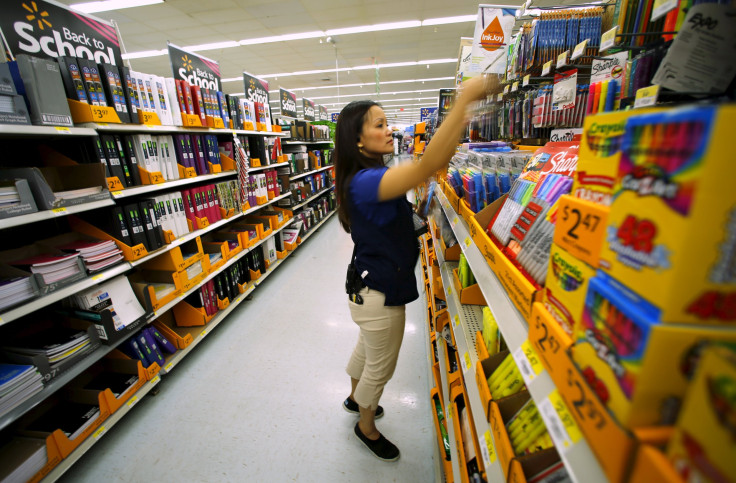 Walmart Stores hiked wages for some 500,000 workers in February, lifting starting pay to $9 an hour this year, and promising to reach $10 next year. Lauded for the move by the White House, CEO Doug McMillon told CNBC, "We want our associates to know how much we value them." But seven months later, workers at the nation's largest private-sector employer don't share those fuzzy feelings.
Conversations with Walmart workers at stores across the country revealed more discontent than what's visible on the surface. Many employees showed sympathies with recent calls for $15 an hour and full-time 40-hour workweeks -- demands that stem from the labor activist group Organization United for Respect, or Our Walmart. That contrasts sharply with the company's contention that such critiques over pay and scheduling are not shared by rank-and-file workers. Nearly every employee spoke on condition of anonymity to avoid the risk of retaliation from management.
Asked about the campaign's twin demands, Maly, a young worker with three years of experience at a store in New Jersey who earns $11 an hour, says he hasn't heard about them. But, "we need that, we deserve it."
Scheduling is another concern -- especially as Walmart has cut some workers' hours to help cover the costs of the pay raises.
Maly says he works only 34 hours a week but would like to work more. Meanwhile, every year on Black Friday, the day after Thanksgiving, he says, employees are forced to work 12-hour shifts and "you get fired if you don't do it," he says. "I haven't spent Thanksgiving with my family in three years."
Wal-Mart Stores, Inc. (WMT) Quarterly Revenue | FindTheCompany
Sha-majah, a cashier in Connecticut who earns $9.40 an hour, agrees that she and her fellow co-workers deserve $15. "We work hard, we're selling food, retail, everything." She said she works part-time, 33 to 34 hours a week, in order to take care of her 2-year-old son.
On the other hand, Shantel says $15 an hour "is pushing it." She works full-time, 40 hours, in the apparel department at a store in New Jersey, earning $9.40 an hour. Her father-in-law is a nurse. She said he "only gets $12 an hour and he's taking care of sick people. For retail, [$9.40] isn't bad."
Hanging clothes on the rack, her knees pressed on the floor, Shantel says she's content with her work. "I've never had a problem. You prove yourself, you work hard," she said. Shantel says she used to hold the same position at a Walmart in Colorado, before moving to New Jersey because of her husband's illness. She said his earnings as an auto mechanic also support their family, which includes two young children.
Nancy Paez is a department manager at a store in Miami Gardens, Florida, and unabashed supporter of Our Walmart -- but one of about 10, she says, at her store of 500 employees. An eight- year veteran at the company who earns $12.72 an hour and usually works 40 hours a week, she acknowledges the recent minimum pay hike was "perfect" for a lot of the newer staff. (It's now about $1 above the Florida minimum wage.)
But Paez, speaking in Spanish, says everyone would benefit from an even more generous raise than that. She also says co-workers frequently complain about their struggles to obtain full-time status. She knows some who've been working part-time for seven years, she says. Under Walmart policy, part-timers are limited to 34-hour weeks.
Judith has even more experience at Walmart -- about 13 years worth -- and works to support herself and her husband, who's on disability retirement. A cashier in Connecticut who earns $13 an hour, she remains skeptical of the demand for $15, since it's so much higher than the current statewide minimum of $9.15. But she'd love a raise and some improvements on scheduling -- and a bit more respect on the job.
Three years ago, Judith says, she got a "beautiful certificate" and a pin commemorating 10 years of service at Walmart. Not long after, she was unexpectedly moved to part-time status. She's still barred from working more than 34 hours a week. Affronted by the demotion, she handed back the certificate and pin to her boss. "I said if Walmart's not gonna respect me, I'm not gonna respect Walmart."
Walmart insists that complaints like these aren't representative of the workforce as a whole. "The vast majority" of employees are getting the pay, scheduling and training opportunities they want, according to spokesman Brian Nick.
There's More In Store
At interviews inside stores and adjacent parking lots, a handful of workers acknowledged some of the very issues that Our Walmart has raised at annual Black Friday protests since 2012: Low pay, the company's heavy reliance on part-time work and the hard-to-quantify question of dignity on the job. And yet, the campaign has run into some major obstacles, suffering from low recognition and participation among the workforce.
Instability at the campaign's primary source for political and financial support probably has played a small, but not insignificant, role. Much like the powerful Service Employees International Union and the Fight for 15 campaign, Our Walmart was bankrolled by a large union, the United Food and Commercial Workers. Until recently, doubts over the investment left the campaign's future in doubt: Critics among the union's ranks argued it should focus resources on dues-paying members rather than pour money and energy into an uphill battle at Walmart. That faction appeared to win out this summer, when the UFCW laid off key organizers and cut funding to the campaign.
Last week, however, Our Walmart officially relaunched as an independent organization, vowing to build on its existing network of supporters. Some observers say that newfound independence will enable the group to engage in riskier, more headline-grabbing protests and focus on long-term organizing without fears of the union pulling out the rug from underneath. (Further complicating matters, the UFCW insists it remains committed to on-the-ground organizing, and says it's holding on to the "Our Walmart" name. For the time being, then, there are two Our Walmarts.)
Aside from those self-inflicted wounds, employee demands to either boost pay or negotiate with management are typically met with stiff resistance from Walmart. Dan Schlademan, director of the newly independent Our Walmart, says "they fire people, close stores, threaten people" and "change shifts on people" who speak out. This summer, Our Walmart accused the company of temporarily closing five stores in an effort to squelch organizing efforts at an outlet in Pico Rivera, California, that had emerged as something of a bastion of worker discontent. (The company maintains the closures were necessary for plumbing repairs.) Schlademan says tactics like these are designed to instill fear among the workforce.
Paez, the Our Walmart supporter in Florida, agrees. Although her group's issues have broad appeal, she says the biggest reason others don't join or take part in protests is "fear": "It's the fear they'll end up without work for getting involved."
Walmart vehemently denies the charges that it retaliates against workers. Likewise it rejects the notion that the recent plumbing repairs were invented as a means of cracking down on dissent. Spokesman Nick said the five stores are all slated to reopen in the coming weeks. He also noted that three-quarters of the workforce affected by the closures was offered the ability to transfer elsewhere.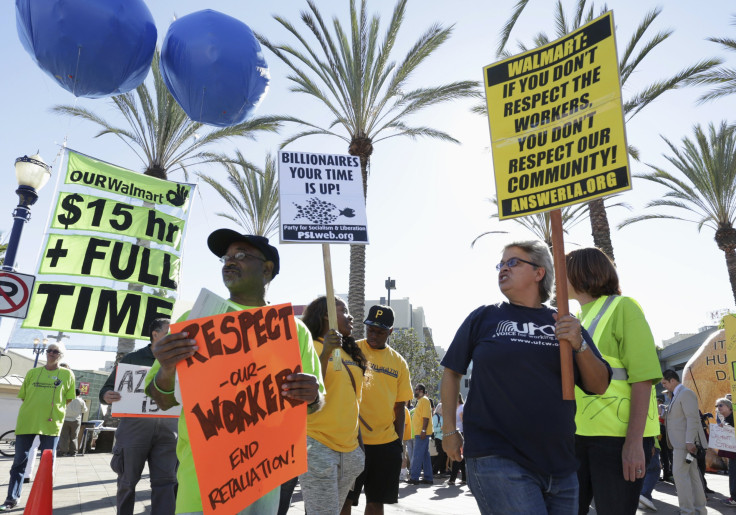 But critics maintain that such apparently strong-arm tactics are simply baked into the company's economic vision.
Nelson Lichtenstein, a labor history professor at the University of California, Santa Barbara, and author of a critically acclaimed book on Walmart, has said the company's business model is predicated on low pay and resistance to collective bargaining. In 2000, Walmart famously closed all of its meat departments nationwide and shifted to using prepackaged meat after butchery workers at a Texas store voted for union representation. The company also closed a store in Quebec in 2005 after employees voted to organize a union -- something the Supreme Court of Canada deemed illegal last year.
Baez, the worker in Florida, says more employees don't support Our Walmart because "they're afraid." "They don't want to lose their jobs," she says.
Nick rejected the criticism about low pay, saying the company's wages and benefits "are very competitive for not only the retail industry, but a large company in general." He asserted that average hourly pay is $13. (According to the independent survey site Glassdoor.com, the average hourly wage for Walmart sales associates is $9.34, with cashiers earning around the same amount; the average annual salary for a manager is more than $45,000.)
At any rate, Schlademan of Our Walmart says it's clear the protests are already having an impact. He refers to an interview last December in which CEO McMillon promised to raise pay and said the company sometimes gets "caught up" in the "debate over inequity." Just two months later, Walmart unveiled its modest hikes in starting pay.
"Walmart's basic business model has always been 'we're the lowest payer, we're the cheapest,' and the fact that they have been forced to change that speaks volumes about the power of the organization and what the organization's been able to accomplish," Schlademan says of Our Walmart.
Much like the unexpected success of the Fight for 15, Schlademan hopes that the campaign can continue tapping into national dialogues about low pay and inequality. Doing so effectively could force the company into going further than its recent wage hike.
"There's no question we're at a moment in time where the issues of inequality have changed our conversations about what's wrong with the economy," Schlademan continues. "When we think about 2016, and the pope and Bernie [Sanders], all these sort of things, the environment that's here is not like anything I've ever seen."
© Copyright IBTimes 2023. All rights reserved.