War In Europe 2017? NATO Counters Russia, Pledges To Fortify Presence In Black Sea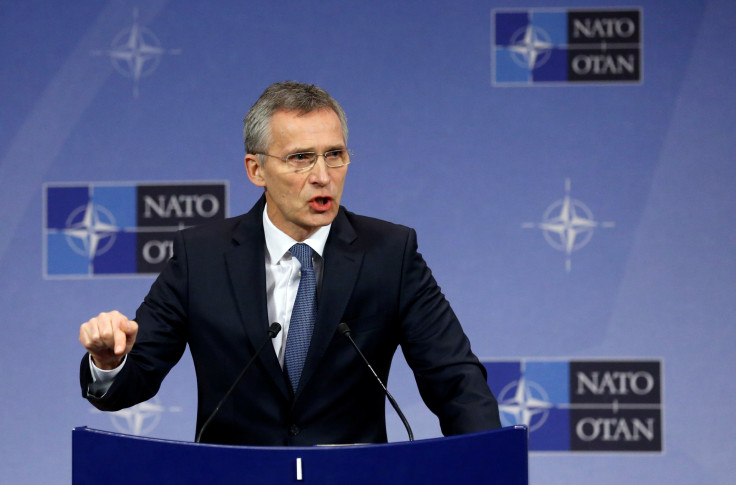 NATO was bolstering its naval, land and air forces surrounding Russia, officials announced Thursday. European NATO allies will buy planes and submarines, and they are considering opening a new command headquarters.
In addition to building its arsenal of defense equipment, NATO will fortify its southeastern flank around the Black Sea after it sent troop reinforcements to the Baltic States and Poland in January. The alliance also plans to boost intelligence gathering. These efforts to increase security was made in response to Russia's military buildup in the Black Sea, an anonymous NATO official told Agence France-Presse. But publicly, NATO chief Jens Stoltenberg insisted that the move is not meant to aggravate Russia.
"We will have an increased presence in the Black Sea but it will be measured, it will be defensive and it will in no way be provoking any conflict or escalating tensions," Stoltenberg said.
Additionally, the letters of intent signed by NATO Thursday will spur the following actions:
Defense ministers from France and Germany will buy Lockheed Martin C-130J transport planes.
Germany, Belgium and Norway will join a Netherlands-led fleet of Airbus A330 tanker planes.
NATO will build new command center for Dutch, Belgian and Danish elite forces that could be used by other NATO nations.
Germany and Norway plan to buy six submarines together and replace their aging missile systems.

Germany and France will set up a smaller air transport unit meant to support special operations and help German nationals in trouble abroad.
Tensions between NATO and Russia have been rising since Russia annexed Crimea in 2014. Plus, European NATO countries have been under pressure from the U.S. Defense Secretary James Mattis to bolster their defense spending. The U.S. is one of five NATO countries that spend at least 2 percent of their gross domestic product on defense spending — but 22 NATO countries have not reached this benchmark, despite the fact that they pledged to do so. Mattis threatened to lessen the U.S.' commitment to NATO if other countries didn't step up.
Although Stoltenberg said the decision was not meant to irk Russia, the move was interpreted differently by Russian President Vladimir Putin.
"In fact, they are constantly provoking us, trying to drag us into a confrontation," Putin said in the state-run media outlet Russia Today. He added NATO members "are continuing their efforts to interfere in our domestic affairs with the goal of destabilizing social and political order in Russia proper."
© Copyright IBTimes 2023. All rights reserved.