The War On ISIS: Kurdish Forces In Kobane Look To Turkey For Military Intervention, Peace Process Negotiations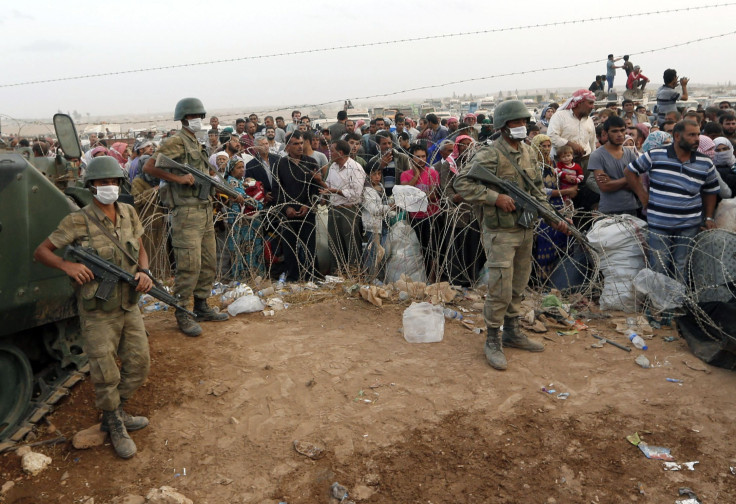 ISTANBUL -- In the midst of intense shelling from the Islamic State group on Friday in Kobane, Syria, Kurdish fighters slipped through the border into Turkey to reorganize. They have been fighting the Sunni militant group for more than a week with a limited supply of weapons and ammunition. The Turkish government voted Thursday to authorize its army to enter Syria and Iraq to fight ISIS, but so far, the tanks it deployed on the border have not moved into Syrian territory to help the Kurds.
If the Turks fail to take action and protect the Kurds in Kobane, Kurdish leaders said this week, peace talks within Turkey could be at risk.
"The siege of Kobane is far from being just an ordinary siege," Abdullah Öcalan, the imprisoned leader of the Kurdistan Workers' Party (PKK), said in a message relayed to supporters from his cell. "It does not only target the democratic gains of the Kurdish people but would lead Turkey to a new era of coups."
The PKK are fighting against the ISIS insurgents in Kobane. The Turkish government, the U.S. and European Union have all designated the PKK as a terrorist organization. Kobane and a cluster of villages is one of the three enclaves governed by Syria's Kurds. Syrian President Bashar Assad has left the fight for Kobane up to the Democratic Union Party and its armed wing, the People's Protection Units, which are both linked to the PKK.
The parliamentary vote Thursday would allow for Turkish intervention in Syria and Iraq to fight ISIS. It also permits foreign fighters to use Turkish bases. President Recep Tayyip Erdoğan's Justice and Development Party voted for intervention, but the main opposition Republican People's Party and the pro-Kurdish Peoples' Democratic Party voted against the motion.
Analysts in Istanbul said both the Turkish government and the Kurds in Syria are using the conflict in Kobane to rally supporters.
"The Kurds in Syria are just trying to continue their propaganda and gain from the process itself," Mehmet Yegin, a researcher at USAK Center for Middle Eastern and African Studies, told International Business Times. "They are so experienced on that. They are bringing people from Istanbul from different cities and kind of trying to solidify their sympathizers. But they are not able to stop ISIS militarily."
For almost a week, Kurdish fighters in Syria have been battling ISIS forces but have gained almost no ground. On Friday, activists in Kobane, who asked to remain anonymous for security reasons, said Kurdish fighters were "not winning."
"They are not in good shape," Yegin said. "They are not an experienced warfare group. They are a mountain-based guerrilla group, they are not stable on the flat ground. So Syria is not a space that they can fight easily."
Kurdish fighters in Kobane told journalists Friday that they were losing the battle against ISIS and needed more support. Reporters on the border said that ISIS advanced toward the border Friday afternoon, inching closer to confronting Turkish security forces, which would essentially force Turkey to counterattack the militant group.
Kurdish fighters on the ground near the Turkish border said Friday their men are flowing in and out of the Turkish border through illegal crossings to bring supplies into Syria to aid the fight. The Turkish border gives them a way out of the fight, they said.
Despite the desperate situation in Kobane, Turkey has no legal basis to intervene in Syria.
"If there is an attack there [in Turkey], then there will be a different reaction," Yegin said. "I don't see it happening in Kobane yet. They won't confront ISIS. Not yet."
On Friday, the eve before Eid al-Adha, the Muslim holiday that celebrates Abraham's willingness to sacrifice his son, ISIS distributed a video showing the beheading of another aid worker, Alan Henning from Britain.
© Copyright IBTimes 2023. All rights reserved.