War Surgeon Helps Doctors In Ukraine Save Victims Wounded In Blasts
KEY POINTS
David Nott from the U.K. remotely helped a Ukrainian doctor save a man's leg
The trauma surgeon visited Ukraine to perform surgeries on warzone injuries
A number of Ukrainian doctors watched and learned as the surgeon operated
A trauma surgeon, miles away from war-ravaged Ukraine, is not letting the distance stop him from helping doctors save the lives of innocent victims in the country.
David Nott, who is currently in London, remotely helped a Ukrainian doctor named Oleksandr perform a complicated leg operation on a patient who survived a blast. Oleksandr had sent a photo of the wound to Nott, who confirmed the patient would need an operation, according to NDTV.
Only about a week had passed since Nott was in Ukraine performing the very same procedure while Oleksandr watched. Oleksandr also previously received a video of the war surgeon talking him through the operation before he performed the procedure himself.
"I was quite nervous and it was slowly step-by-step surgery, but it went well thanks to David Nott," Oleksandr told BBC.
Nott noted that surgeries of this kind are complicated and can lead to problems if they go wrong. However, he added that the operation performed by Oleksandr was "miraculous."
Nott previously worked in conflict zones such as Afghanistan, Iraq and Syria. He recently took a trip to Ukraine and traveled through the country's "north, east, south-east, west" at a time when Ukrainian hospitals continue to receive patients caught in bombing and shelling attacks launched by Russian forces.
During his visit to Ukraine, Nott performed different operations on warzone injuries while Ukrainian doctors huddled in operating theatres to watch.
He "showed us ordinary doctors how to fight on the medical frontline," Oleksandr told the outlet.
Many Ukrainian doctors also have a series of slides and videos explaining how to treat war wounds, which were translated by Nott through his charity, known as the David Nott Foundation. These slides and videos "went on as many of the doctors' phones as it possibly could," Prof Nott told the outlet.
Nott believes 115 hospitals in Ukraine have already been shelled by Russian forces and told BBC, "Blowing up hospitals and killing doctors is a real weapon of war too, it's just despicable."
"It is the worst possible way of attacking the opposition, by simply shelling," Nott told the outlet. "It causes enormous damage. It causes dreadful, dreadful injuries."
Following his return to the U.K., Nott hopes that doctors like Oleksandr will pass on whatever they have learned from him to other doctors so that more innocent victims can be saved.
"He will train other people how to do it, they'll train other people to do it, and then hopefully everyone will know how to do it in the not-too-distant future," he added.
Two months have passed since Russian forces invaded Ukraine on Feb. 24, and nearly 5.2 million Ukrainians have since fled the country, according to the latest UNHCR (United Nations High Commissioner for Refugees) data, The Guardian reported.
Following a trip to Kyiv with Secretary of State Antony Blinken, Pentagon chief Lloyd Austin said Monday that Ukraine could win the war with "the right equipment."
"The first step in winning is believing that you can win. And so they believe that we can win," Austin said after meeting Ukrainian President Volodymyr Zelensky.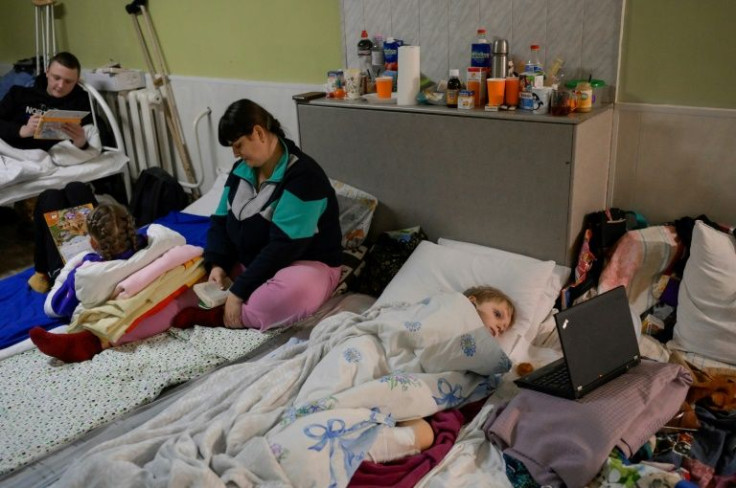 © Copyright IBTimes 2023. All rights reserved.