Warriors Star Warns Against Writing Off The Dubs, Also Favors Lakers
Klay Thompson will miss a big chunk of the 2019-20 season after suffering an ACL injury during Game 6 of the 2019 NBA Finals but he has warned against people writing off the Golden State Warriors. The shooting guard is confident the Warriors dynasty still has a few more years in them despite losing key players this summer.
Kevin Durant, Andre Iguodala and Shaun Livingston have departed the Bay Area this summer and the trio played key roles in helping the Warriors make the NBA Finals for five straight years. Thompson, however, is not too concerned and believes team leader and 2-time MVP Stephen Curry, Draymond Green and new arrival D'Angelo Russell and re-signing Kevon Looney will help them continue to be among the teams that dominate the Western Conference.
"I think that's a little premature, saying there's no more dynasty," Thompson told ESPN's Cari Champion. "I mean, we still have Stephen Curry, a two-time MVP, Draymond Green, a defensive player of the year. Adding D'Angelo Russell was an incredible gift for us; I mean, that kid's going to blossom into a superstar in this league. That gave me and honestly my teammates a breath of fresh life to see him come on board."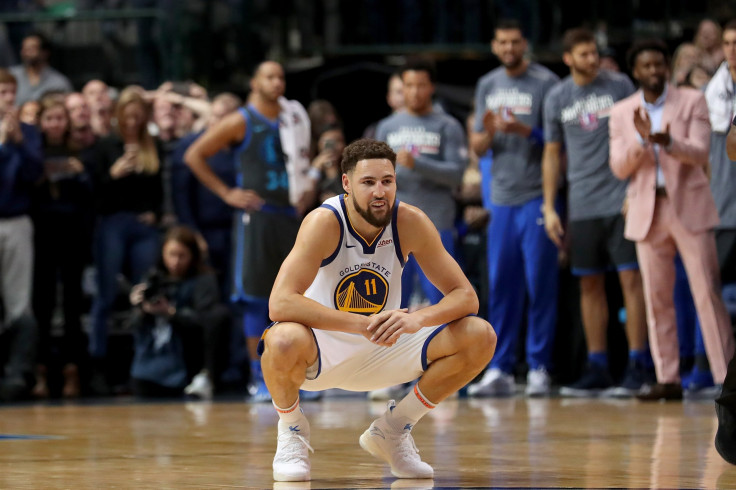 "Getting Kevon Looney back is huge. His role in the playoffs was instrumental in getting us to the Finals. Same with Willie Cauley-Stein. I think his ability to play above the rim and run the floor is going to be great for us," he added. "And to say the dynasty is over I think is a little ignorant, 'cause I think I'm going to come back 100 percent -- I think I'm going to come back even better and more athletic. And it would not be smart to count the Dubs out."
Thompson was also asked about the two 2020 NBA championship favorites in Southern California – the Los Angeles Lakers and Clippers. He is happy for Los Angeles, which now has two teams at par, which has never been the case in the past but was not ready to pick the favorite to progress to the NBA Finals.
When Champion asked him to put money on the favorite in the Western Conference, there was no hesitation in picking the Dubs, while also praising the two Los Angeles teams, Houston Rockets, Sacramento Kings and Utah Jazz. When forced to pick one team as the Warriors rivals in the West Finals in 2020, Thompson picked the Lakers owing to his father Mychal Thompson being connected to the purple and gold.
© Copyright IBTimes 2023. All rights reserved.