Washington Post Correspondent Jailed In Iran Has Christmas Meal With Family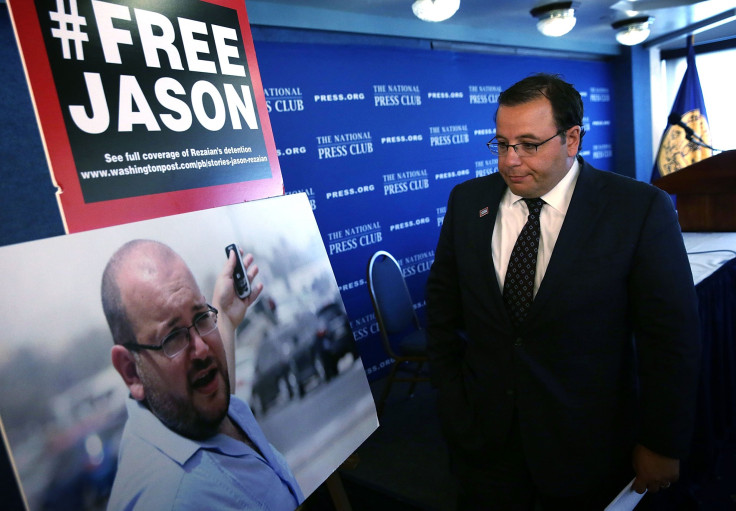 Jason Rezaian, the Washington Post correspondent who has been held in an Iranian jail for more than 500 days, was allowed to see his wife and mother for a Christmas Day visit. His wife and mother came to see him at Evin Prison, northwest of Tehran, where he has been held since his arrest, July 22, 2014, the Washington Post reported.
Mary Rezaian , the captive's mother, told the Post she and his wife, Yeganeh Salehi, were able to spend several hours with him Friday. Salehi is a correspondent for The National, a newspaper based in the United Arab Emirates.
"This is the first time in the year that I have been visiting him in Evin Prison that I could spend an extended time there and bring him his first home cooked meal in months," Mary Rezaian said in an email to the Post. "We had a wonderful time together reminiscing of holidays past."
Rezaian, who was born in California and holds both U.S. and Iranian citizenship, had been the Washington Post's Iranian correspondent since 2012. His wife was originally arrested with him but later released on bail. She is an Iranian citizen.
After a closed-door process, Rezaian was convicted in October of espionage and similar charges. The ruling was announced on Iranian television, BuzzFeed News reported. Last month, a spokesman for Iran's judicial system told the Islamic Republic News Agency a prison sentence was handed down, the Associated Press reported. However, the length of Rezaian's sentence has not been announced publicly.
Rezaian's mother included a message from her son in her email to the Post. "Jason wants all his colleagues at the Post, the advertising department, cartoonists, everyone including the janitors to know how very much he appreciates their efforts, support and good will. He knows you all are working harder than any other entity to secure his release. And the knowledge of that is what gives him strength every day," she said. "Jason is sending his warmest nondenominational season's greetings to everyone at the Post. And wishes for a very happy and productive New Year."
Marty Baron, the Post's executive editor, also issued a statement about the visit to BuzzFeed News. "We are enormously pleased that our colleague Jason was permitted to spend extended time with his mother Mary and his wife Yegi. It is a happy occasion for them and for all of us," Baron said. "And yet, we have to note, this visit is a rare exception in the 522 days of tragic, unjust imprisonment of a good, honorable, and innocent man. We welcome this act of basic humanity, and we encourage his jailers in Iran to follow up by doing all that justice and decency require: Release Jason from prison and allow him a return to life as a free man who can spend time with his family where and whenever he pleases."
© Copyright IBTimes 2023. All rights reserved.
FOLLOW MORE IBT NEWS ON THE BELOW CHANNELS