Washington Redskins Name Change: American Indian Groups Release New Ad Ahead Of Super Bowl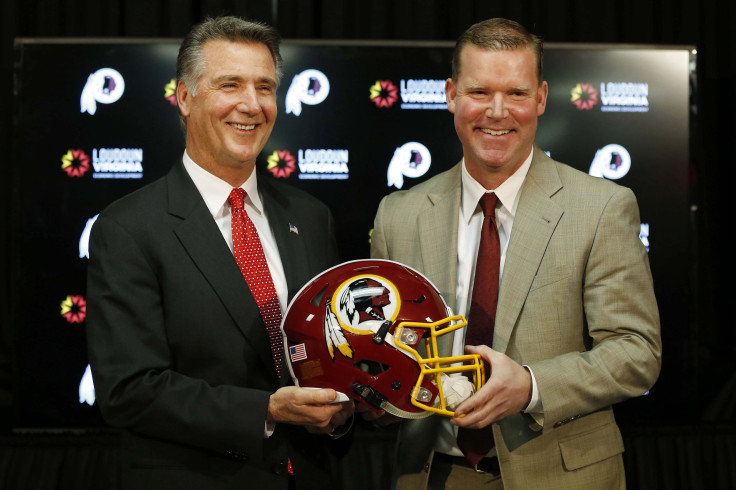 A pair of American Indian advocacy groups pushing for the Washington Redskins' football club to change the team's name and mascot released a new online ad on Friday that imagines the team's players and fans rejoicing without the visual reminders of the franchise name and logo. The 30-second spot -- titled "Take it Away" -- was released by the Change the Mascot campaign and is timed ahead of Super Bowl XLIX, which will be played on Feb. 1 in Phoenix, the Washington Post reported. The campaign, which seeks a change in the team's name to something that isn't offensive to American Indians, is relying on social media buzz to generate publicity, as the ad isn't expected to run during the broadcast of the big game.
The clip is the latest in a joint effort of the National Congress of American Indians and the Oneida Indian Nation and features 2012 highlight footage of Washington quarterback Robert Griffin III's 76-yard touchdown run against the Minnesota Vikings, with one catch: The Redskins logo has been digitally erased from the field, players' helmets and from fans' paraphernalia in the stands. "Take it away and it's still Washington football," reads a final message displayed at the end followed by the hashtag #ChangeTheMascot. Neither the campaign nor the agency that created the ad asked the National Football League for permission to use footage. The ad was financed by the two groups, which have done the same for many other name-change efforts in recent years.
The name-change groups last year released an ad called "Proud to Be" prior to Super Bowl XLVIII held near New York in East Rutherford, New Jersey. That 2-minute clip had been viewed more than 3 million times on YouTube and, in a shortened version, aired in seven major markets during the NBA Finals, according to the Post's report. The National Congress of American Indians and the Oneida Indian Nation also paid Facebook to promote the ad and is considering placing it on moving billboards and in cabs in Washington, D.C.
© Copyright IBTimes 2023. All rights reserved.
FOLLOW MORE IBT NEWS ON THE BELOW CHANNELS