Watch: Burning Train Pulls Into Railway Station In South Africa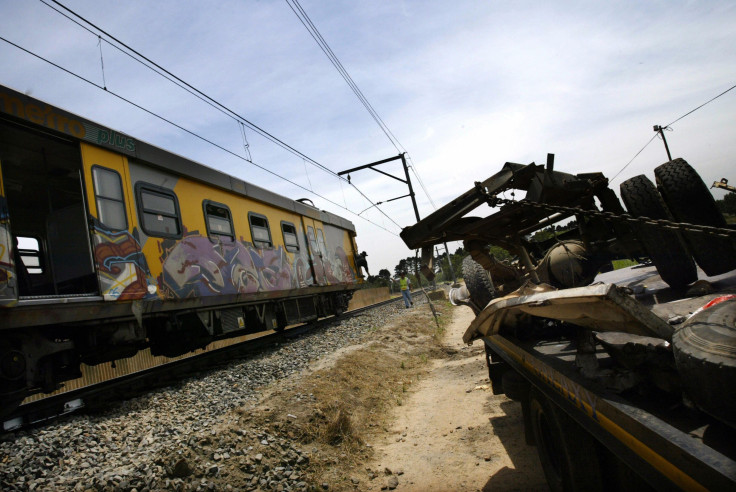 A train Tuesday pulled into the Retreat Railway Station in Cape Town, South Africa, with its tail on fire.
Train 0133, which carries passengers from Cape Town to Fish Hoek, South Africa, arrived at the Retreat Railway Station at 7:38 a.m. local time (1:38 a.m. EDT) with its fourth and fifth passenger cars on fire. Twitter user who goes by the handle @awk_wardah was standing on the platform at the time of the incident and managed to capture the horrific moment on video.
The fourth compartment of the train was seen ablaze with thick black smoke billowing out of it. The Twitter user said the police and the fire department arrived at the scene and the station was quickly evacuated. She added panic ensued among the commuters as one of the railway security screamed the train was going to explode.
She also recorded a video from across the street, where puffs of black smoke were seen floating up from inside the station.
"Station is on lock down… And people stampeded. I had a full on anxiety attack. I can't believe I saw this," she wrote in a tweet.
In some other videos and photos, some firefighters were seen walking up and down the charred remains of the train, while others sprayed water from the other side.
In a reply to a concerned user asking @awk_wardah whether anyone was hurt in the incident, she wrote, "As far as I could see there were no commuters in the carriage on fire or the ones directly next to it."
In a statement regarding the fire, Metrorail spokesperson Riana Scott said: "All commuters on board have been evacuated and no injuries have been reported. Our next priority is to switch off the high voltage overhead electricity to allow the fire brigade to extinguish the fire."
"Our teams are assisting to separate the burning carriages from the rest to contain damage as far as possible," she said, adding the cause of the fire was under investigation, News24 reported.
© Copyright IBTimes 2023. All rights reserved.