WATCH: Japanese Whaling Video From Southern Ocean Finally Released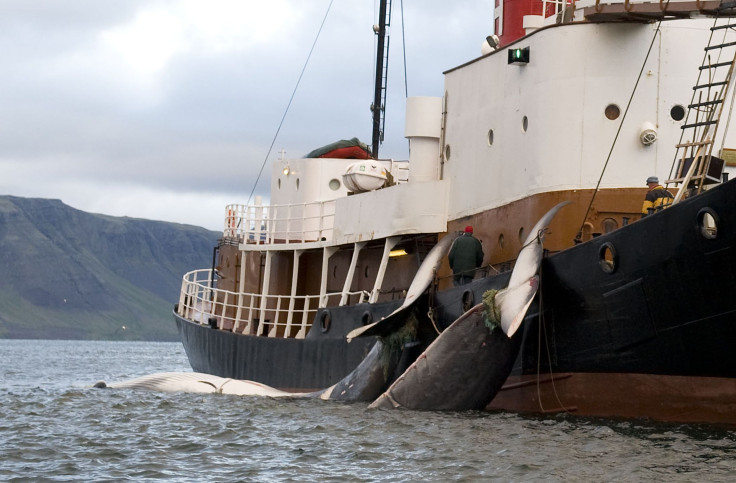 A video released by Washington based marine conservation organization the Sea Shepherd Conservation Society on Tuesday showed footage of a Japanese whaling operation in the Southern Ocean that the Australian Government refused to make public.
Shot by officers on the Australian Customs vessel Oceanic Viking in 2008, the video was released publicly on Tuesday following a five-year-long Freedom of Information battle, ABC News Australia reported.
It shows graphic scenes of fishermen from a Japanese whaling fleet harpooning whales in the Southern Ocean before dragging them — while they were still alive — along the side of the vessel. Describing the footage, Sea Shepherd's managing director Jeff Hansen called it "harrowing."
"You see minke whales swimming at 16, 17 knots to try and outrun these harpoon ships, before being hit with an explosive harpoon that sends shrapnel through their bodies," he said.
Hansen further added: "Hooks come out, and they dive deep, you can see them diving to try and get away from this cable which they're attached to and they're slowly dragged back to the surface, before they're met with the gunner on the harpoon ship who then shoots them. They take a long time to die before dying in a sea of their own blood." You can watch the footage below.
Warning: Some of the scenes in the footage may cause distress.
The Australian government had refused to bring the footage into the public domain, fearing it would harm diplomatic relations with Japan. ABC stated that the New South Wales (NSW) Environmental Defender's Office began the legal campaign to get them to release the complete footage after lodging an urgent Freedom of Information application on behalf of Humane Society International. Sea Shepherd also joined in later.
The Sydney Morning Herald reported that the Australian Information Commissioner ordered the immigration department to release the footage earlier this year.
News 24 also cited a statement by Hansen in which he accused the Australian government of siding with "poachers."
"The Australian Government has suppressed this footage for years. The main reason given was that the images of this horrific slaughter would harm diplomatic relationships with Japan," the statement read. "The Australian Government has chosen to side with the poachers instead of defending the whales of the Southern Ocean."
Meanwhile, the chief executive of the NSW Environmental Defender's Office, David Morris, said : "We put forward substantial evidence to the Information Commissioner that the information already in the public domain showed that there wouldn't be the kind of impact on international relations that they were suggesting."
© Copyright IBTimes 2023. All rights reserved.