Watch LaVar Ball Lose To Rapper Ice Cube In 4-Point Shooting Contest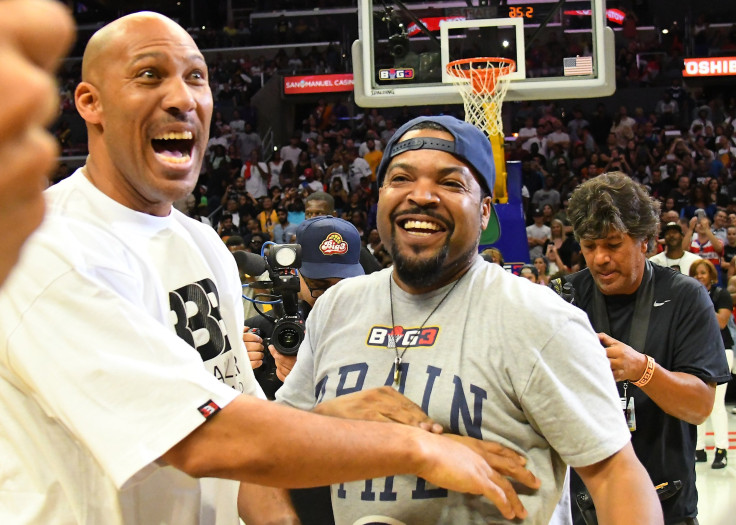 Lavar Ball made headlines in March when he suggested he could beat Chicago Bulls Hall of Famer Michael Jordan in a one-on-one game of basketball. Big3 league co-founder Ice Cube later challenged LaVar Ball to see who could make the most shots from long distance.
LaVar Ball, the father of Los Angeles Lakers No. 2 overall draft pick Lonzo Ball, accepted Ice Cube's challenge Saturday via social media.
"I ain't scared of you, man. You know I hit them shots with my eyes closed," Lavar Vall wrote on Instagram. "Me and my crew gonna show you what we do."
While endorsing his three-on-three Big3 league basketball tournament in May, co-founder Ice Cube challenged LaVar Ball to a 4-point shooting contest Sunday and proposed donating 10 pairs of the $495 ZO2 sneakers to the Big Ballers basketball team if LaVar Ball made more shots than him.
The two faced off in a 90-minute contest Sunday during a Big3 event at the Staples Center in Los Angeles. LaVar Ball, who averaged just 2.2 points per game during his college stint in 1986, missed more than six 4-point attempts, while the league's co-founder did slightly better.
LaVar Ball made just one of the 30-foot shots from the league's 4-point circle near the top of the key, while Ice Cube netted just two of 12 of his attempted 4-pointers. Lavar Ball also attempted some of his shots slightly inside of the 4-point marker, which sometimes ended up falling short of the rim.
There was confusion during the contest because the two players attempted shots at the same, in the same basket during the shootout. This created mix-ups during the game and at one point, Lavar Ball raised his arms in celebration, thinking he made a shot when it was Ice Cube's point instead.
"That was Cube's ball," the announcer exclaimed after LaVar Ball seemed shocked he wasn't the winner. "That was Cube's ball, LaVar."
The announcer declared Ice Cube the winner of Sunday's contest. LaVar Ball gifted Team Trilogy's Rashad McCants a pair of "Showtime" Big Baller Brand sneakers in the locker room after the game.
This wasn't the only loss LaVar Ball saw this month. Comedian Kenan Thompson parodied the famous father during a sketch on "Saturday Night Live." During the "Weekend Update" segment of the show, Thompson imitated LaVar Ball, with his bald head, goatee and signature Big Baller Brand attire.
Thompson mocked LaVar Ball's attitude toward his three basketball playing sons. When "Weekend Update" anchor Colin Jost suggested the Lakers expect Lonzo Ball to win NBA Rookie of the Year, Thompson in character posited he would surpass those expectations.
"He's gonna win a helluva lot more than that. NBA MVP, Final MVP — he's gonna win an ESPY, a Grammy and a Purple Heart and he's gonna get the best truck in his class by J.D. Power and Associates," Thompson said of Lonzo Ball while mocking LaVar Ball.
© Copyright IBTimes 2023. All rights reserved.