WATCH: Stingray Feasts On Oval Squid At Japanese Aquarium, Stuns Visitors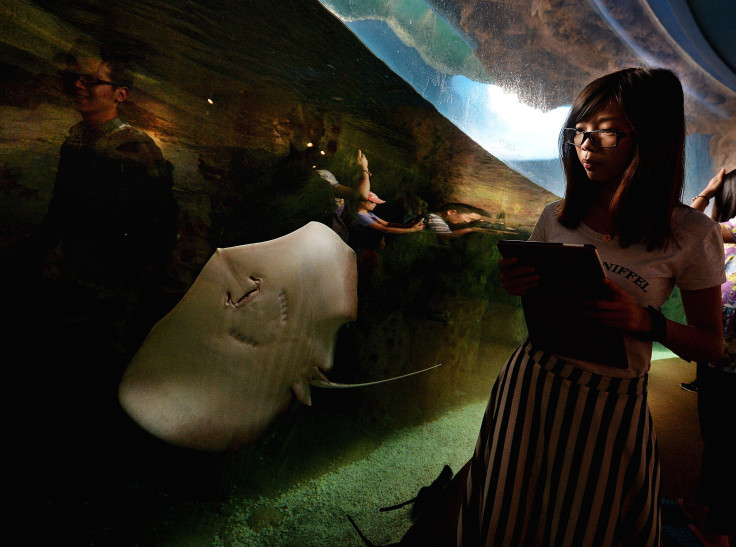 The sight of a stingray devouring an oval squid at a Japanese aquarium left visitors at the amusement park stunned. The incident was recorded by a visitor and uploaded on social media on Aug.7.
A Twitter user with the handle "@Eternalshm" uploaded the video which has since received 154,000 likes and has been retweeted 92,000 times.
WATCH: Python vs. Man: Police Find Body In Stomach Of Giant Snake
The video, recorded at the Yokohama Yakkeijima Sea Paradise aquarium, shows a stingray chomping on a helpless squid which tries its best to fend off the attacker by spouting ink. However, the squid's efforts to free itself go in vain as the stingray swallows its body along with the ink. In the video, the tentacles of the squid can be seen for a few moments as it makes an attempt to grab the glass window, after which they disappear behind a puff of black cloud. When the cloud of ink clears, there is no sign of the squid anywhere. After having its fill, the stingray happily swims away.
WATCH: Teenagers Brutally Attack Dallas Man Asking Them To Stop Smoking On Train
According to Japanese news outlet Sora News 24, the incident witnessed by the visitors was a rare one since aquariums typically take care not to put predator and its prey in the same container. While there are occasions when ocean-life lovers are meant to witness how underwater species feed, this was clearly not one of them.
The incident should also have never happened since creatures in aquariums are supposed to be fed at regular intervals in order to keep them from craving snacks in between meals.
TRENDING: Toilet Flush Delays Thousands Of Passengers At Orlando Airport
This is not the first instance of big animals devouring weaker ones at amusement parks. In another video uploaded in January 2016, an 8-year-old female sand tiger shark is seen making a meal of its tank mate — a 5-year-old male banded hound shark. The incident took place at the COEX Aquarium in Seoul, South Korea.
TRENDING: Naked Models Pose As Flight Attendants In 'Disgusting' Ad Promoting Travel Site
Apparently, both the sharks were engaged in a turf war where neither of them was ready to abandon their territorial control. Hence, one of them eventually had to make the other one back down by killing it.
"Sharks have their own territory. However, sometimes when they bump against each other, they bite out of astonishment," the aquarium's public relations manager Oh Tae-youp said, the Sydney Morning Herald reported.
"I think the shark swallowed the whole body because they usually eat it all when they bite the head part," Oh further stated, adding that the carcass of the male shark may be regurgitated by the female shark after as long as a week because they are typically unable to digest the same.
© Copyright IBTimes 2023. All rights reserved.
FOLLOW MORE IBT NEWS ON THE BELOW CHANNELS