[WATCH] Tesla Model Y Spotted: What Does The All-Electric SUV Look Like Now?
For those that are looking to see how the Tesla (TSLA) Model Y stacks up in stature compared to its Model 3 sibling, this video provides just that size comparison. The Model Y has been spotted on the roads of San Jose, California, where it was caught driving side-by-side with a Model 3, giving a glimpse into exactly what can be expected from the all-electric SUV.
The video was caught on a Tesla dashcam by kenken380 on Oct. 25. Here, the Model Y can be seen cruising the 101 North as a prototype vehicle in what looks to be a Midnight Silver livery with new Power Sports wheels, Electrek reported.
In addition to giving a good comparison with the Tesla Model 3, the Model Y runs alongside a BMW X5, Mazda SUV, a Ford pickup truck, Jeep Commander, and several other passenger cars while on the road. These side-by-sides were all caught on camera, giving some real perspective to the size and shape of the Model Y compared to its conventional counterparts.
In the video, the Model Y looks taller in size than the Model 3, which is a slight departure from the specifications that were expected with the vehicle. The Model Y was thought to be more similar to the Model 3 based on its use of the same platform, as well as have a similar price point, but according to these captured images, it has a larger height, Electrek reported.
While the exact details and specifications on the Model Y won't be known until its final release, this video gives some hints at what is to come. Consumers can expect to see the Model Y by summer 2020, Tesla said during its Q3 earnings report.
Shares of Tesla stock were up 0.11 percent as of 12:40 p.m. ET on Thursday.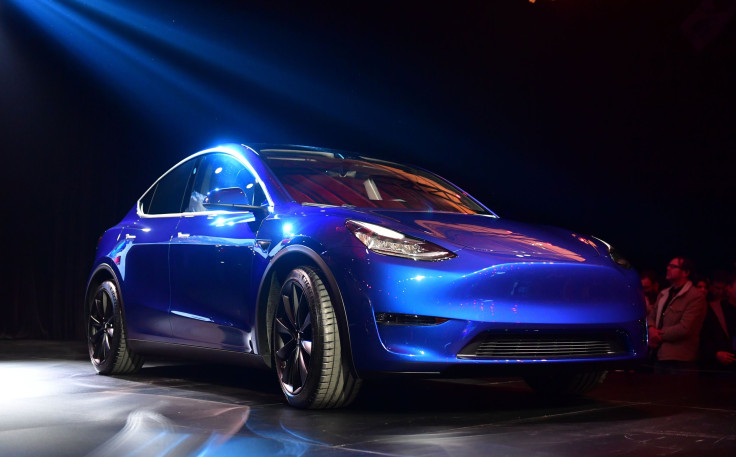 © Copyright IBTimes 2023. All rights reserved.