Watch This Video Of A Tesla Model S Fire In The City Of Merida, Yucatan State, Mexico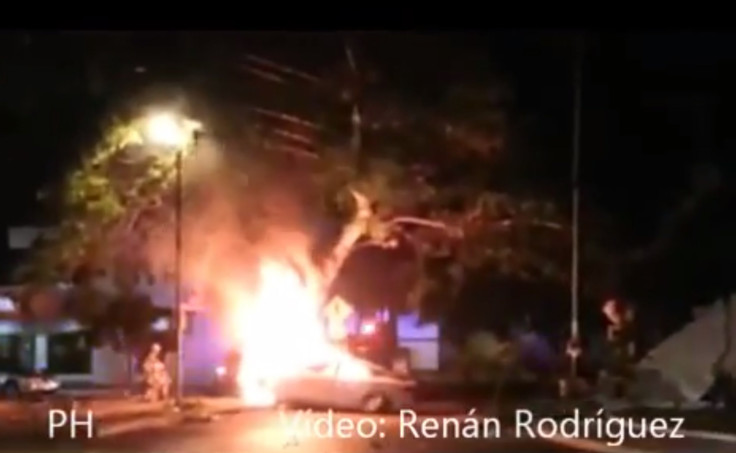 [UPDATE] Telsa Motors issued the following statement regarding the fire: "We were able to contact the driver quickly and are pleased that he is safe. This was a significant accident where the car was traveling at such a high speed that it smashed through a concrete wall and then hit a large tree, yet the driver walked away from the car with no permanent injury. He is appreciative of the safety and performance of the car and has asked if we can expedite delivery of his next Model S."
Original story begins here:
Police in the Mexican city of Merida, the capital of eastern Yucatan state, said a speeding driver of a Tesla Model S sedan drove the luxury electric vehicle into a median and it caught fire.
"Speeding has once again caused a car accident. In this case the driver ended up crashing into part of a roundabout then against the wall of a Banamex [bank] and ended up against a tree in the center median of North Merida Avenue," said the Spanish-language news report dated Oct. 18.
According to the Spanish-language progresohoy.com, a driver in the early hours of Thursday, Oct. 17, struck a median at high velocity and ended up in a town square. The report doesn't identify the model of the car, but photos posted with the story clearly show a white Model S after firefighters managed to extinguish the flames using dry chemical, a standard for fighting gasoline and electric-car fires.
If this had been any other vehicle, the incident would have remained a small, local news item. But a little over two weeks earlier a Model S caught fire in the U.S., in Kent, Wash., raising concerns because the firefighters said they had to cut the vehicle open to access the fire in the battery pack. The U.S. National Highway Traffic Safety Administration put an end last week to speculation about safety, saying the incident was not worth a full investigation. The watchdog agency maintains that electric cars are not more likely to catch fire in accidents than conventional cars.
Ten seconds into this video, the car's front end appears to explode. Later responders blasted the car with chemical extinguisher. Click here to see a close-up of the Model S in the aftermath.
Hat tip to Axis of Oversteer for breaking this first in English. Also, the Diario of Yucatan claims the driver was drunk and injured in the accident but was able to escape the scene with the help of others.
© Copyright IBTimes 2023. All rights reserved.