Welcome to the 12th century: Pakistan's blasphemy laws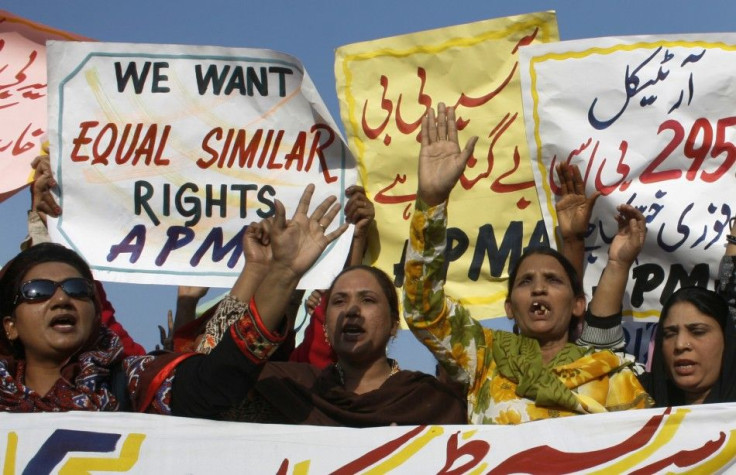 While the Arab Middle East is in turmoil over attempts by some to democratize the region and bring it into the 21st century, two-thousand miles to the east in Pakistan, reactionary forces have further pushed back the calendar.
A female Pakistani politician has withdrawn her proposal to amend the nation's laws of blasphemy after it became clear the government would not change it.
Shehrbano Sherry Rehman, an MP for the Pakistan People's Party (PPP) and former Federal Minister for Information and Broadcasting, is one of the few high officials in the country willing to speak out against the blasphemy laws (she has reportedly received wave after wave of death threats for her position).
Another proponent of reforming the law is Shahbaz Bhatti, a Catholic Member of Parliament, head of the All Pakistan Minorities Alliance and the minister for the defense of minorities, who has been threatened with beheading for his views.
Rehman's decision to drop her protests come a few weeks after another PPP politician, Punjab governor Salman Taseer, was murdered by his own bodyguard, allegedly because he spoke in favor of mercy for a Christian woman, Asia Bibi, who was already sentenced to death for blasphemy. [She was accused and convicted of insulting the Prophet Muhammad in her village in June 2009].
Moreover, last month, Pakistan's Prime Minister Yousuf Raza Gilani reiterated that he will not approve any amendments to the existing blasphemy laws. He also removed a committee that had been set up to explore amendments to the law.
Since the [Prime Minister] announced that there cannot even be discussion on procedural amendments, and the committee announced by the party to amend the laws has been disbanded, then as a PPP representative I had no option but to abide by the party's decision in parliament,"
Rehman stated. Appeasement of extremism is a policy that will have its blow-back.
Rehman emphasized that she did not seek to repeal the blasphemy law entirely, but rather to mitigate the abuses inherent in application of the law. Her bill primarily sought to remove the death penalty provision and to amend clauses to reduce the chances of miscarriage of justice.
It was a question of protecting our citizens from injustice done in the name of a religion that values peace and tolerance more than anything else, she said.
Under the penal code of Pakistan (which is officially designated as an Islamic Republic), acts of blasphemy against Islam can be punished by anything up to and including death. [No one in Pakistan has yet been executed for blasphemy, as death sentences have consistently been overturned on appeal – still several of the accused have been murdered in prison while awaiting sentencing]
The blasphemy laws in Pakistan – which are believed to be the strictest in the Muslim world – are a relatively recent phenomenon. When General Zia al-Haq seized power in 1979, he sought to gain support among religious radicals (as well as the conservative middle-class) by accelerating the pace of Islamization and the introduction of Sharia laws).
However, what specifically constitutes "blasphemy" can be subject to broad interpretation and therein lay many problems. Hundreds of Pakistanis are currently languishing in prisons for allegedly violating the blasphemy laws – many are religious minorities, others were likely the victims of trumped up charges.
[The blasphemy law] was designed as an instrument of persecution, said Ali Hasan Dayan, of Human Rights Watch (HRW) in Pakistan. It's discriminatory and abusive.
For example, a 17-year-old boy, Muhammad Samiullah, is currently being held on charges in Karachi that he "blasphemed" the Prophet Muhammad in a high school examination.
HRW is demanding the boy's release.
Pakistan has set the standard for intolerance when it comes to misusing blasphemy laws, but sending a schoolboy to jail for something he scribbled on an exam paper is truly appalling, said Bede Sheppard, senior researcher for Asia in the Children's Rights Division at HRW, told the BBC.
It's bad enough that a school official flagged it, but for police and judicial authorities to go ahead and lock up a teenager under these circumstances is mind boggling.
The case of Asia Bibi is especially tragic as she is an illiterate mother of five and is the first Pakistani woman ever sentenced to hang for violating the blasphemy law. Even if she is freed (an unlikely event), she has been threatened with death. One cleric has even placed a bounty on her head of 500,000 Pakistani rupees ($5,800).
Bibi denies the blasphemy charge and claims she was falsely accused by other villagers in order to settle an old score. The Bibi case has even attracted the attention of Pope Benedict XVI, who has urged her release and the abolition of the blasphemy law.
Asia Bibi has suffered greatly and should never have been put behind bars," said HRW's Hasan.
The injustice and fear the blasphemy law spawns will only cease when this heinous law is repealed.
It's an obscene law. Essentially the blasphemy law is used as a tool of persecution and to settle other scores that are nothing to do with religion. It makes religious minorities particularly vulnerable because it's often used against them.
Pakistan, like many Muslim and Third World countries, has deep schisms in its society -- a wealthy, liberal elite on one side that favors Western ideas on liberty and social freedoms; and extremist reactionary groups on the other side that is committed to removing any 'stain' of Westernization (in Pakistan's case, these are radical fundamentalist Islamists).
But it is the millions of people in the middle who get caught in this ideological battle and suffer the terrible consequences.
© Copyright IBTimes 2023. All rights reserved.