West Texas Fertilizer Plant Explosion Update: At Least 35 People Killed In the Blast, Authorities Searching For Survivors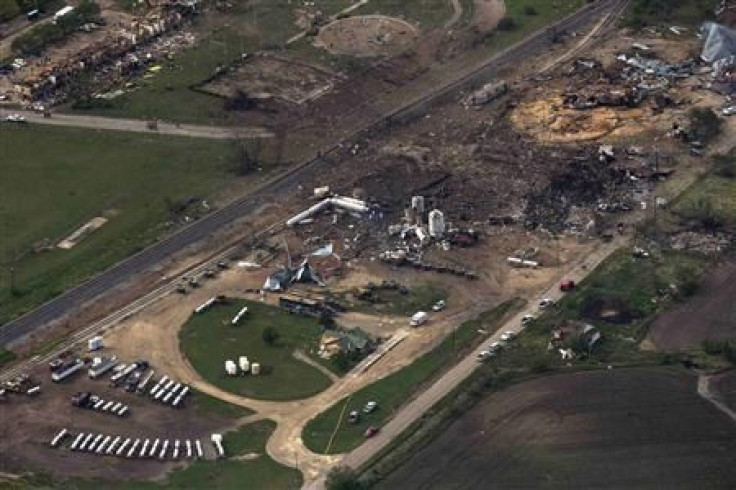 Rescuers on Friday continued to search for survivors of the enormous explosion that occurred at a fertilizer plant in West, Texas, while investigators looked for clues to the cause of the blast and inferno that followed an apparent industrial accident, Reuters reported.
Twelve people died in the explosion on Wednesday at West Fertilizer Co., and about 200 were injured, according to a Texas state official, various news outlets reported. West Mayor Tommy Muska told USA Today that the casualties included volunteer firefighters and emergency responders.
Authorities said there has not been indication of foul play connected with the explosion at the plant, which they said had not been inspected since 2006, Reuters noted.
The area around the explosion site remains "very volatile" due to the presence of ammonium nitrate, McLennan County Chief Deputy Sheriff Matt Cawthon said Thursday. Authorities combed through rubble hoping to find survivors of the blast that flattened the town of West, where about 2,800 people reside, CNN reported.
The explosion's power registered the same as a magnitude 2.1 earthquake, Reuters added.
"It was like a nuclear bomb went off," Mayor Muska said.
It was "massive -- just like Iraq, just like the Murrah [Federal] Building in Oklahoma City," explained D.L. Wilson of the Texas public safety department, referring to the bombing that occurred 18 years ago Friday.
Muska said Thursday that emergency officials were still searching a nursing home, an apartment complex and the plant itself for survivors.
"We still are holding out some hope, but right now we're just trying to get a hand around it and see," he said.
After a fire at the plant led to the massive explosion on Wednesday, about half the town was evacuated, CNN reported.
Texas Gov. Rick Perry declared McLennan County a disaster area and said he would request federal disaster aid from President Obama, Reuters said. West Fertilizer Co., which blends fertilizer and sells it to farmers, stored about 270 tons of ammonium nitrate along with other "extremely hazardous" chemicals such as anhydrous ammonia in 2012, according to a report the company filed with the state government, Reuters noted.
According to the Centers for Disease Control, mixing anhydrous ammonia and water creates a poisonous cloud. When ammonia mixes with air, it forms an explosive mixture, and containers may explode when heated.
If the West blast was an industrial accident, investigators would look at whether firefighters triggered the explosion by pouring water on a volatile substance, according to Reuters. But Nim Kidd, chief of the Texas Division of Emergency Management, said it was too early to speculate, the news agency added. "A lot of firefighters will use their No. 1 tool, which is water, in a hazardous materials chemical situation to cool the surrounding environment," he told a briefing in Austin, Texas.
© Copyright IBTimes 2023. All rights reserved.
FOLLOW MORE IBT NEWS ON THE BELOW CHANNELS