Westbrook's 33, KD's Game-Winner Lead Thunder To Road Win Over Clippers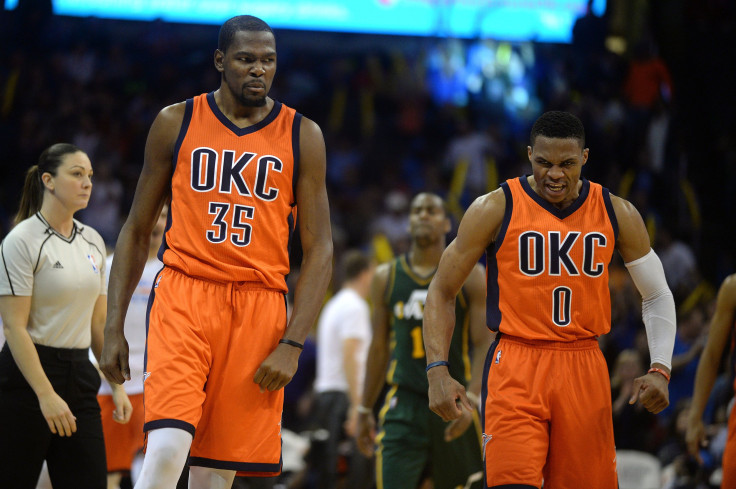 Russell Westbrook scored 33 points, Kevin Durant made the game-winner with 5 seconds left as the Oklahoma City Thunder pulled off the road victory Monday against the struggling Los Angeles Clippers.
The game was close all throughout in the battle between the Western Conference rivals with the Clippers having control majority of the ball game but with the Thunder surging late to steal the victory.
The Clippers led 83-75 near the start of the final quarter but the Thunder made a major rally to tie it at 93-all with over two minutes to go in the game. Blake Griffin and Westbrook traded baskets and the Thunder had the 98-97 advantage with 29 seconds left.
After a Clippers timeout, Los Angeles set up Chris Paul for a lay-up but the Thunder had 10 seconds left that paved the way for Durant's game-winner.
The Clippers had a final chance to steal back the lead and the victory but Durant blocked a jumper from Paul as the time expired.
Westbrook bled for his 33 points going 11-of-25 from the field but took advantage from the free throw line at 9-of-11 from the stripe. He also added 7 assists and 3 steals. Durant finished with 9 rebounds, 7 assists, 2 steals and 2 blocked shots and none bigger than his last points and his final blocked shot.
The Thunder remains one of the hottest teams in the league winning eight of their last nine games. The lone loss came against the marquee match-up against LeBron James and the Cleveland Cavaliers.
The Clippers have lost three straight, all against Western teams San Antonio Spurs, Houston Rockets and the Thunder but they have a good chance of returning to the win-column soon with an upcoming match-up against the lowly Los Angeles Clippers on Christmas Day.
OKC also takes on the Lakers on Wednesday before their own Christmas Day match-up with the Chicago Bulls.
© Copyright IBTimes 2023. All rights reserved.