Western Allies Arming Rebels in Syria, Opposition Claims, as Red Cross Reach Besieged Homs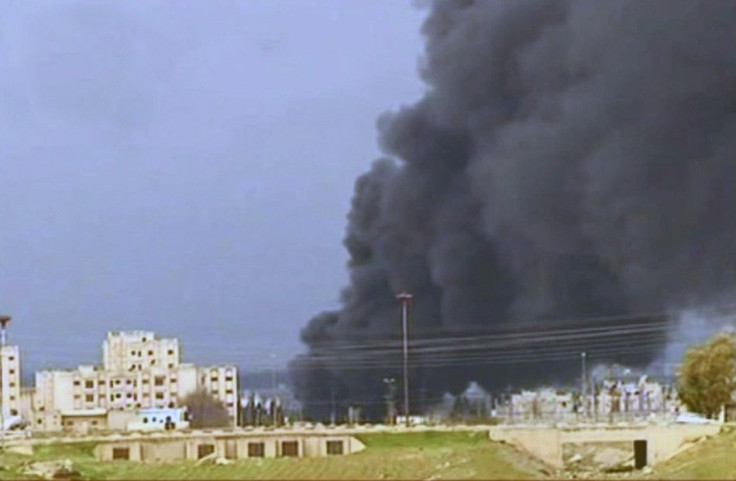 Syrian rebel forces are already being armed and supplied by Western powers, a report claimed Friday.
Speaking to Britain's Daily Telegraph, Syrian National Council member Bassma Kodmani said unidentified countries were already providing communications equipment, body armor and night-vision goggles to the Free Syrian Army, a move previously denied by Western governments.
According to the paper, Kodmani refused to reveal which countries were helping, but he hinted that allies were also sending more lethal weapons such as rifles.
Defensive and light equipment are what they are doing on the ground, she told the Telegraph. It has begun.
The report came as Russia's state-funded news outlet RT claimed U.S. and NATO forces had flown to neighboring Jordan on Thursday to train militants and Turkish troops to overthrow Syria's President Bashar al-Assad.
Citing former FBI translator Sibel Edmonds, RT said American troops had landed at Jordan's King Hussein Air Base on Thursday evening.
In the besieged city of Homs, which has borne the brunt of government attacks in recent weeks, Red Cross convoys began evacuating women and children on Friday, including two injured French journalists.
Speaking at a conference In Tunis, U.S. Secretary of State Hillary Clinton also hinted at a more-robust response from Western leaders, saying Syrian opposition forces will become more capable of carrying out offensive operations against government forces.
They will, from somewhere, somehow, find the means to defend themselves, as well as begin offensive measures, the Washington Post quoted Clinton as saying, though she stopped short of clarifying how the opposition will be strengthened.
Clinton's comments represent a shift in tone for President Barack Obama's administration, which previously eschewed such talk out of fear it could escalate the conflict.
Elsewhere, Qatar has called for a pan-Arab peacekeeping force to enter Syria and enforce a ceasefire, according to reports.
Qatar became the latest country to join an alliance of Western and Arab nations set to demand Friday that Syria's government allow access to aid groups to help wounded civilians, in a bid to end a brutal crackdown by Assad's regime, according to reports.
The demand comes as foreign ministers from more than 50 countries met in Tunisia in the first meeting of the Friends of Syria group, which is intent on ending the bloodshed in the nearly year-old conflict.
On Thursday, it was announced that former United Nations secretary general Kofi Annan will be the joint U.N.-Arab League peace envoy on the Syrian crisis.
Also Thursday, Syrian government artillery continued to bombard the beleaguered city of Homs, killing five people in the city's Baba Amro district, Reuters reported.
Baba Amro is being hit with 122-millimeter artillery directed at it from surrounding villages. A father and his 14-year-old son were among those killed. They were trying to flee the shelling when shrapnel hit them in the street, Mohammad al-Homsi told the news service.
Whether the change in rhetoric yields efforts to end the violence will depend largely on discussions at the United Nations, where resolutions have been blocked by Russia and China's vetoes on the Security Council.
In an updated version of the declaration, drafted by the Friends of Syria group, pledged to deliver humanitarian supplies within 48 hours if pro-Assad forces stopped [their] assault on civilian areas and permitted access, according to Reuters.
© Copyright IBTimes 2023. All rights reserved.