What Is Abu Sayyaf? Amid ISIS Beheading Threat, Indonesia Calls For Regional Cooperation Against Piracy, Kidnappings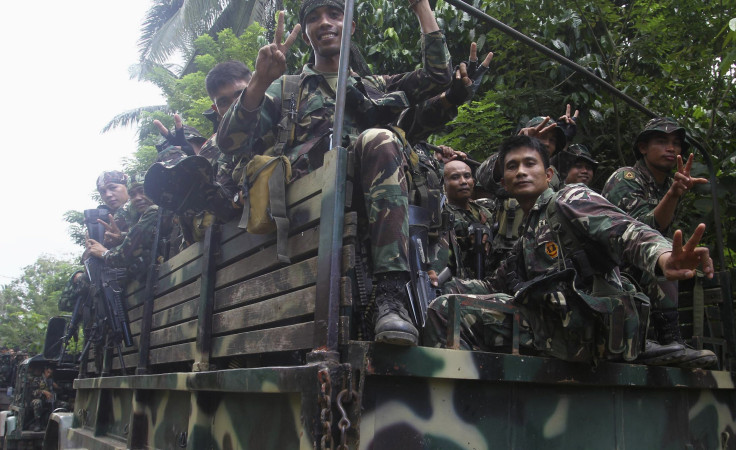 Indonesia called Tuesday for greater cooperation in the fight against Islamic extremism. Announcing a meeting with top military commanders from the Philippines and Malaysia later this week in Jakarta, Indonesian President Joko Widodo called for joint maritime patrols in response to a spike in kidnappings by the Abu Sayyaf extremist group, the Wall Street Journal reported Tuesday.
"We can't let this continue," Widodo said Tuesday.
Abu Sayyaf, a group based in the jungles in the Philippines, claims to be fighting to establish an Islamic state across the region. The group allegedly has ties with the Islamic State group in Syria and Iraq, and in the past was aligned with al Qaeda. A decades' long campaign to defeat the militant group has failed to stem their violence.
The group captured media headlines earlier this week after beheading John Ridsdel, a Canadian mining consultant. The news sparked calls for the Philippines to step up efforts to rescue more than 20 foreign hostages being held by Abu Sayyaf. The group beheaded Ridsdel Monday and dumped his head in a nearby town.
Ridsdel was kidnapped along with three others last year from a tourist resort on Samal Island; militants threatened to kill a hostage if a ransom of $6.4 million was not paid for each. World leaders including Canada's Prime Minister Justin Trudea called the killing "an act of coldblooded murder."
Abu Sayyaf is involved in piracy and kidnappings of local seafarers and internationals alike. The U.S. recently invested some $425 million in maritime security in Southeast Asia to help countries in the region patrol their waters. The group, aside from piracy, is also known for carrying out bombings.
The group is among the most dangerous terrorist organizations in the region. In recent months, militants have abducted 10 Indonesian sailors, four Malaysians from another ship and four additional Indonesians. They also beheaded two Filipino hostages.
© Copyright IBTimes 2023. All rights reserved.