What Is Azure Window? Malta 'Game Of Thrones' Rock Formation Collapses Into Sea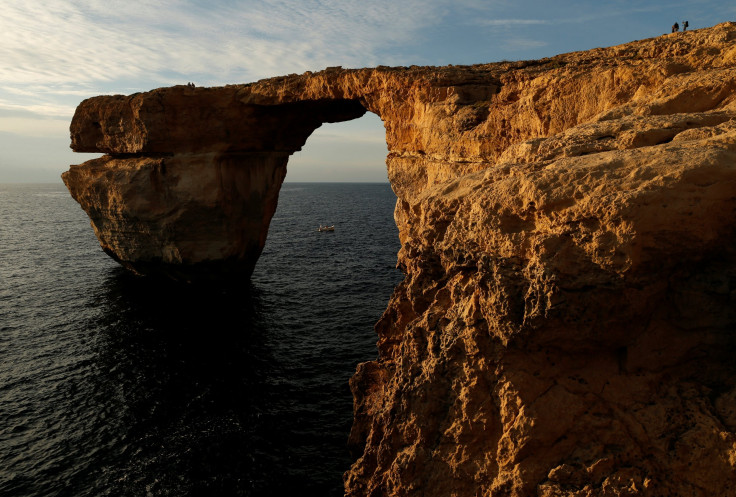 An iconic rock formation, known as the "Azure Window," collapsed Wednesday into the sea off the coast of Malta's Gozo Island.
The natural limestone formation stood 92 feet tall over the Dwejra Bay and was featured in a number of series and films such as 1981's "Clash of the Titans," 2002's "The Count of Monte Cristo" and, perhaps most notably, the first season of HBO series "Game of Thrones" in 2011. The site was a popular tourist destination and damage to the site by visitors had previously been documented, according to BBC News. Previous efforts had been made to reverse damage to the site caused by humans and nature, but it suddenly collapsed after a harsh storm Wednesday, inspiring tributes on social media and messages of environmental awareness.
Malta's Prime Minister Joseph Muscat described the scene as "heartbreaking," tweeting a picture of the spot where tourists once flocked to see the natural spectacle. Environmental minister Karmenu Vella said "God closed the Window," but shared a hashtag promoting a national maritime conservation initiative called "Our Ocean."
Read: Knights Of Malta Head Resigns
"There was a big raging sea beneath the window," Xaghra resident Roger Chessell, who said he saw the arch fall, told the Times of Malta. "Suddenly, the arch collapsed into the sea with a loud whoomph, throwing up a huge spray. By the time the spray had faded, the stack had gone too."
An estimated 750,000 foreigners and 100,000 locals visited the Azure Window, also known as "Tieqa tad-Dwejra," each year and damage caused by people to the site had been previously documented. The natural arch was also worn down for around 500 years by heavy winds and rough seas, according to a 2013 article by the Times of Malta that suggested the formation was not in danger of "imminent collapse," but that erosion would spell its "inevitable" destruction. A number of EU-funded projects attempted to reverse these damages, but these initiatives were apparently not sufficient to prevent the arch from falling into the Mediterranean Sea.
Read: Hijacked Libyan Plane Passengers Released In Malta
Gozo is one of three islands that form the Maltese archipelago, home to about 25 other natural arch formations.
© Copyright IBTimes 2022. All rights reserved.
FOLLOW MORE IBT NEWS ON THE BELOW CHANNELS