What Did Trump Say About Putin And Russia: 18 Troubling Quotes From The President Of The United States On Moscow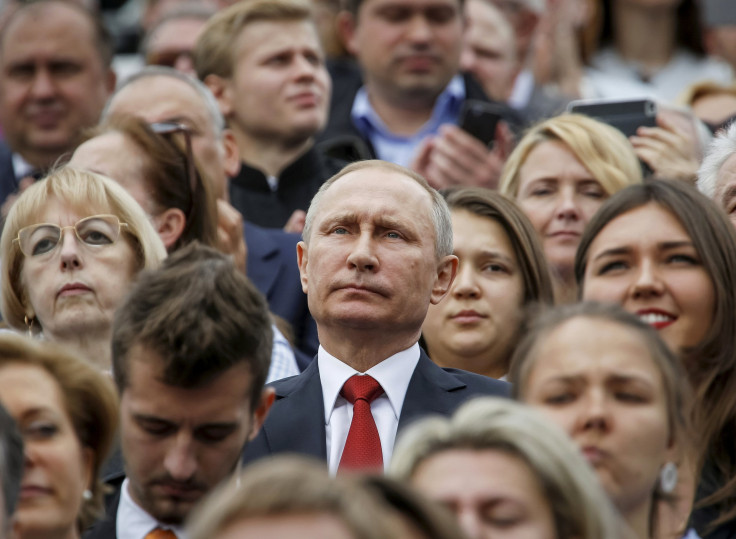 A majority of Americans are worried about President Donald Trump's relationship to Moscow. And what's not to worry about it? The president who may or may not have business holdings in Russia has had to dismiss numerous reports that he and his staff might be being blackmailed by the Kremlin.
A recent AOL News poll found 52 percent of respondents said they were concerned about Trump's ties to Russian President Vladimir Putin, while 45 percent said it was all good even after the president's senior National Security Advisor Michael Flynn was forced to resign for lying to Vice President Mike Pence and other senior officials about discussing sanctions against Russia with Russia's ambassador to the United States.
So what exactly does Trump have to say about all of this? In his own words, here is what the president has said about Putin and Russia on the campaign trail and from the White House:
1. "Putin has outsmarted her at every step of the way," Trump said of rival Hillary Clinton during a presidential debate in 2016.
2. "From everything I see he has no respect for this person," he said of Clinton.
3. In November 2015, Trump said of Putin that he "got to know him very well because we were both on '60 Minutes.' We were stablemates, and we did very well that night."
4. In May 2014, Trump said he "spoke, indirectly and directly, with President Putin."
5. In a presidential debate, Trump said: "I don't know Putin.... I never met Putin. This is not my best friend."
6. "Putin and the leaders throughout the world have no respect for our country anymore and they certainly have no respect for our leader."
7. "I would treat Vladimir Putin firmly but there's nothing that I can think of that I'd rather do than have Russia friendly as opposed to the way they are right now so that we can go and knock out ISIS together with other people and with other countries. Wouldn't it be nice if we actually got along with people, wouldn't it be nice if we actually got along, as an example, with Russia? I'm all for it and let's go get ISIS because we have to get ISIS and we have to get them fast."
8. "I don't know anything about him other than he will respect me."
9. "I hope that we get along great with Putin because it would be great to have Russia with a good relationship."
10. "He has a total lack of respect for President Obama. No. 1, he doesn't like him. And No. 2, he doesn't respect him. I think he's going to respect your president if I'm elected. And I hope he likes me."
11. "You know the closest I came to Russia, I bought a house a number of years ago in Palm Beach, Florida."
12. "I said that Putin has much better leadership qualities than Obama, but who doesn't know that?"
13. About Clinton's emails from her time at the State Department: "If Russia or China or any other country has those emails, I mean, to be honest with you, I'd love to see them."
14. "We were doing Miss Universe four or five years ago in Russia. It was a tremendous success. Very, very successful. And there were developers in Russia that wanted to put a lot of money into developments in Russia. And they wanted us to do it. But it never worked out."
15. "The greatest thing I could do is shoot that ship that's 30 miles offshore right out of the water. Everyone in this country's going to say, 'Oh, that's great!' It's not great," Trump said last week referring to a Russian spy vessel near Connecticut.
16. "If I was just brutal right now with Russia — just brutal — people would say, 'Oh, that's wonderful.'"
17. "The fake, horrible reporting makes it much harder to make a deal with Russia."
18. "How many times do I have to answer this question? Russia is a ruse. I have nothing to do with Russia."
© Copyright IBTimes 2023. All rights reserved.