What Is Molenbeek? After Paris Terrorism, Everything We Know About Belgian Neighborhood Labeled 'Jihadi Capital Of Europe'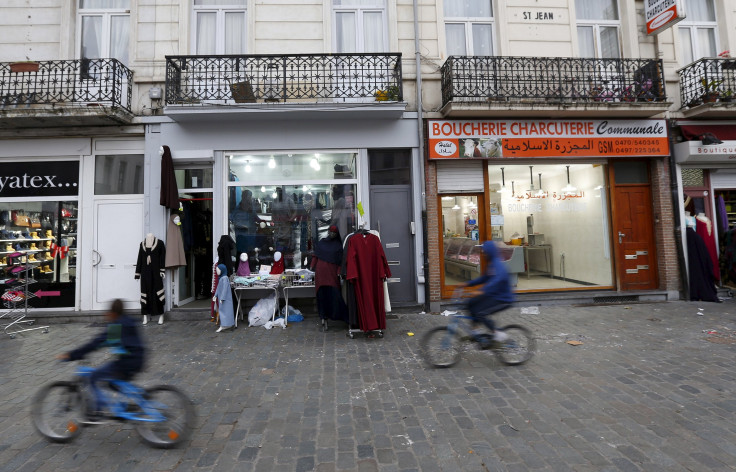 It has been called the "jihadi capital of Europe" and a "radical den." Belgian authorities have said two of the gunmen in the Friday Paris terror attacks that killed more than 120 and left hundreds injured were living in Brussels' poor district of Molenbeek-Saint-Jean, the Financial Times reported. Belgian authorities launched another set of raids in the district Monday, which resulted in no arrests or injuries, the Associated Press reported.
"We don't have a grip on the situation in Molenbeek," Jan Jambon, Belgium's interior minister, said on Belgian television Sunday, Politico EU reported. Located across a canal from Brussels' European Union diplomatic quarter, Molenbeek is only a 30-minute metro ride from the heart of Belgium's capital. The area has a population of 95,000 and an industrial, working-class history, according to the district's website. The neighborhood has a large Muslim population, with many residents having Moroccan roots and connections.
Police in Brussels arrested seven people in several raids conducted in Molenbeek over the weekend. Belgian authorities said they had stopped another terrorist plot this year that was being planned in the Molenbeek area. In a country of 11 million, authorities estimate 500 people have left Belgium to fight in the Middle East, with over 100 of them coming from Brussels, the majority of whom coming from Molenbeek.
Molenbeek's unemployment rate is approximately three times the national average at 30 percent. The area includes a mix of both middle-class and low-income housing.
Some residents say the area's labeling as a hotbed of radicalism has been overhyped. "Molenbeek is a victim of media stereotyping," Kenza Yacoubi, a local councilwoman, told the Los Angeles Times. "There is a grave problem here of unemployment, of discrimination. But people here work very, very hard to support their families. This is a neighborhood of hard workers."
Yacoubi told the Los Angeles Times that imams in the district were moderate and that only a small population had become radicalized, with the indoctrination happening away from mosques. This view has been challenged by Redouane Ahrouch, a representative of the Islam party in the Anderlecht municipality, telling Politico EU that young Belgian Muslims were being radicalized by imams from abroad.
Belgium has struggled to deal with security threats and has "the largest per-capita population of Syrian foreign fighters in the EU," according to the Financial Times. Ayoub El Khazzani, who attempted to open fire on a train from Amsterdam to Paris in August, had reportedly lived in Molenbeek. Authorities said people connected to the Charlie Hebdo attack in Paris in January that killed 12 were also from Molenbeek, and the radical group Sharia4Belgium also has connections to the neighborhood.
The population of Brussels is just over 1 million, but the city uses six independent police forces across its districts.
"I notice that each time, there is a link with Molenbeek," Belgian Prime Minister Charles Michel said Sunday, referring to terrorist activity. "This is a gigantic problem."
© Copyright IBTimes 2023. All rights reserved.