What Is The National Guard? Missouri Gov. Jay Nixon Calls In Armed Forces Following Mike Brown Shooting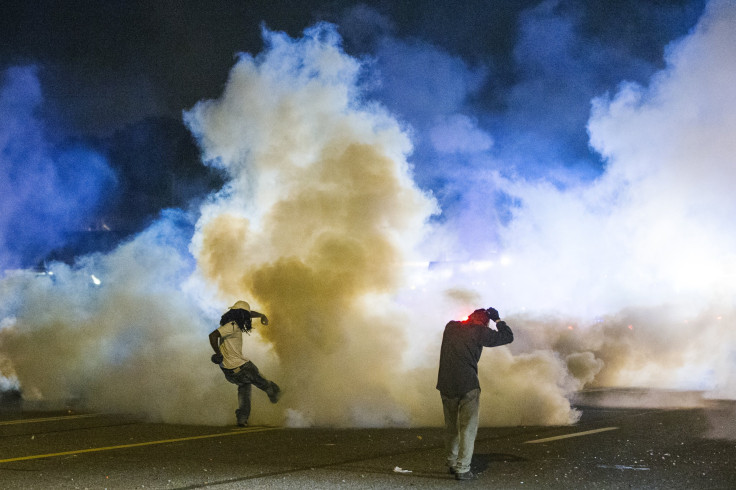 Unrest continues in Ferguson, Missouri, more than a week after a white police officer killed Mike Brown, 18, an unarmed black man who about to start college. Now the National Guard is stepping in after protesters allegedly threw Molotov cocktails at local police officers on Sunday night.
"Police were shot at, makeshift barricades were set up to block police, bottles and rockets were thrown at police," Capt. Ronald Johnson of the Missouri Highway Patrol said during a news conference early Monday. "Based on these conditions, I had no alternative but to elevate the level of our response."
Missouri Gov. Jay Nixon declared a state of emergency and imposed a midnight curfew after initial protests. He went further on Monday and ordered the National Guard to Ferguson to help restore "peace and order."
"Given these deliberate, coordinated and intensifying violent attacks on lives and property in Ferguson, I am directing the highly capable men and women of the Missouri National Guard to assist ... in restoring peace and order to this community," he said in a statement.
So what is the National Guard?
The National Guard is part of the reserve components of the United States armed forces. It serves as part of the first line of defense for the United States.
Who controls the National Guard?
While they are mostly under the control of individual states, with each governor acting as commander-in-chief, in extraordinary circumstances the president can place the National Guard under federal control. The National Guard can be called up for active duty by governors to help respond to domestic emergencies and disasters.
How many combat teams does the National Guard consist of?
It consists of 28 fully capable brigade combat teams with combat support and combat service support components.
What are the requirements for joining the National Guard?
To join the National Guard without prior service, one must meet the following requirements:
-Be between the ages of 17 and 35
-Be a U.S. citizen or permanent resident
-Be at least a junior in high school, or have a high school diploma or a GED certificate
-Meet medical, physical, and moral requirements
Brown was killed by police officer Darren Wilson, 28, after he allegedly put his hands up during an altercation on a street in Ferguson, according to witnesses. Police said they had cause to shoot Brown.
A preliminary autopsy revealed the 18-year-old was shot at least six times, including twice in the head, the New York Times reported Sunday. The fatal bullet apparently entered the top of Brown's skull, which suggests his head was bent forward when it hit him, Dr. Michael M. Baden, the former chief medical examiner for the City of New York, revealed, adding that the fatal bullet was most likely the last one to hit Brown.
© Copyright IBTimes 2023. All rights reserved.